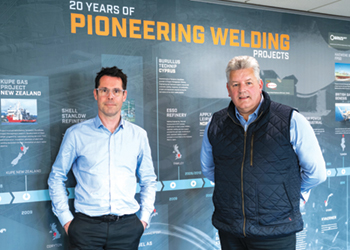 Castrec (left) with Gavin MacDonald, MD GPS ... strategic acquisition
Pipeline Technique (PTL), the onshore and offshore infrastructure welding, coating and fabrication specialist, has acquired Global Project Services (GPS) from Global Energy Group (GEG).
Headquartered in Invergordon, Scotland, GPS specialises in pre-fabrication, field specialist welding and mechanical works for the infrastructure, nuclear, LNG, hook-up, and decommissioning sectors. GPS is also the UK's and European's leading field specialist welding subcontractor.
The acquisition will enable Pipeline Technique to fulfil some of its strategic growth goals and, through sector diversification and geographic expansion, provide a broader range of advanced field welding and coating solutions to clients in the UK and internationally.
Frederic Castrec, CEO of PTL, said the strategic acquisition immediately delivered on PTL's diversification path and allowed it to enter new markets straight away.
He said: 'GPS is also targeting significant growth on new-build renewables projects, supporting the development of the UK's offshore wind strategy with technical partnerships to deliver bespoke in-yard fabrication services. This will, in time, become a vital energy source that improves the UK's energy security and supplies the country with lower-carbon, cleaner energy.'