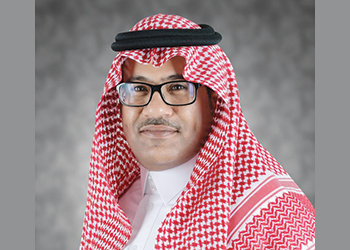 Alanazi ... making KSA a global leader of digital economy
Endress+Hauser has invested heavily in Saudi Arabia, not only in setting up facilities but also in knowledge transfer and the training of locals.
Its commitment to the Kingdom's Vision 2030 is for everyone to see. Yesterday, today and tomorrow, the company has continuously strived to be part of the solution.
In an exclusive interview with Abdulaziz Khattak of OGN energy magazine, Saud Alanazi, General Manager, Endress+Hauser Saudi Arabia, outlines all that the company is doing in the domains of process measurement technology, research and development, trainings, energy transition, and more.

• What are some new developments at Endress+Hauser Middle East's Jubail centre?
The Jubail centre started off as a state-of-the-art Calibration and Training centre (CTC).
It is ISO/IEC Standard 17025:2017 compliant and the first vendor-managed gravimetric calibration facility in the region, with the capacity and capability to serve the entire region.
Besides strengthening direct contact with our customers in the Middle East, the CTC is also aligned with Saudi Arabia's Vision 2030 and Saudi Aramco's In-Kingdom Total Value Add (IKTVA) programme.
We are now going a step ahead in our commitment to the region by developing and fostering customer relationships, and the CTC is evolving into a complete customer experience centre.
In addition to the existing service, repair, and calibration services, we are expanding our service portfolio and ramping up the various trainings that we offer at the centre.
We are partnering with several local entities like Saudi Council of Engineers (SCE), universities and colleges to offer seminars and trainings to young engineers and our valued customers. Meanwhile, we are also further training our existing service engineers.
On the other hand, we are working on creating a holistic visitor experience at the facility that will give visitors a wider understanding and insight into what they can expect from Endress+Hauser.

• What emerging technologies is Endress+Hauser introducing to the Kingdom?
The Kingdom is set to become a global leader of the digital economy very soon. Technologies like AI, IoT, IIoT, big data, robotics, and machine learning are being deployed and being adapted at a fast pace.
Endress+Hauser has over 8,600 patents and patent applications. Approximately 1 in 16 people working for the Group is in one way or the other employed in research and development, and works every day to find solutions for problems – new and old – in measurement and automation engineering.
Be it the revolutionary sensor technologies, industrial communication and data management technologies or our cloud ecosystem, Netilion, Endress+Hauser keeps pace with the emerging trend and technologies through continuous innovation.
The offerings already include instruments that monitor their own status during the process, while making the sensor and process data available via internet-based platforms.
The seamless integration of instruments into the customer's automation and IT systems permits on-going optimisation of maintenance cycles and process controls, among other things.

• How much of IKTVA goals has Endress+Hauser achieved?
The Kingdom of Saudi Arabia has witnessed several economic reforms, which promote economic growth sustainably. This is very evident in the current business environment.
The availability of local talent, relatively low business costs, good cost efficiency indicators, orderly and liberal legislation, and the availability of infrastructure further makes the business environment more conducive.
It is not surprising that Saudi Arabia has rapidly moved up the ranks in the annual ranking of the 'ease of doing business'.
Currently, and after the last IKTVA audit conducted for 2020, we have achieved a score of 22 per cent, and we expect to exceed 30 per cent after the announcement of the 2021 audit, which will take place shortly.
• What are major projects is Endress+Hauser executing in Saudi Arabia?
The breadth and depth of our offering is unique in the industry and set standards in quality and technology. Due to this fact, Endress+Hauser is involved in most major projects in the Kingdom.

• How is Endress+Hauser partnering with Aramco (and other energy companies) to help boost the kingdom's energy stream?
Endress+Hauser is fully aligned with Vision 2030, its sustainability and energy transition goals.
We strongly believe that energy transition is a collective undertaking and depends on companies pooling in their know-how, and Endress+Hauser is among those contributing to finding the right answers for the future.
We have been a long-standing supplier of process measurement technology to Aramco and other energy companies.
At a group level, we are developing products and solutions which are more focused on the gas industry, whether it be hydrogen as an energy carrier, natural gas as a cleaner energy source and a source for blue hydrogen, or carbon as part of carbon capture utilisation and storage (CCUS) initiatives.
In the region, we are investing heavily to build expertise in these areas to support our customers, advise them on best practices, and join them through their energy transition journey.

• How is Endress+Hauser developing the capabilities of Saudi engineers and technicians?
We at Endress+Hauser place great emphasis on continuous learning and development.
For our employees, this is done through a strong induction programme at the beginning of their careers. They then receive further training in their area of expertise at our production centres within the Kingdom and outside.
On-the-job training is also an essential component, where we assign them to real tasks after their induction to gain further experience.
In addition, we are working with SEC to provide more technical training to Saudi engineers in various disciplines.
We have also collaborated with universities and technical colleges to provide internships, collaborative programmes, and training for graduates.
• Can you share success stories of your local workforce and how Endress+Hauser's company culture contributed to that success?
In the region you will see several success stories of people joining us at entry levels and moving up the ranks to lead a team. Some of the team members have taken up opportunities within the organisation and have now moved to global positions.
Some of our important processes like supply chain, HR, business excellence are led by women who are doing outstanding work.
Apart from this, we also have several interns whom we are grooming to join us in the future.
We are constantly developing people and sometimes encouraging them to go beyond their expertise to gain knowledge and make progress.
The strong values and principles of a family company shape the corporate culture at Endress+Hauser.
We firmly believe that competent and motivated employees are the main catalysts for an organisation's success.
Within the company, we cultivate an atmosphere of trust and transparency, and this shows in the work that our people put out there.

• How does Endress+Hauser address social issues through its business activities?
Be it the opening of a vaccination centre and contributing to the acceleration of the vaccination campaign in Germany, taking up a water challenge to give people around the world better access to clean water, systematically evaluating suppliers for sustainability, or partnering with Ertiqa in Saudi Arabia to take care of disposing E-waste responsibly, for Endress+Hauser, acting in an ecological, social and ethical manner is part of its DNA.
• What is Endress+Hauser's contribution to the local renewable energy industry?
Every company is adapting and transforming itself in one way or another in the realm of renewable energy, and we are pleased that Endress+Hauser is positioned to support many of its customers in this process.
In the production of green hydrogen, for example, Endress+Hauser's measuring instruments are highly trusted by most electrolysis specialists as they have relied on Endress+Hauser measurement technology and value its quality, reliability, precision, and versatility. The large portfolio gives us many options.
Endress+Hauser has also benefited from its early involvement in green hydrogen. This allows us to learn together with our customers and expand the breadth of products and solutions for the hydrogen sector. The market requires a breadth of instruments and solutions to cater to this sector.
Today Endress+Hauser boasts a broad portfolio of solutions for critical measurement points in the hydrogen value chain. These include gas analysers that use laser-based technologies such as tunable diode laser absorption spectroscopy (TDLAS) to determine the quality, concentration, and composition of gases reliably and precisely - with minimal maintenance.
In addition, there are solutions along the value chain, such as flow measurements in pipelines or level measurements in tanks storing liquid hydrogen.
Customers also benefit from Endress+Hauser's expertise in gas applications.
The topic of CCUS is gaining momentum like never before now. We have since implemented commercial CCUS projects in many industries and we also supply our instruments for research and pilot projects. More than 100 new CCUS facilities have been announced in 2021 alone.
We use our industry knowhow and extensive portfolio to support customers along the entire CCUS chain.
As a main supplier of the measurement technology, we cover all instrumentation needs, including gas analysis.
Our instruments are employed in the separation of CO2 from gas mixtures, in skids for measuring CO2 gas flows, in compression and leak detection in pipelines, and in storage units.
We also cover all applications when it comes to CO2 utilisation in industry.
• As an industry leader, what's your take on the Kingdom's energy transition plan?
Saudi Arabia is taking a holistic approach towards energy transition and has shown some very tangible results.
Guided by Vision 2030, the energy transition in the Kingdom has gained significant momentum over the past few years.
In fact, Saudi Arabia is taking the lead in this transformation and has taken some bold steps towards in this regard.
Diversifying its energy mix by adding hydrogen, renewables and nuclear to its existing oil and gas industry, investing in innovative and cost-effective carbon management technologies, several ongoing renewable energy projects, opening these projects to domestic and foreign investors, subsidy reforms, are just a few of them.
According to the 2021 report of the Energy Transition Index, published by the World Economic Forum (WEF), which measures a range of issues related to the energy system performance and the enabling environment for the energy transition, Saudi Arabia is placed 81st (out of 115 countries), up 17 places from its 98th place in 2019.