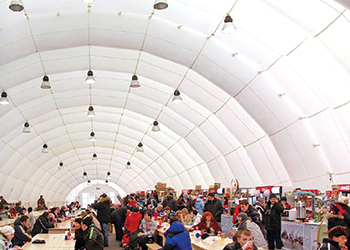 The pneumatic hangars can be set up in any size without foundations or columns
Wajehat, the exclusive distributor of Angarstroy pneumatic hangars in the Mena region, claims the systems are the ideal choice for companies in the oil and gas industry that want to set up quick and cost-effective structures on site.
These multipurpose hangars can be used as production facilities and factories — such as welding and workshops — as a single mobile solution for providing support, repair, assembly of equipment and production at the site of operation.
Additionally, the PVC-made mobile hangers can be used for storage, offices, events and many different applications.
"Our pre-fabricated hangars make it possible to solve a wide range of challenges in construction of buildings under harsh climatic conditions," a spokesman for Wajehat tells OGN.
Their design make them ideal for the rapid construction of workshops in challenging climatic conditions including extreme temperatures ranging from -60 to +70 deg C.
Meanwhile, their strong exterior shell can withstand hurricane force winds of up to 45 m/s and snow loads of up to 240 kg/sq m. And even in severe conditions, their expected service life is up to 20 years.
The pneumatic hangars can be of any size with heights of up to 50 m without the need for foundations or columns.
A key advantage of these hangars is their quick installation. "The rapid pace of construction and reliability of structures makes their operation as cost-effective as possible," says the spokesman.
Currently, Wajehat offers a product range of 500 items.
The pneumatic hangars systems are built in Russia. However, Wajehat has well qualified manpower for installation and maintenance of these systems inside the Kingdom.
"Our professional design team is very well qualified to overcome the most complex designs," says the spokesman.
The electrical, mechanical, firefighting and HVAC for these hangars is done by Wajehat in-house.
Amongst other clients, Wajehat has installed these hangars for Schlumberger in Europe.
An example of Wajehat's efficiency was a project for the Royal Palace in Abu Dhabi, the UAE. The scope of work included installation in 45 days. However, the complete site was handed over in 4 days.
Wajehat is a Saudi company with investments in various sectors including oil and gas, industries, contracting, and trading
It is engaged in the development and manufacture of all-season top-end tent structures and mobile pneumatic hangars.
Wajehat's products can be considered as one of the technical support arms for oil and gas field.
The company is currently working on its participation in Aramco's In-Kingdom Total Value Add (IKTVA) programme.
Wajehat has a total workforce of 53 in the kingdom with further increase likely. This workforce is given regular local and international training in coordination with partners.