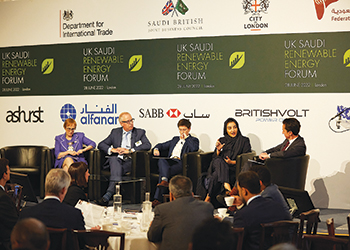 A panel discusses the role of finance in supporting energy transition
The UK/Saudi Renewable Energy Forum London held in June emphasised the UK-Saudi partnership towards the issues of energy transition.
The event organised by the Saudi British Joint Business Council attracted over 150 leading businessmen and women from Saudi Arabia and the UK.
The UK Minister for Investment, Lord Grimstead, highlighting the value of the UK Saudi Partnership in investment terms said: 'The transformational impact of Vision 2030 and how this has facilitated a greater desire for investment partnerships and knowledge exchange, particularly in the field of renewable energy is vast. Saudi Arabia could become one of the biggest green energy exporters in partnership with the UK.'
The theme of the forum was investment in green energy with reference to the trickledown effect that would be realised in the evolving green economy.
Investment opportunities in the UK and KSA's clean energy sectors
emphasised by a panel
The speakers emphasised that the energy transition offers great opportunities for partnership and growth.
Mishal al Mutlaq, Investment Director, Al Fanar Group, referenced Alfanar's investment in a clean aviation fuel project on Teesside; while in the Kingdom the marquee project Neom has the potential of being one of the largest renewable energy infrastructure project worldwide with the opportunity to base an entire economy on renewables.
The event was hosted in the City of London and understandably finance was not far off the minds of the attendees.
Julia Hoggett, CEO of the London Stock Exchange, drew upon the role of the London Stock Exchange in the energy transition and voluntary carbon markets.
In Saudi Arabia, Public Investment Fund (PIF) is playing a big role in the transformation of the Kingdom with the fund committing to finance 70 per cent of the Kingdom's targets of 50 per cent renewables in the energy mix by 2030.
This commitment by the PIF will also be met by the UK's Export Finance, which according to its head of Business Development Richard-Simon-Lewis: 'The role of UK Export Finance is a catalyst, a lightning rod for realising the export potential that we believe exists in these net zero technologies.'
With the cooperation and exchange of technology very much at the forefront, the event highlighted that Sabic's carbon utilisation technology had been selected by the UK Government as 'pioneering' and of value domestically in the achievement of net-zero by 2050.
Links between the Middle East and the UK have already come to fruition in the energy transition, when BritishVolt, a British company by identity, was born out of the region.
As the UK and Saudi move to delivering on their COP26 net-zero targets, the potential opportunities for cooperation and co-investment will be more numerous.
Sir Sherard Cowper-Coles, Chairman of SBJBC, concluded: 'Hearing our speakers talking about taxonomies, standards, blending finance, technology, and materials, all of that has applied to the previous revolutions in the development of human society. We now are at the centre of that story with the combination of our two Kingdoms.'