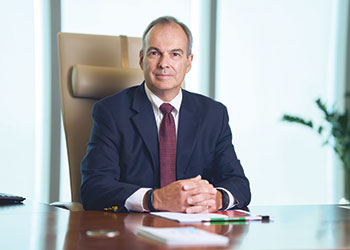 Thomas ... supporting Bahrain's Vision 2030
The inaugural edition of the Sustainability Forum Middle East is being held on January 12 in the Kingdom of Bahrain, and it will gather over 300 regional and global decision-makers and sustainability experts to discuss the Mena region's decarbonisation efforts and ways to drive and support climate action.
Bahrain's Oil and Gas Holding Company (nogaholding) has signed up as 'Energy Partner' for the event, which is themed 'Business Transition to Net-Zero – the Path Towards a Successful Low-Carbon Future'.
The forum aims to raise awareness and mobilising private sector action to support the region's decarbonisation efforts including Bahrain's, which aims to achieve net-zero by 2060 and reduce emissions by 30 per cent by 2035.
Among the forum's main highlights will be a high-level panel on 'Energy Transition and the Integration of Renewables', which will look at the unique circumstances of the regional economies in global energy transition with panelists discussing strategies and actions for moving towards a low-carbon energy future, approaches and examples of notable energy players in the region investing in and diversifying their energy mix, and the growth and integration of alternative energy sources.
Financing will be a key focus at the forum, which will explore the issues of capital required by businesses and governments to fund the transition.
With the region currently at the centre of global dialogue on climate action, following the recently held COP27 in Egypt and COP28 set for November 2023 in the UAE, the forum will kick off with a look at recent resolutions, where the region is today in terms of decarbonisation and what steps lie ahead in the Mena economies' net-zero journeys.
The forum will also feature interactive workshops that have been designed to help companies across sectors, especially SMEs, understand how to develop strategies that bring a focus on climate action into the heart of their businesses and operations.
While many larger companies have already developed their net-zero roadmaps, others have yet to fully understand and plan for the necessary changes required to decarbonise.
As a key driver in the Kingdom's energy transition, nogaholding prepares to undergo a strategic transformation, moving from a traditional oil and gas holding company to a progressive and responsible energy company, under the leadership of His Highness, Shaikh Nasser bin Hamad Al Khalifa, His Majesty's Representative for Humanitarian Works and Youth Affairs, Chairman of nogaholding.
In his comments, Mark Thomas, Group CEO of nogaholding, says: "One of our most important mandates at nogaholding is to support the Kingdom of Bahrain's Vision 2030 and the net-zero ambitions outlined by His Royal Highness Prince Salman bin Hamad Al Khalifa, Crown Prince and Prime Minister at COP26.
"Events such as SMEF provide an important platform for the private and public sectors to come together and share plans and experiences that support the vision of the Kingdom's leadership and showcase how businesses can play a significant role in this transition."
The forum is also being supported by Bahrain Economic Development Board as Strategic Partner, Infracorp as Lead Partner - Sustainable Infrastructure, National Bank of Bahrain as Knowledge Partner, Gulf International Bank as Transition Partner, and Alba as Forum Partner.