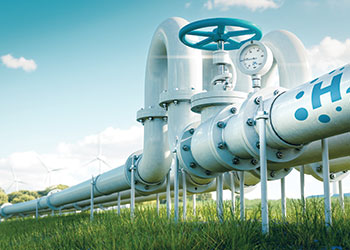 Specialised forums to investigate the potential of 'Clean' Hydrogen
The potential of a globalised green hydrogen economy, which will be centred on the trade in hydrogen generated from renewables or low-carbon power, will be explored during the World Future Energy Summit in Abu Dhabi, UAE.
Delegates at the summit, which runs at Abu Dhabi National Exhibition Centre (Adnec) from January 16-18 and is the leading business event for future energy and sustainability, will deep dive into the realities of a green hydrogen economy, during the event.
Summit-goers will discover the latest technologies driving the hydrogen revolution at the new Hydrogen Innovation Hub, which consists of SMEs and start-ups, speed networking dedicated to green hydrogen professionals, and live podcast recordings focused on green hydrogen. Attendees will also witness the inaugural Green Hydrogen Summit organised by Masdar in partnership with Irena and the Atlantic Council.
The importance of green hydrogen to the regional energy mix has never been more prevalent. With the recent hosting of COP 27 in Sharm el-Sheikh, Egypt, not only were new deals brokered to boost green hydrogen capacity, including Elsewedy Electric and ReNew Power signing a partnership to develop a green hydrogen project in Egypt capable of producing 220,000 tons per annum of green hydrogen, but country's such as Chile securing millions in funding to bolster their green hydrogen output.
"Our Hydrogen Innovation Hub will serve as an incubator, showcasing key technologies enabling the production, transport, storage, and use of green hydrogen. We hope to expedite collaboration, spur investment, and demonstrate the potential for regional projects, initiatives, and partnerships through this new feature at the show," explains Leen Alsebai, Head of World Future Energy Summit, which is organised by RX Middle East.
Event partner, Masdar, has also identified Africa as a continent that could produce 30 to 60 million tonnes per annum (mtpa) of green hydrogen by 2050 (as much as 10 per cent of global demand), thereby helping to create up to 3.7 million jobs while adding as much as $120 billion to the continent's gross domestic product.
Enabling production on this scale would require between 1,500 and 3,000 terawatt hours (TWh) of renewable energy – equivalent to more than 50 times Africa's current total production from solar and wind. This is according to a landmark report, 'Africa's Green Energy Revolution: Hydrogen's role in unlocking Africa's untapped renewables', issued at COP27 by Masdar and its Abu Dhabi Sustainability Week (ADSW) platform, with analytical support provided by McKinsey & Company.
The hypothesis of whether 'green' should be the focus of the hydrogen economy will be scrutinised by a panel of experts at the Solar & Clean Energy Forum as they examine the pros and cons of hydrogen types, why governments and organisations are focussing on green, examples of planned green hydrogen use, and how green hydrogen's electrolyser market is being scaled.
Meanwhile, a panel at the Summit's dedicated Water Forum will explore the water cost of hydrogen, given the large volumes used in manufacturing processes and for cooling electrolysers.
Pressing the case for green hydrogen in water usage will be Roland Kaeppner, Executive Director of Hydrogen & Green Fuels - Energy & Water for Saudi Arabia's Neom, which has launched its own green hydrogen project.
"We will use this as a case study for the sustainability of green hydrogen by demonstrating how – when commissioned in 2026 – the project will mitigate the impact of three million tonnes of carbon dioxide per year," explains Kaeppner.
Water-scarce countries such as the UAE and Saudi Arabia plan to become market leaders in hydrogen manufacturing and supply, but they need to factor in the issues of exactly how hydrogen plans can dovetail with their food and water security strategies in terms of water use.
Currently, some 46 green hydrogen projects are underway in the Middle East and Africa with a further 40 investments worth over $20 billion having been pledged by 2030. The Forums will give these industries a deep perspective on where the smart money is going and how ambitions could be realised.