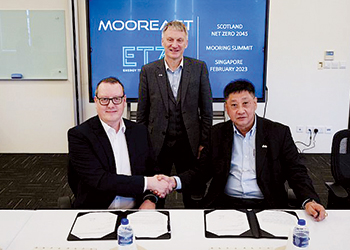 The agreement signing
Mooreast Holdings has signed a collaboration agreement with ETZ to explore a manufacturing facility in Aberdeen, Scotland, for the production of subsea foundations, and the consolidation and assembly of mooring components for the floating offshore renewable energy sector.
It was signed in Singapore with Andy Rodden, ETZ Offshore Renewables Director, and witnessed by Ivan McKee, Scotland's Minister for Business, Trade, Tourism and Enterprise.
Both companies will work to build a facility, which will be more than double the floor space and output of Mooreast's Singapore facility at 51 Shipyard Road.
It will also support Mooreast's efforts to target an increasing number of offshore wind projects emerging in Europe.
Some of Mooreast's high-profile projects include the ScotWind auction, The Celtic Sea Cluster and the Innovation and Targeted Oil and Gas (INTOG) project, which are expected to deliver over 20 GW, 5 GW and 4.5 GW of floating wind energy, respectively. As part of its strategy to capture such opportunities, the Group incorporated Mooreast UK in July 2022.
Aberdeen is home to 75 per cent of the world's subsea engineering capability and the highest concentration of energy supply chain companies anywhere in the UK.
Commenting on the agreement, McKee, said: "It is great to witness the signing of this Collaboration Agreement. As the world's largest floating offshore wind leasing round, ScotWind puts us at the forefront of the global development of offshore wind and represents a massive step forward in our transition to net-zero."
ETZ is a private sector-led not-for-profit company spearheading the energy transition ambitions of Northeast Scotland by supporting the creation of a hub to protect the Scottish renewable sector whilst facilitating job creation.