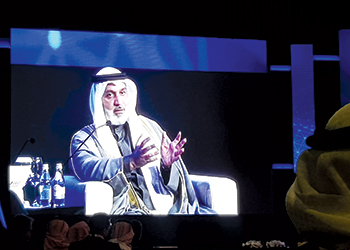 Al Ghais speaking at Meos-Geo
In a motivating speech, Haitham Al Ghais, Secretary General of the Organisation of the Petroleum Exporting Countries (Opec), called upon the oil industry to get united and be more vocal in the face of criticism that the industry is a major polluter.
He said this to a gathering of delegates at the Middle East Oil, Gas and Geoscience Show (Meos-Geo) held in Bahrain as part of the dialogue on 'Supply, demand, and oil price: How to find balance in a volatile market' with media person Eithne Treanor, writes Abdulaziz Khattak for OGN energy magazine.
Al Ghais was unapologetic about the role of oil in global growth. "We really have an industry we should be proud of. I mean, for decades, this (oil) industry has been the source of economic development globally, and industrialisation. Just look around you in this room; everything we have today is derivatives of oil and petrochemicals," he said.
The oil and gas industry is facing increasing pressure to transition and reduce carbon emissions. Investments in the sector have plummeted while geopolitical developments, economic slowdown and market fluctuations challenge a limited pool of resources.
Al Ghais said the global oil sector requires $12.1 trillion investment by 2045. That's $500 billion annually. "This is critical because we see global energy demand rising by almost 25 per cent from now to 2045."

ENERGY EQUITY & TRANSITION
Al Ghais asserted that Opec was 'really' convinced about energy transition, adding, however, that "the issue is not getting rid of fossil fuels, it is reducing emissions".
"We are not climate change deniers, but we believe that the transition has to be equitable. I don't think the (oil) industry should be demonised or presented as the cause of the problem. That is a wrong perception; it's a misguided narrative," he stated.
Making the case for Opec's concern about the environment, he suggested the existence of an Environmental Matters Unit at the secretariat showed the organisation was keen on the energy transition.
Hydrocarbons, Al Ghais, said are here to stay for a long time and so decarbonising them is important.
Al Ghais urged oil companies to show the world that the industry had a lot to showcase and that it can transition along with the rest of the world, and at the same time decarbonise and reduce emissions.

OPEC & MARKET STABILITY
Al Ghais was proud of how Opec was bringing stability to the oil markets. He referred to the December 2016 meeting when Opec brought on board 10 non-Opec producers to form the Opec+ – who in total have almost 50 per cent of global oil production – "to undertake the longest and most effective production adjustments in the history of Opec."
He said nearly 10 mbpd was sacrificed by the producing countries, "all in the interest of this industry, to provide stability and clear vision to what this industry has to have".

OIL FORECAST FOR 2023
The world oil demand growth forecast for 2023 has been projected to be 2.3 mbpd, according to the Opec Monthly Oil Market Report (MOMR) of February 2023.
Crude production in Opec's 13 member states stood at an average of 28.88 mbpd in January 2023. Output increased in Nigeria, Angola, and Kuwait, while it decreased in Saudi Arabia, Iran and Iraq. The report projected demand for Opec crude in 2023 to be at 29.4 mbpd, 0.8 mbpd higher than what it was in 2022.

By Abdulaziz Khattak