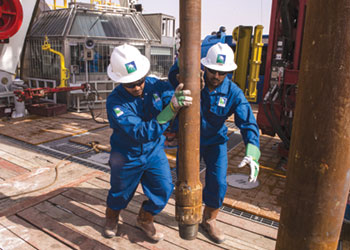 Localisation creates local content and jobs
Aramco continues to make significant progress in key areas of localisation, sustainability, biodiversity and more.
The company is facilitating the development of a diverse, more sustainable and globally competitive in-Kingdom energy ecosystem to underpin the company's competitiveness and support the Kingdom's economic development.
Localised energy production means cheaper energy for more people. It also spells independence from imported energy and fossil fuels.
But a strong local supply chain also means a reliable and continuous supply of energy for the world considering Aramco is one of the biggest suppliers of oil.
This is why the uninterrupted supply of energy to global economies is crucial. As part of Aramco's efforts to support global energy security, it is investing in the technology, programmes, and ecosystems that can boost the resilience and reliability of its delivery.
One of the keys to achieving energy security is resilient and reliable supply chains, and to achieve this, Aramco is deploying a strategy of localisation.
Localising products and services will help strengthen the existing energy infrastructure, create new opportunities for innovation, and expand the local commercial ecosystems — all of which help ensure the resilience of energy supply chains.
All of this has been possible with Aramco's In-Kingdom Total Value Add (iktva) programme.
The aim of iktva is to achieve 70 per cent local content, and so far, it has already reached 63 per cent localisation of products and services in Saudi Arabia, Aramco's 2022 sustainability report said.
"We seek to grow value wherever we operate. With our biggest footprint in Saudi Arabia, we have invested in the Kingdom's oil and gas ecosystem to enhance the reliability of our supply chain, providing employment and economic opportunities to thousands of Saudi nationals," the report said.
During the year, Aramco entered into over 90 agreements with an estimated value of $17.3 billion to build long-term collaborative relationships with strategic, local suppliers.
As a result of these partnerships and local spend, suppliers had an aggregate invested capex of more than $600 million in 2022, which also created over 4,000 jobs for the local workforce.
In addition, 31 new local manufacturers were established. Items manufactured for the first time in the Kingdom, included a chemical reaction plant; frac equipment; welding wires; venturi flowmeters; firefighting foams; and drilling rigs.
Aramco also introduced three new requirements, with incentives to suppliers, in the iktva formula to drive emerging focus areas. These include:
• An environmental, social, and governance factor to drive ESG practices in the local supply chain.
• A cybersecurity factor to drive supply chain and cybersecurity compliance; and
• A regional Headquarter (RHQ) factor to accelerate RHQ migration to the Kingdom, in alignment with Vision 2030.
Localisation is not only for the big players and, in fact, small and medium enterprises (SMEs) play a leading role in growing a thriving commercial ecosystem.
SMEs are effective in finding solutions to challenges, and meeting the demand for new products and services. This is why the iktva program places a major focus on SMEs, accelerating their potential to build reliable energy supply chains by connecting them with major global suppliers to expand their business.
Compared to 2021, iktva helped increase supplier spending in SMEs by 120 per cent in 2022.
Investing in SMEs' growth helped eliminate supply-chain risks by localising the production of commodities across the chemicals, offshore, and oil field equipment sectors, to name a few, for the first time in the Kingdom.
These include the first nonmetallic industrial products manufacturing facility, and the first facility for the manufacturing of flaring equipment.
The iktva program is opening up investment opportunities that can help drive the creation of products and innovations that are not only in demand, but can also play a role in lowering the carbon footprint of the industry and help in the energy transition.