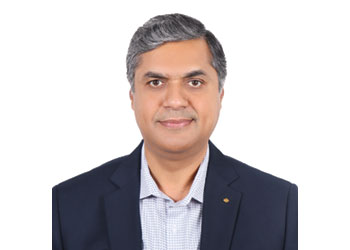 Srinivasan ... a logistics champion
The Middle East is ramping up its offshore infrastructure to meet rising global energy demand, but it is not without its logistical challenges. GAC's Gopalakrishnan Srinivasan tells OGN how support service providers can do more than just moving parts to ports and sites
Global offshore developments will make up half of all approved projects in the next two years, up from just 29 per cent in 2018, according to a new report by Norwegian energy market research firm Rystad Energy.
For the first time, offshore upstream spending in the Middle East will surpass other regions. The amount is poised to increase from $33 billion in 2023 to $41 billion in 2025, owing in part to colossal offshore drilling, extraction and production projects in Saudi Arabia, Qatar and the UAE.
Naturally, the offshore services market is expected to benefit from such investments with supply chain spending in the sector set to grow 16 per cent over the next two years, a decade-high year-on-year increase of $21 billion.
A GAC open yard storage
'The Middle East is seeing a marked increase in the size, scope and number of O&G projects,' says Gopalakrishnan Srinivasan, Group General Manager, Special Projects at GAC Group, one of the region's leading shipping, logistics and marine services providers.
'Correspondingly, there's also a greater demand for offshore support services to keep these projects running on time and budget.'

COMPLEXITY
Offshore oil and gas projects are inherently complex with multiple factors that can impact project schedules or costs if not managed properly.
'There are many aspects involved in offshore projects, including loading and unloading vessels, warehousing and storage, truck loading and final delivery of valuable, heavy or oversized equipment to the offshore site,' says Srinivasan.
'And if we are moving cargo across countries or regions, we face manpower and time-zone challenges as well and our teams would have to coordinate through the night to keep the communication alive.'
GAC has long supported the Middle East's flourishing oil and gas sector, providing rig moving services, end-to-end supply chain management services, warehousing facilities, crew support and freight logistics for more than five decades.
GAC has long supported the Middle East's flourishing oil and gas sector
It is currently supporting a number of offshore oil and gas projects in Qatar, the UAE, Bahrain, Oman and Saudi Arabia.
As the scale of offshore rig developments increases, so do the requirements for project logistics services.
Srinivasan recounts a particular project that GAC undertook earlier this year for a global customer for their operations in UAE as a prime example of how complex these projects have become.
'We were responsible for transporting multiple out-of-gauge structures with a total cargo value of $4 million from Ras Al Khaimah and Jebel Ali to the dry docks in Dubai using a combination of heavy load trucks, barges and tugs. Some of the structures were up to 14.5 m in length, 9.2 m in width, 6.2 m in height and 80 tonnes in weight,' he said.
'Due to the sizes of the structures, we had to coordinate a major operation to disconnect and reconnect overhead power lines, which ran across the road and obstructed the trucks' path.'
For GAC, this meant working with multiple stakeholders including the local electricity company, transportation authorities and a special police unit to secure approvals, road barriers, escorts and assistance for the operation. To minimise the impact on the public, GAC conducted this operation overnight, adding to the time pressure.
'Fortunately, the operation went incredibly smoothly and the cargo reached its destination on time as planned. The whole experience showcased the type of project logistics services that offshore support agents like GAC carry out.'

STABILITY
GAC has long supported the Middle East's flourishing oil and gas sector
In addition to supporting such one-off logistics projects, offshore players are turning to service providers for assurance amid global instability impacting major energy development projects such as offshore oil and gas rigs.
'No one is immune to some of the major headaches we all currently face. From political uncertainties to natural calamities, everything can impact contractual freight rates and cause shipment delays. As an agent, we provide a level of assurance to our customers by being transparent with them about the issues and negotiating with carriers for amicable solutions,' Srinivasan says.
'This became apparent during the pandemic. When freight rates from China to Houston shot up from $2,000 to $15,000, we communicated openly with the customer and suggested feasible methods to reduce costs based on our data. The onus is on the agent to be vigilant and transparent about project challenges. We faced these challenges during the Covid-19 pandemic and we are now applying the lessons learnt throughout that period of uncertainty.'
During major energy projects, a reliable agent is often considered a 'third arm' for the developer.
In GAC's case, this meant offering customers the option of stationing experienced GAC staff in their offices to deal with any issues first-hand.
'For one of our projects in Sharjah, we seconded a colleague well versed in ship agency to our customer's office to coordinate visa handling, crew handling, hotel booking and transportation to the rig and port. Having that immediately accessible pillar of support put the customer's mind at ease and ensured the project ran smoothly as planned,' Srinivasan notes.
As the Middle East ramps up on oil and gas projects, service providers with competencies in shipping, supply chain and marine have the opportunity to demonstrate their unique ability to provide integrated support for all requirements.
By Abdulaziz Khattak