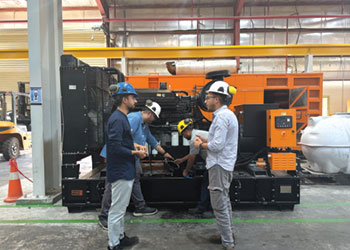 HPI has a robust aftermarket service network
The company is committed to offering solutions to meet the specific requirements, timelines, and budgets, despite the complexity of industries, such as oil and gas, shipping, power, electrical and construction
From sourcing power modules from the global market to manufacturing 'Made in Saudi' units in the Kingdom, High Performance Industries (HPI) has come a long way to meeting the requirements of the local industries.
The company, which is leading supplier in diesel generators, filtration solutions, industrial equipment and oilfield supplies, started manufacturing diesel generators bearing the Precision Industries® (PI) brand, and now has a factory in the Kingdom to produce generators locally.
This facility falls under the ambit of its power generation division, one of three divisions, with the other two being industrial equipment and oilfield supplies.
Through this division, HPI – part of Abdul Rahman Al-Rashed and Sons Group offers a wide range of power modules for the oil and gas, petrochemical, construction, and agriculture sectors.
Compressed air solutions from Sullair that are fit for Saudi Arabia conditions
'HPI is committed to offering solutions to meet the specific requirements, timelines, and budgets, despite the complexity of industries, such as oil and gas, shipping, power, electrical and construction. We offer solutions to home owners, alternate energy users and anyone in need of on-site electrical power,' says a company spokesman.
The company's range of solutions to supply electrical energy that cater to all geographical terrains and power requirements, from 10 kVA to 3,440 kVA.
In addition of manufacturing diesel generators, HPI is offering industrial products from top global brands, such as Sullair (air compressors, Air Dryers) Kotech (portable air compressors, skid mounted air compressor) and Donaldson (Donaldson Air treatments and Donaldson dust collector) SICC Air Receiver Tanks.
• Power generators: HPI is the sole agent of PI diesel generators in Saudi Arabia. In 2009, PI started packaging PI branded diesel generators and is now one of the few registered diesel generator packagers in GCC.
HPI has the broadest range of collectors and filters from Donaldson
'Since its inception, Precision Industries has been the market leader in supplying, installing and commissioning power solutions with efficient cost and highest quality products,' says the company spokesman.
• Precision Industries generating sets are the preferred choice for reliable power sources in both prime and standby applications. In addition to standard products, PI is a solutions provider of customised power systems, such as oil and gas power, rental power and telecom power.
HPI offers a wide range of generating sets in various sizes, including open type, acoustic type, and containerised.
• Sullair: Sullair become a global leader in oil-free, oil-injected air compressors, dryers accessories that delivers robust, reliable, and energy efficient compressed air solutions that suitable fit for Saudi Arabia's conditions.
• Donaldson: As a global leader in the filtration industry, Donaldson delivers a complete system of filtration and separation products for air compressed systems. Its technology in the field of compressed air, gas, and fluid separation extends from the compressor room to all points of use in the factory. Donaldson's dedication to filtration research and development is unique within the industry. We have designed the most efficient filtration technology, filter media and filter cartridges for all types of dust, fume and mist particulate. We have the broadest line of collectors and filters available – from central, source and ambient systems to baghouse, envelope and cartridge technologies
HPI manufactures Precision Industries® generators in the Kingdom
• Kotech: A global leader in portable air compressors with completely integrated digital technology, Kotech provides a wide range of compressed air solutions for mining equipment and construction, from 5.5KW-630KW, 3,2bar-200bar.
Every equipment passes a process of full ex-factory inspection by the professional engineers. Kotech insists on proven manufacturing methods, full loading testing before shipping, and superior after sales service.
In addition to products, HPI has a robust aftermarket service network that caters to customer needs long after a unit has been sold. Aftermarket service includes spare part inventories, full equipped workshop, well-trained service team and professional training for the industry.
The company warns customers against the use of fake spare parts, which can have significant consequences of life and property.