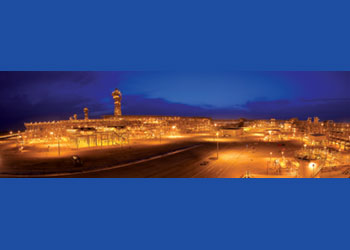 Hawiyah gas plant
Aramco's gas programme aims to support Saudi Arabia's diversification and plans to grow the economy – from power generation and water desalination, to wider industrial operations and the petrochemical sector
Saudi Arabia sits on vast amounts of gas resources and Aramco possesses the technology and know-how to benefit from this. For decades, the company has harnessed the potential gas holds as both a lower-carbon source of energy to use in power generation and as a feedstock for domestic industry.
The company's gas production yields Natural Gas Liquids (NGLs), ethane, and condensate, which supplement crude oil production, and provide feedstock to the refining and petrochemical industries.
In 1975, Aramco began to develop the Master Gas System (MGS), an extensive network of pipelines that connects gas production and processing sites throughout the kingdom. It has been the backbone of Saudi Arabia's industrial network for economic development and diversification since its inception over four decades ago.
Natural gas is used for more than just power generation. It is also a major feedstock for the production of ammonia, which is used in fertilizer production, and for the production of blue hydrogen, which, potentially, will play an important future role in providing lower-carbon energy.
Aramco's gas programme also aims to support Saudi Arabia in diversifying and growing the economy — from power generation and water desalination, to wider industrial operations and the petrochemical sector.
The daily gas processing capacity of the company has increased from 2 billion standard cubic feet per day (scfd) in 2000 to around 18 billion scfd in 2022.
Aramco plans to further expand its gas business, including accelerating the development of the Kingdom's unconventional gas resources, to help meet the large and growing domestic demand for lower-cost, lower-carbon energy.
The rapid development of the natural gas resources remains a strategic priority. Underpinning this development will be the utilisation of Fourth Industrial Revolution (4IR) technologies to boost productivity. From machine learning to Big Data analytics, Aramco is leveraging these technologies to help increase the efficiency and safety of its operations. In support of this aim, it has established the Integrated Gas Advanced Program which seeks to accelerate the implementation of innovative solutions, including deep horizontal drilling technologies that help increase reservoir contact and improve well productivity.
Aramco's gas programme also aims to support Saudi Arabia in diversifying and
growing the economy
The company's gas processing facilities include Berri, Fadhili, Haradh, Hawiyah, Khursaniayah, Midyan, Shedgum, Shaybah, Uthmaniyah, Wasit, and North Arabia, with work underway on Jafurah.

• Berri: The Berri Gas Plant began operations in 1977 with a design processing capacity of 620 million scfd. The plant processes associated gas streams, which are largely drawn from various northern-area onshore and offshore oil fields.
A series of expansions have now increased the Berri Gas Plant's processing capacity to 1.35 billion scfd of raw gas.

• Fadhili: Located north of Jubail Industrial City the Fadhili Gas Plant is Aramco's newest facility, and has a full processing capacity of 2.5 billion scfd. Fadhili is Aramco's first plant to treat non-associated gas from both offshore and onshore fields. It is also the company's first plant designed to use the Tail Gas Treatment process to achieve a sulfur recovery efficiency of 99.9 per cent.

• Haradh: The addition of the Haradh Gas Plant to the Master Gas System in 2003 increased its supply of sales gas by approximately 1.5 billion scfd, by processing 1.6 billion scfd of non-associated gas. The plant initially produced 160,000 barrels per day (bpd) of stabilised condensate to capitalise on the development of the rich gas condensate fields near Haradh. Aramco later expanded the processing capacity of the condensate facilities to reach a processing capacity of 230,000 bpd. By 2013, the Haradh Gas Plant had successfully increased the new plant capacity to 1.833 billion scfd.

• Khursaniyah: The Khursaniyah Gas Plant is located northwest of Jubail Industrial City, and is one of the Kingdom's largest energy suppliers and gas processing facilities. The plant processes both non-associated gas from Karan offshore gas field and associated gas from onshore oil fields. With a processing capacity of 2.8 billion scfd of raw feed gas, the Khursaniyah Gas Plant supplies its Master Gas System with 1.83 billion scfd of sales gas, and 320,000 barrels per day (bpd) of NGL.

• Shedgum: Inaugurated in 1980, the Shedgum Gas Plant was originally designed to process 1.6 billion scfd of raw gas. Following major expansion projects, the processing capacity has now increased to 2.21 billion scfd, which enables the facility to produce 1.5 billion scfd of sales gas and 317,000 bpd of NGLs. Shedgum Gas Plant creates value for Saudi Arabia through processing and supplying high-quality sales gas, NGL and molten sulfur, safely and reliably.

• Shaybah: The NGL recovery plant at Shaybah began production in 2015. The facility is designed to process 2.4 billion scfd of associated gas and recovers 275,000 barrels per day (bpd) of ethane, as well as NGL, which helps Aramco to meet increasing demand for petrochemical feedstock. A pipeline feeds the new volumes of NGL to Ju'aymah for further processing, before delivery as petrochemical feedstock to industrial cities.

• Uthmaniyah: Aramco inaugurated Uthmaniyah Gas Plant in 1981 with a design processing capacity of 1.5 billion scfd for raw gas. In 2000, it increased the feed gas processing capacity to 2.26 billion scfd, to enable it to produce 1.54 billion scfd of sales gas and 308,000 bpd of NGLs. In 2021, the company commissioned the NGL Deep Recovery Facility to recover additional valuable ethane and propane. The Uthmaniyah Gas Plant supports the company's aim to remain a reliable supplier of petrochemical feedstock to Saudi Arabia.

• Wasit: Wasit Gas Plant is one of the largest gas plants Aramco has built. Having gone onstream in late 2015, it reached full operating capacity in mid-2016. Wasit is designed to process non-associated gas from the offshore Arabiyah and Hasbah gas fields. Wasit Gas Plant is a unique gas facility that also has a fractionation complex. Wasit's integrated facilities process 2.5 billion scfd of non-associated gas from these two offshore fields. The plant produces 1.75 billion scfd of sales gas, and 240,000 bpd of NGL, including ethane, propane, butane, and natural gasoline.

• North Arabia: North Arabia is the first unconventional gas project in Saudi Arabia. It has been producing more than 200 million scfd of natural gas since 2018, providing lower-carbon power generation for local industrial projects, and effectively off-setting the burning of high-value liquids in the region. This is the result of using advanced subsurface geology and geophysics technologies, and the implementation of initiatives focused on cost-effective and robust subsurface and surface engineering.

• Jafurah: The development of the Jafurah unconventional gas field is one of the most ambitious projects in Aramco's history. Covering an area of 17,000 sq km, the Jafurah basin is the largest liquid-rich – containing condensates and NGL – shale gas play in the Middle East. Beneath its basin lies an estimated 200 trillion scf of natural gas. $10 billion of contracts are already in place to develop the initial phase of the project. When completed, the Jafurah facility aims to ensure the reliable delivery of natural gas and condensates through a dedicated surface network. It is expected to produce 630,000 bpd of NGLs and condensated by 2030. The expected ethane production by 2030 will be over 420 million scfpd. The company expects the field's production to commence in early 2024.