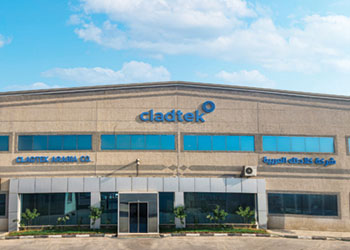 Cladtek's factory ... continuously expanding
There is a huge market for MLP in Saudi Arabia and a local manufacturing facility will greatly reduce lead times and create substantial in-kingdom value in addition to creating hundreds of jobs for locals, senior company executives tell OGN
Cladtek is one of the largest suppliers of Corrosion Resistant Alloy (CRA) weld overlay globally, but it has made a name for itself as a key producer of mechanically lined pipe (MLP), a technology it hopes to bring to Saudi Arabia and manufacture locally.
In November, Cladtek is celebrating 20 years of operations. From its initial headquarters in Singapore and nearby factory in Batam (Indonesia), Cladtek has grown significantly. It has since expanded into Rio de Janeiro (Brazil) and recently set up operations in Dammam (Saudi Arabia), where it currently has two factories and plans for more.
"Having an in-Kingdom presence is part of Cladtek's commitment to driving localisation, domestic value creation and supporting the iktva programme and countries in which it operates," Steven Goodier, SVP Global Sales, Projects and the EMEA Region, and Fahad Essmail, Business Administration Director, tell OGN energy magazine in an exclusive interview.
The following are excerpts from the interview:

What specialised products and services does Cladtek offer the energy sector?
Cladtek is a specialist provider of CRA products, including weld overlay fittings, flanges, pipe, pipe spool fabrication, hot induction bends, and CRA valves to the oil and gas, petrochemicals, and other energy industries. But one product in particular that is gaining market share is Mechanically Lined Pipe (MLP), which is a thin-walled API 5LC CRA pipe, inserted inside a carbon steel pipe to form a CRA liner with overlaid ends.
Essmail ... driving localisation
In recent years, MLP has undergone significant validation and full-scale testing and is now utilised in some of the most demanding environments including high temperature, high pressure, ultra-deep, and dynamic applications.
Not only does MLP offer significant commercial benefits, the tight end tolerances and bore matching increase the productivity of the installation contractor and reduce fabrication risks.
Additionally, Cladtek has developed numerous novel products including Mechanically Lined Tubular (MLT), an Oil Country Tubular Goods (OCTG) down-hole solution and a connector allowing for MLP to be installed without welding and a large pipelay vessel.

How would you describe Cladtek's growth in the Kingdom?
Cladtek expanded its business in the Kingdom from one small factory in the Dammam Third Industrial City to a second factory, which is five times larger than the first. Accordingly, local manpower has increased from less than 10 to over 200 over the last 4 years.
Additionally, the company will also see a 35 per cent increase in weld overlay capacity this year, set to be operational by Q4 2023, to meet the high demand in Saudi Arabia. This would mean the company will hire 100-120 people in the next three to four months.
In Saudi Arabia, Cladtek's factories are mainly focused on weld overlay pipe fittings, flanges, and pipes for fabrication, and associated structural work. Our capacities include pipes over 72 inches in diameter.
Goodier ... creating value
Tell us more about MLP and other technologies that Cladtek is introducing into the Kingdom.
MLP is going to be Cladtek's main product in the Kingdom. This technology has been widely used in the industry since the 1980s, having undergone extensive development over the last 40 years. For instance, in Brazil, it is used as a steel catenary risers from the wellhead to the floating production storage and offloading (FPSO) vessels, in 2,500 m of water.
We now aim to bring the manufacturing of the MLP to Saudi Arabia and have Aramco start using it offshore.
As a first, Cladtek executed a 2-km-long subsea pilot project using MLP with Aramco from our Batam facility which was installed in February 2023. We see a huge market for MLP in Saudi Arabia. Once approved by Aramco, Cladtek will bring its MLP manufacturing capability into Saudi Arabia. This will greatly reduce lead times and create substantial in-kingdom value.
Just for reference, in our aforementioned project with Petrobras in Brazil, we established an MLP manufacturing facility within eighteen months after project award.
Additionally, Cladtek is also pushing MLP and MLT for the carbon capture, utilisation and storage (CCS/CCUS) industries, and corrosive gas applications. A pilot project using MLTs has already been installed at a geothermal field in California.

What's your most exciting project in the Kingdom to date?
Cladtek has executed numerous direct turnkey projects for Aramco, including the Hawiyah Unayzah Gas Reservoir Storage (HUGRS) Project for a tier one EPC Contractor.
This project involved large 72-inch pipes and fittings and was completed ahead of schedule despite the challenges corresponding to the magnitude of the order.
In terms of challenges, the customer was facing issues with inner diameter (ID) tolerance and fit-up control on Hot Roll Bonded (HRB) CRA pipes. HRB pipes generally do not maintain the same tight end tolerances as MLP. Fit up prior to fabrication is critical due to the limited (generally only three mm of) CRA.
Cladtek solved this by offering bore matching on HRB pipes (for 32 inches and above). Additional weld overlay and tight end tolerance machining matching were conducted to allow fit up and on-site fabrication.
Cladtek's Dammam factory also handled large branch connections preparations up to 30 inches diameter on 72 inches by 60 mm wall thickness pipes. The company's in-kingdom presence and significant in-kingdom capability allow us to provide solutions quickly and efficiently, ensuring a smoother and more efficient project delivery process for Aramco.

How much has Cladtek achieved as part of its In-Kingdom Total Value Add (iktva) targets?
Cladtek employs 200 people at its KSA facilities and that constitutes 10 per cent of the group's total workforce.
Our Saudisation level is currently at 45 per cent, making it crucial for the management to develop local capabilities and pass on lessons learned from across the group here in the Kingdom.
To meet our iktva commitments, Cladtek is investing in local training, including classes and on-the-job training, to ensure that the local workforce receives the necessary skills and knowledge.
To achieve this, the company has started a training academy with a specific training curriculum developed for Cladtek employees at the Batam facility in collaboration with local universities in Indonesia.
This year, we plan to take in 20 additional graduates and are in discussions with the Jubail Technical Institute to welcome their welding graduates into our academy.

How is Cladtek developing the capabilities of Saudi engineers and technicians?
The Cladtek group has implemented structural changes overall, including the introduction of an operational excellence team, which is driving standardisation and implementation of best practices. This team, along with ongoing training, is helping us develop our team and engineers.
We started a new training programme called 'iN-Shield', which is focused around nine core competencies that are critical for our success as a business.
The programme implementation is underway and expected to be completed by 2025. The iN-Shield programme contains 20 different training courses. Recently, 20-25 Cladtek employees from various departments went through a lean training course, which will be the first of many.

What measures is Cladtek taking to achieve sustainability?
Over the past 12-18 months, the company worked closely with its ESG team to implement a robust programme across the group. We even won the Asian Oil & Gas Awards in November 2022 for the programme.
Meanwhile, the company is working with renewable energy resources, including geothermal, wind energy, CCUS/CCS, and has a target of generating 10 per cent of its revenue from renewable energy sources in 2024.
We are also working on sustainable solutions involving recycling and re-purposing pipelines at the end of a field life; the connected flowline solution simplifies this process. MLP has a low CO2 footprint when compared to other CRA products and is the ideal solution for this application.

What is your view of the general business environment and specifically in your segment?
The market is extremely buoyant with significant development expected in Saudi Arabia and Aramco's own large capital expenditure plans over the coming years.
Globally, Aramco is stepping up to provide global energy security. Cladtek sees itself as a critical part to assist Aramco to meet those goals.
In the past couple of years, the oil and gas industry has seen significant underinvestment and as most new oil and gas resources are increasingly sour and corrosive. This plays into Cladtek's product strengths, which are expressly developed for those particular environments.

What is your vision for the company?
Our vision for the future of Cladtek is to be the world's leading supplier of additive manufacturing solutions. We aim to continue to be at the forefront of the cladding industry, driving innovation and delivering exceptional value to our customers.
We are delighted to announce that our 20th anniversary celebration will take place on November 15, 2023, under the theme 'Building a Sustainable Future: 20 Years of Additive Innovation'.
Lastly, at Cladtek, we remain committed to delivering innovative, sustainable, additive manufacturing solutions that extend the lifetime and value of our clients' assets.
By Abdulaziz Khattak