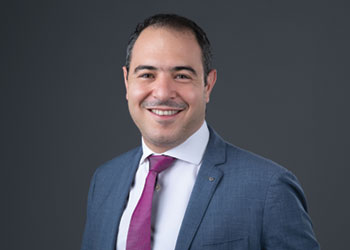 Tariq Bakeer, Regional Managing Director
For Endress+Hauser, the significant investments in cutting-edge technologies in the region present it with boundless prospects. This encompasses vital concerns such as sustainability, energy transition, and localisation strategies.
In an exclusive interview, a confident Tariq Bakeer, Regional Managing Director, Endress+Hauser Middle East, tells OGN energy magazine that his company's accumulated expertise can not only be learned from but also scaled to benefit other global regions.

The following are excerpts from the interview:
• What is Endress+Hauser Middle East's history and why is it important?
Over 15 years ago, our venture in the Middle East started with a strong emphasis on two pivotal industries: oil and gas/petrochemical, a key contributor to the economy and investments, and the water industry, critical in a region challenged by water scarcity.
While our offering to the water industry were already well-suited, our offerings to the oil and gas sector required enhancement. Rather than perceiving this as a limitation, we recognised it as an opportunity for growth. This led us to invest in research and development, expanding our tailored offerings and refining our expertise from the region.
We then shared this knowledge globally, aiding our oil and gas clients worldwide to enhance their product quality and manufacturing them more efficiently. These efforts have proven fruitful, and today, we take pride in being recognised by our customers as a significant presence in the automation industry. We are actively engaged in nearly every oil and gas project, a testament to our progress.

• What are the distinguishing features of your products and services for the energy sector?
Endress+Hauser is keen on recruiting and training Saudis
As a leading global player in the automation sector, we present an extensive mix of products, services, and solutions tailored for the oil and gas industry. Our precision measuring instruments excel in delivering utmost accuracy while upholding the important concern of safety – crucial in this field.
We hold a firm belief in strong service support as a distinguishing element, enabling us to stand by our customers in the closest possible manner. Our regional service team stands unrivalled, an important aspect in ensuring increased plant uptime and minimised production downtimes.
Over time, our service offerings have evolved, progressing from basic commissioning services to on-site assistance and educational/training programs. Subsequently, we extended our scope to include maintenance services, offered through long-term maintenance and calibration contracts.
Presently, we are expanding our scope to include managed services and consultancy services, capitalising on the opportunities facilitated by digitalisation and the Internet of Things (IoT).
Our solutions are mainly designed for the oil and gas sector, with a strong focus on two core factors: Quantity, achieved through high-precision custody metering and inventory measurement, and Quality, through analysing multiple critical quality parameters of our customers' products, whether it be liquid or gas.

• What is your plan for expanding production footprint in the Kingdom?
In 2014, we took a significant investment step by committing to the establishment of an Endress+Hauser facility situated within the Jubail industrial area. The concept behind this versatile facility was to serve as a hub for in-country calibration services, knowledge exchange and training, as well as production.
The inauguration of our Customer Experience Center (CEC) took place successfully in 2018, with a primary focus on calibration and training services during its initial phase.
At present, we are in the process of implementing a production line for one of our core Endress+Hauser products.
To achieve this, we are maintaining close collaboration with entities like Aramco, MISA, and relevant government bodies, with a plan to realise this endeavour during the year 2023 itself.
Furthermore, we have formulated a comprehensive plan covering both the mid- and long-term, aimed at expanding our production footprint within the Kingdom.
This expansion includes not only capacity improvements but also a concerted effort to increase local production activities (local content) and introduce a broader range of 'Made in Saudi' products.
We are currently exploring potential future investments within the King Salman Energy Park (Spark), an area overseen and managed by Aramco. Recognising its development and operational framework, we perceive substantial prospects in making investments within this area in the future.

• How are you unlocking the power of digitalisation in the sector?
Beyond the previously mentioned technologies offered by Endress+Hauser, we are collaboratively exploring the digitalisation sector with our customers to harness its potential for plant optimisations and improved efficiencies.
As a producer of field instruments, we now perceive our process instruments as data nodes, supplying invaluable insights into industrial processes. This perspective enables us to leverage this data on an application level, extending its utility beyond measurement.
Our contribution spans multiple dimensions:
• Collaborative exploration of new technologies alongside our customers to continually enhance their processes and products.
• Facilitating knowledge transfer through training sessions.
• Committing to local production investments and in-country initiatives that foster the growth of the human capital and in-country expertise.

• What's your most exciting project in the Kingdom to date?
Among the many projects that we are actively engaged with in multiple sectors in alignment with the Kingdom's 2030 Vision, one project stands out—NEOM, and particularly its green hydrogen plant, the world's largest carbon-free plant.
It is rather fascinating to witness the world's second-largest oil producer and primary oil exporter embracing green hydrogen as a vehicle to support its net-zero ambitions.
The significance of hydrogen's role in the future energy landscape cannot be overlooked, and our involvement in this esteemed project serves as a solid foundation toward a future endowed with substantial practical insights. This foundation can be expanded upon to offer global support to our customers in their collective pursuit of net-zero initiatives and targets.

• Describe Endress+Hauser's partnership with Aramco in boosting the Kingdom's energy stream?
Aramco stands as a prominent global influencer within the energy sector, centering its efforts on oil and gas as a primary energy source while also emphasising growth in the downstream petrochemical sector.
Oil and gas holds a pivotal role across the energy transition stages towards an environmentally cleaner future energy mixture, not only by providing the financial horsepower required for this shift but also fostering natural gas as a foundation for blue hydrogen production.
Spanning the multiple phases of this transition, Endress+Hauser emerges as a substantial contributor.
As previously highlighted, we already enjoy recognition as a trusted partner to our customers within the oil and gas domain.
Presently, we are extending our investments into the gas sector, preparing a comprehensive portfolio and sharpening our expertise. This strategic move aligns with the growing attention and investments devoted to this field by Aramco and various other regional energy players.
In the blue hydrogen area, we have tangible references and experiences that we can replicate in the carbon capture, utilisation, and storage (CCUS). Notably, and according to multiple references, the Kingdom of Saudi Arabia aspires to capture and store over 40 tons of carbon by 2035. The UAE and Qatar have also significant targets in this field.
In the realm of green hydrogen, our footprint already extends to the world's largest green hydrogen facility situated in Neom. Moreover, we are diligently transferring our global expertise in this domain to the Middle East region, thereby contributing to the ongoing evolution of the energy landscape.
• What is your total workforce in the Kingdom and how do you develop the capabilities of Saudi engineers and technicians?
We are currently close to 50 people strong in the Kingdom; this is more than 0.3 per cent of our global workforce.
With regard to the development of Saudi engineers, we are accomplishing this through two primary directions:
• Internally, through our hiring strategy: We are focusing on recruiting local Saudi engineers, whom we subsequently train, integrate, and consistently develop. This approach aligns seamlessly with the Kingdom's Vision 2030 and the IKTVA (In-Kingdom Total Value Add) initiatives.
• Externally, through knowledge spreading and training sessions: These sessions are designed to enhance the capabilities of local Saudi engineers, empowering them to execute their roles with greater proficiency. We have already conducted numerous such sessions at our Customer Experience Center (CEC) facility in Jubail.

• How does Endress+Hauser achieve sustainability?
We have launched several simultaneous initiatives spanning the region, with the key ones including:
• Initiating carbon footprint measurements to assess our carbon footprint as a primary step towards control and reduction.
• Engaging in recycling efforts by formalising (MoUs) with relevant organisations to facilitate the recycling of various materials such as plastic, oil, metals, etc.
• Ensuring responsible management of electronic waste by collaborating with non-profit organisations like Ertiqa.
• Collaborating with the Red Crescent and actively participating in their diverse initiatives through volunteering efforts.

• What is your view of the general business environment and specifically in your segment?
Presently, the Middle East stands out as one of the most attractive regions in the World. With a well-defined vision and robust measures directed at strengthening stability and economic expansion, the significant investments in cutting-edge technologies present us with boundless prospects. These opportunities position our Middle East operations as pioneers in these areas within the region, where our accumulated expertise can not only be learned from but also scaled to benefit other global regions.
While there exist several challenges to surmount, I firmly believe that our industry contributes to solutions rather than being a source of challenges.
And I am convinced that we possess a wealth of resources to provide substantial support across numerous pressing issues that impact all enterprises. This encompasses vital concerns such as sustainability, the transition towards cleaner energy sources, and effective localisation strategies.

• As an industry leader, what is your vision for the company in the region and especially in Saudi Arabia?
My vision for the company is to achieve a substantial growth within the Middle East region in the coming five years, positioning Endress+Hauser as the manufacturer of choice for our customers in the industry sectors we target.
This growth, however, is grounded by sustainability, considering the welfare of our customers, our team members, and the environment in which we operate.
In Saudi Arabia, our specific goal entails doubling our business within the upcoming three years. Given the ongoing advancements and transformation efforts of the nation, I hold the belief that this objective is indeed attainable.
By Abdulaziz Khattak