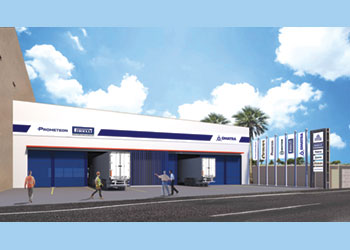 Omatra's state-of-the-art warehouse will provide top-quality products and services
The launch of a new 4,000-sq-m state-of-the-art service centre in Thuqba demonstrates Omatra's intention to extend its footprint across Saudi Arabia
Based in the Kingdom of Saudi Arabia, Omatra, a leading company with over four decades of experience in mechanical work, transportation vehicles, and industrial supplies, proudly announces the upcoming launch of its state-of-the-art service centre.
Taking place at Omatra parts and service centre in Thuqba on December 11, 2023, the inauguration will present advanced workshops dedicated to repairing trucks and heavy equipment and conducting maintenance for a variety of truck tyres, including Bus, OTR, and Agro tyres, all of which are imported from highly recognised European manufacturers.
The Prometeon Tyre Group manufactures and sells tyres especially for industry, transport of goods and passengers, and Agro and OTR applications.
Officially established in 2017 as a spin-off from the industrial division of Pirelli Tyre, Prometeon produces and sells Pirelli branded tyres.
Spanning over 4,000 sq m, the location also includes a spare parts and after sales centre for Astra trucks, Sermac pumps, and Armec mixers, all falling under Omatra's umbrella.
'We are thrilled to unveil our latest state-of-the-art workshop in Thuqba,' says Karim Ghorayeb, the CEO of Omatra.
'This facility represents our commitment to providing top-quality products and services in our continued expansion throughout the Middle East, making it easier for customers to access our products and services. Our search for new opportunities allows us to expand our reach and cater to a wider customer base. With the addition of a spare parts center, we aim to offer comprehensive solutions to our valued clients as well as exquisite after-sales programmes.'
With a commitment to customer satisfaction, Omatra continues to build its legacy as a trusted partner for businesses providing reliable and efficient industrial solutions.
The company has now focused on developing a diverse brand portfolio with a multi-product approach, widening their technological expertise, placing an emphasis on sustainability and innovation within the engineering processes, and offering the right solutions to its customers.
With another warehouse in Jeddah and plans underway for a workshop in Riyadh, Omatra is poised to extend its footprint across Saudi Arabia.