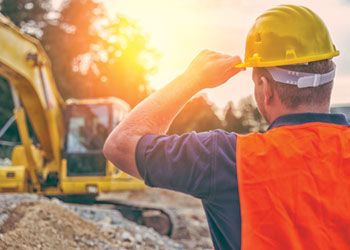 Magellan X invests in digital solutions to enhance health and safety of workforce
Magellan X's technology blends IIoT with AI to assist organisations in creating a more secure work environment and safeguarding the health and safety of their personnel
The oil and gas industry is a huge part of the world's economy, playing a vital role in supplying essential resources like energy. However, the oil and gas industry faces many challenges related to operational efficiency, safety, and environmental stewardship.
Explosions, fires and falls from heights are the leading causes of death in the oil and gas industry, followed by equipment accidents, transportation accidents, and toxic exposure. Offshore drilling operations can also cause accidents and fatalities in harsh weather conditions or in remote drilling areas.
The number of fatalities can vary between countries and regions, depending on industry safety standards, enforcement practices, and safety culture.
The SOL-X is equipped with a Heat stress alert feature
In addition, escalating temperatures are progressively contributing to a rise in injuries and fatalities. Warmer temperatures increase the likelihood of extreme weather events and contribute to an increase in the frequency, duration, and intensity of extreme heat events.
Heat waves can cause considerable difficulties and risks to oil and gas workers, particularly those working outdoors and in remote areas. They are characterised by prolonged periods of excessive heat, accompanied by high levels of humidity, and can result in heat-related diseases and fatalities if not managed properly.
In response, the US' Occupational Safety and Health Administration (OSHA) has recently issued a heat hazard alert and intensified enforcement to safeguard workers from heat illness. This action complements OSHA's broader efforts, including a National Emphasis Programme and the development of a heat-specific workplace standard, to ensure worker safety and health in challenging weather conditions.
The International Labour Organisation (ILO) estimates that around 1.5 billion workers worldwide are exposed to heat stress due to global warming, which could adversely impact productivity and lead to the loss of 80 million jobs by 2030.
These actions taken and astonishing figures highlight the critical need for companies to invest in heat stress prevention strategies.
Industrial IIoT is blended with AI to create worker well-being reports
Safeguarding the health and well-being of workers is not only for the benefit of these workers, but it also benefits the business through ensuring the continuity of operations and mitigating potential liabilities associated with workplace heat stress.
In the face of rising temperatures and an increasingly harsh climate, heat stress prevention is a non-negotiable aspect of responsible and future-proof business operations.
By investing in digital solutions like the SOL-X Connected Worker Health and Safety solution from Magellan X, businesses worldwide are empowered to achieve operational excellence while enhancing the health and safety of their workforce, says the company.

IMPACT OF HEAT WAVES ON O&G INDUSTRY WORKERS
• Health hazard: Heat waves and extreme temperatures can cause workers to experience heat stress, exhaustion, and even heatstroke. Heatstroke happens when the body cannot cool down enough, causing body temperature to rise. Workers who experience heatstroke can feel dizzy, weak, sick, and even lose unconsciousness. In extreme cases, it can be deadly.
• Decreased productivity/fatigue: The effects of extreme heat on workers in the field can be detrimental to their efficiency and productivity. Exposure to high temperatures for extended periods of time can lead to fatigue, which can in turn result in errors, incidents, and accidents. This concern is particularly pronounced in hazardous work environments, such as oil refineries or drilling sites.
• Dehydration: Working in hot environments can result in rapid loss of fluid through perspiration, resulting in dehydration. This dehydration can further aggravate heat-related illnesses and negatively impact overall health.
• High risk of accidents: Heat-related illnesses can increase the risk of errors or accidents in the workplace, which can have serious consequences, particularly in hazardous industries.
• Psychological effects: Working in high temperatures for long periods of time can lead to mental health issues such as stress, anxiety, and discomfort.

COMBATING HEAT STRESS WITH CONNECTED HEALTH & SAFETY SOLUTION
The oil and gas industry is highly complex, and it needs digital solutions that are designed to integrate seamlessly with existing systems and architectures. The urgent need for action demands innovative solutions.
Understanding the impact of heat waves on worker safety across industries, Magellan X, as a DeepTech digital safety solution provider, has developed a connected worker health and safety solution – SOL-X, which is equipped with a heat stress alert feature.
SOL-X is an Industrial Internet of Things (IIoT)-enabled Connected Worker platform that improves the occupational safety of the user.
The solution comprises Control Of Work, Crew Protect and an Intrinsically Safe SmartWatch. The Intrinsically Safe SmartWatch is designed for workers to proactively manage their health and well-being and to improve occupational safety.
The ATEX-certified SmartWatch has GeoFence Alerts, Noise Monitoring and Alerts, Fall Detection and Broadcast Message, Crew Assist, Heat Stress and Heart Rate Alerts which make the workplace safer. It is also compatible with major connectivity protocols such as Wi-Fi, Bluetooth, Long-Range Bluetooth, and Wirepas Mesh.
The SOL-X SmartWatch, with its Heat Stress Alerts feature, measures temperature and humidity to effectively manage and mitigate heat stress risks. It reads temperature and humidity, and issues alerts to the workers regarding varying degrees of heat index – ranging from low to very high heat.
When the temperature increases in the oil rigs or offshore plants, the SmartWatch sends pre-emptive alerts to the workers, prompting them to take a break and hydrate. It also provides advisory in getting medical aid in extreme scenarios.
The watch also has a Crew Assist feature that enables workers to alert their supervisors and provide location information if they feel unwell due to heat or any other cause. This is a potentially lifesaving feature, especially for workers operating alone in isolated areas on an oil and gas field.

ANALYTICS AND REPORTING
SOL-X technology blends Industrial IIoT with Artificial Intelligence (AI) to create worker well-being reports.
These reports help with targeted control measures, such as workload management and assignment of personal protective equipment to specific workers.
In particular, the Heat Stress Report provides a summary of heat exposure alerts experienced by workers, facilitating easy identification of high-risk zones that may require infrastructure improvements, such as water fountains or dehumidifiers. In addition, businesses can rely on insights from the heat stress report to optimise their worker wellness programmes to further mitigate heat stress risks.

PREPARING FOR THE FUTURE OF CLIMATE CHANGE
Utilising the latest technology, Magellan X assists organisations in creating a more secure work environment and safeguarding the health and safety of their personnel.
The SOL-X Connected Worker Health and Safety Solution takes a proactive approach in tackling the mounting challenge of heat stress in industrial workspaces amid climate change. Through the implementation of technological solutions in hazardous sectors, AI and IIoT technologies are demonstrating their value as risk mitigation measures in the oil and gas sector, helping businesses avoid an average loss of $25,000 every year due to compliance and safety incidents.
In addition, Magellan X's experienced engineers will engage in collaborative efforts with customers to ensure seamless integration of the SOL-X Solution into their operations, providing customised solutions suited to each distinct industry.
With the SOL-X Connected Worker Health and Safety Solution, Magellan X is innovating in the face of climate change and setting a promising precedent for the future of industrial safety.