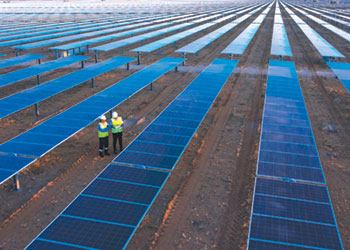 The Sakaka PV plant in Saudi Arabia
ACWA Power, one of the world's largest private water desalination companies and a leader in energy transition, has through recent projects boosted its overall renewable energy and water capacities.
After the financial close of Al Shuaibah 1 and Al Shuaibah 2 solar PV projects in Saudi Arabia, its overall renewable energy capacity now stands at 23.4 GW, while its total water capacity is set to reach 7.6 million cu m per day with the win of the Hassyan Seawater Reverse Osmosis (SWRO) plant project in Dubai.
A consortium including ACWA Power, the Water and Electricity Holding Company (Badeel), and Saudi Aramco Power Company (SAPCO) will jointly develop and own the Al Shuaibah 1 and Al Shuaibah 2 solar PV projects, while Saudi Power Procurement Company (SPPC) is the procurer and the off-taker for the projects.
Situated in Al Shuaibah in the Makkah Province, the Al Shuaibah PV 1 and Al Shuaibah PV 2 will have a capacity of 600 MW and 2,031 MW, respectively, enough to power 450,000 households.
The total investment in the plant amounts to $2.37 billion, and they are expected to commence commercial operations in 2025.
The projects are a key achievement in the National Renewable Energy Program (NREP) which is led and supervised by the Ministry of Energy and is a key achievement towards PIF's commitment to develop 70 per cent of Saudi Arabia's Renewable Energy Target Capacity by 2030.
The PIF, through Badeel, in partnership with ACWA Power as a lead developer is executing a total of five NREP projects, with a cumulative capacity of 8 GW and over $6 billion of investment from PIF and its partners.
These projects – Sudair, Al Shuaibah 2, Ar Rass 2, Al Kahfah, Saad 2 – will enable and support the local private sector through requirements for significant local content contribution and the procurement of equipment, supplies, and services through local supply chains.
Commenting on the financial close, Marco Arcelli, CEO of ACWA Power says: 'Securing financing for this groundbreaking project marks a significant step towards achieving Saudi Arabia's clean energy goals, in alignment with the National Renewable Energy Program, which aims to generate 50 per cent of electricity from renewable sources by 2030.'
With the addition of these two projects, ACWA Power's solar portfolio in Saudi Arabia now exceeds 12 GW of combined PV capacity.
This includes the recent inclusion of three new projects with PIF subsidiary Badeel: the 2-GW Ar Rass 2, 1.125-GW Saad 2, and 1.4G-W Al Kahfah solar plants.

WORLD RECORD WATER TARIFF
Separately, ACWA Power was declared as the preferred bidder for Dubai Electricity and Water Authority's (Dewa) Hassyan Seawater Reverse Osmosis (SWRO) plant, one of the world's largest with an 818,280 cu m per day capacity.
Its submitted water tariff was the lowest – $0.365 per cu m – setting a world-record for Dewa's first Independent Water Producer (IWP) model project.
The plant is an integral part of DEWA's strategy to scale up Dubai's water desalination capacity and to produce 100 per cent desalinated water from a mix of clean energy and waste heat by 2030.
When complete in 2026, the Hassyan IWP will increase water desalination in Dubai from 2,227,540 million cu m per day to 3,409,500 million cu m per day.