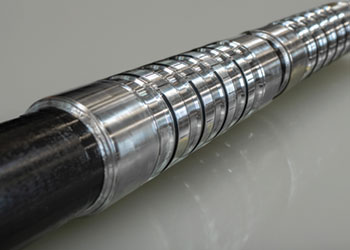 The Welltec Expandable Anchor ... a 4-in-1 completion innovation
June 2023 saw the official launch of the Welltec® Expandable Anchor (WEA), a 4-in-1 completion innovation for anchoring in cased hole in wells for production or injection.
Using proven and award-winning WAB® technology as a springboard for development, the WEA range was designed and engineered with three key characteristics in mind: reliability, flexibility, and efficiency. After more than two years of rigorous testing, demand for the newly developed solution has already led to high-profile deployments in both onshore and offshore environments.

• Reliability: Unlike its on-market counterparts that rely on intricate sequential events, the WEA has a simple and highly efficient architecture, utilising a surface-controlled hydraulic expansion technique to ensure bi-directional anchoring and eliminate the potential for setbacks during the completion process. The entire WEA portfolio is qualified to the highest API and ISO industry standards.
• Flexibility: The WEA is a 4-in-1 completion innovation that can be utilised in any completion program as a liner hanger, tieback liner, inner-string packer, and casedhole plug. The system is compatible with control lines (feedthrough) and eliminates the need for a de-burr run when deployed within perforated tubing. This is essentially one solution with multiple applications, available in a full range of sizes.
• Efficiency: The versatility of the WEA range means operators can simplify and standardise completion design, with the same WEA product covering multiple scenarios. It allows for easy reciprocation, circulation, and rotation during the deployment of the completion string, optimising operational efficiency. Thanks to a generous bypass area, short length, and the absence of cones, the WEA facilitates lower ECD, ensuring enhanced well integrity.

A SOLUTION IN DEMAND
The WEA owes its development to Welltec's in-house design and manufacturing capabilities, ensuring stringent quality control and faster time-to-market.
As a result, Welltec has already completed several high-profile deployments. These include an onshore well in Trinidad and Tobago, where Heritage Petroleum Company had lost production from an existing asset due to a corroded 6-5/8-inch production casing at 355 ft, meaning the well had to be shut in.
With standard cementing remediation presenting costly and complex options, a more efficient and reliable solution was needed to achieve life-of-well integrity.
By running a 534WEA together with another metal expandable packer, the damaged casing section was fully isolated for life-of-well, restoring production quickly, and delivering significant cost savings.
In the Middle East (offshore), a WEA for inner-string packer was expanded via reduced pressure, providing reliable anchoring at the foot of a 12-zone smart completion, counteracting the high level of loading force during subsequent stimulation.

A TRUStED PARTNER TO THE ENERGY INDUStRY
Welltec is a global technology company that develops and provides efficient, hi-tech solutions for the energy industry.
The company was founded in 1994 and grew rapidly by supplying innovative robotic technology to oil and gas operators.
In 2010, Welltec introduced a new business segment focused on the development of completion products.
The commercialisation of these products began in 2014, and the company is now a global leader in the field of metal expandable packer technology.
Welltec's cutting-edge products and services are designed to optimise the performance and integrity of a well, in any environment.
As a well-established and trusted partner to energy industry stakeholders across the globe, Welltec is successfully aiding clients within new energy and climate technology, with a focused approach to help develop geothermal energy, and carbon capture and storage (CCS) projects.
Through advanced engineering and lightweight design, Welltec's solutions have helped clients increase operational efficiency and reduce carbon footprints in a safe and sustainable way for more than 25 years.