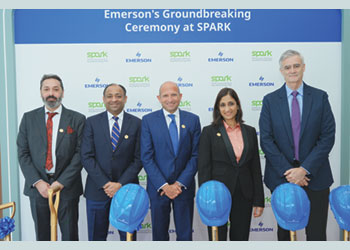 Officials at Emerson's groundbreaking ceremony at Spark
The company will continue its localisation efforts, with significant investments in a new manufacturing facility and training and development programmes, Hussein Zein, Vice-President, Emerson Saudi Arabia & Bahrain, tells OGN
In Saudi Arabia, a nation enriched by cultural heritage and boundless potential, Emerson's journey is one of innovation, collaboration and sustainability.
The global technology and software company has been making its mark on Saudi Arabia's industrial landscape.
It has a long history of commitment to the Kingdom, and has made significant strides in empowering local talent and localising supply chain operations in line with the Kingdom's Vision 2030.
Over the years, Emerson has deployed innovative technologies and solutions that improve the efficiency and sustainability of its industrial customers in the Kingdom.
However, the company's commitment goes beyond supporting the kingdom with technology; Emerson has worked on building a strong manufacturing footprint in the kingdom and has been committed to knowledge sharing and local talent development through competency and upskilling programmes.

SOWING SEEDS OF LOCAL MANUFACTURING
In its first few decades of working in Saudi Arabia, Emerson depended on global fulfillment and manufacturing hubs to supply technology solutions required by its customers.
However, in 2011, a major strategic shift led Emerson to its first investment in the Kingdom when it inaugurated its first local valves manufacturing facility in Jubail.
A local Emerson valves manufacturing facility
Over the years, Emerson has expanded its manufacturing footprint in Saudi Arabia to include facilities in Dammam Industrial areas and Dhahran Techno Valley. It is currently constructing its latest facility – a 30,000-sq-m manufacturing hub at the King Salman Energy Park (Spark).
Emerson has been a long-term partner of Saudi Arabia, providing technological advancements to help drive industrial progress. The company's commitment to the Kingdom has evolved over time, shifting from distribution to local manufacturing.
Emerson's philosophy of growth through empowerment aligns perfectly with Vision 2030, which encourages the company to create opportunities, nurture local talent, and localise expertise in Saudi Arabia.
Its own localisation initiatives are focused on the following key areas: local fulfillment, supply chain localisation, talent localisation, and knowledge transfer.

TALENT AND CAPABILITY LOCALISATION
Emerson's facility at Dhahran Techno Valley
Emerson's journey of empowerment is centred around its dedication to local talent and knowledge sharing. It endeavours to nurture young Saudi minds and equip them with essential skills and knowledge for their future.
The company has invested in training programmes for Saudi nationals, partnering with local educational institutions to expand knowledge in engineering, manufacturing, and technical operations.
A key development in this regard is Emerson's Saudi Apprenticeship Program, which offers young individuals the chance to learn from experienced engineers and thrive in the workforce.
Complying with Saudi Arabia's rigorous regulations is another paramount goal, leading Emerson to adopt new technologies and processes to ensure products meet the Kingdom's requirements and standards.
The commitment extends to product localisation, involving collaboration with local partners to cultivate skills and expertise for producing crucial components.
An artist's impression of Emerson's upcoming facility at Spark
For instance, Emerson worked with a local foundry to localise production of pressure-retained castings, illustrating an investment not only in knowledge transfer but also in nurturing local talents pivotal to both the company and Saudi Arabia's industrial landscape.
Emerson's localisation initiatives aim to create a thriving economy, an active society, and an ambitious nation.
These initiatives help empower local talents, create employment opportunities, and contribute to the growth of Saudi Arabia's industrial ecosystem.
Furthermore, these efforts align with key localisation programmes like SABIC's Nusaned and Aramco's IKTVA, which aim to support local businesses and talents, promoting self-sufficiency and innovation.

RECOGNITION FOR EXCELLENCE
Emerson Saudi Arabia has received two prestigious awards that stand as testaments to the company's commitment to excellence and localisation; one is the Aramco Local Manufacturer Quality Award in 2022, and another is the SABIC Suppliers Recognition in 2023.
The awards do not just serve as recognition of Emerson's past achievements, but inspire others who are striving to localise their operations in Saudi Arabia.
Emerson's journey in Saudi Arabia is a story of alignment, empowerment, and legacy-building. The story successfully demonstrates how multinational corporations and local governments can work together to improve lives and create a brighter future for all parties.

WHAT DOES THE FUTURE HOLD?
The future of Emerson's localisation in Saudi Arabia is a promising one. The government is committed to reducing the country's reliance on imports and is providing incentives for companies that localise their operations.
And Emerson is well-positioned to take advantage of this opportunity, especially with the company's strong track record of localisation and commitment to the economic development of Saudi Arabia.
Emerson plans to continue to expand its localisation efforts in Saudi Arabia in the coming years, with significant investments in a new manufacturing facility, as well as the expansion of its training and development programmes.