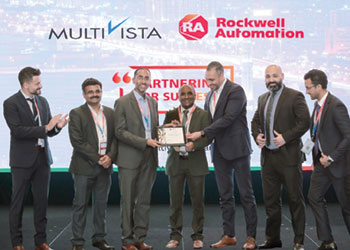 Rockwell Automation's new partnership will bring added value for customers
Multivista Global, an industrial product distribution company with over four decades of experience in the field of air, power, water and industrial automation has recently setup its fully owned subsidiary company, Multivista Oman.
Multivista Oman was appointed by global industrial automation giant Rockwell Automation as its authorised distributor in the country.
An industrial automation event, 'Partnering For Success' was conducted for customers in September. This event witnessed more than 100 participants, representing oil and gas, power and energy, water and waste water, food and beverage, metals and general industries.
Wael Radwan, Country Sales Director at Rockwell Automation for Gulf, Near East and Egypt, said: "Rockwell Automation has an extensive installed base of its automation and software products across manufacturing industries in Oman for the past several decades. With their vast automation experience and working in multiple countries with us, the physical presence of Multivista on the ground will further strengthen our customer support."
Thiagu Bhojan, Director, Multivista, said: Multivista Oman aims to be the preferred partner in the space of industrial automation by offering exceptional knowledge and service that helps our customers to design, implement, and support their automation investment and journey."