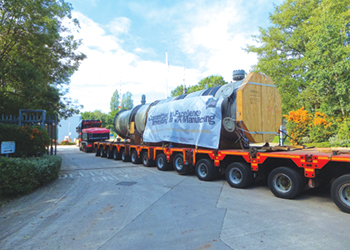 Skem delivery of PV
Using advanced polymer material technology, Trelleborg's offshore operation provides high integrity solutions for the harshest and most demanding offshore environments
A milestone was achieved in the large-scale investment in the new test facility at Trelleborg's offshore operation in Skelmersdale, England, as the first of two 185-tonne hyperbaric pressure vessels arrived on site.
Measuring just under 12 metres long and 2.5 metres in diameter, the logistics associated with the delivery and installation were extremely challenging. After arriving at the Port of Liverpool, the vessel was loaded on a specially adapted delivery truck before being transported 13 miles accompanied by an escort from the Highways Agency to its final home at the Trelleborg's manufacturing facility in Skelmersdale. Due to the size and weight of the vessel, the truck was restricted to going no faster than 10 miles per hour, meaning this relative short journey took over 1 hour.
John Drury, Managing Director at Trelleborg's offshore facility in Skelmersdale, states: "We are very excited that the first vessel is on its way. Our new testing facility will provide our customer peace of mind that our solutions meet all their requirements and global standards every time.
"Installation of the bespoke vessel is scheduled to be completed by the end of 2018 and will provide us with the ability to simulate deep water conditions and to confirm the reliability of product in subsea environments. It represents the final opportunity for product assurance under hyperbaric conditions before delivery of the finished product for offshore installation."
Using advanced polymer material technology, Trelleborg's offshore operation provides high integrity solutions for the harshest and most demanding offshore environments. As part of the Trelleborg Offshore & Construction Business Area of Trelleborg Group, Trelleborg's offshore operation specialises in the development and production of polymer and syntactic foam based seismic, marine, buoyancy, cable protection and thermal insulation products, as well as rubber-based passive and active fire protection solutions for the offshore industry. Within its portfolio are some long established and respected brands including, CRP, OCP, Viking and Emerson & Cuming. Trelleborg's offshore operation has been providing innovative solutions to the industry for over 30 years.
Trelleborg is a world leader in engineered polymer solutions that seal, damp and protect critical applications in demanding environments. Its innovative solutions accelerate performance for customers in a sustainable way. The Trelleborg Group has annual sales of about SEK 32 billion ($3.69 billion) and operations in about 50 countries. The group comprises five business areas: Trelleborg Coated Systems, Trelleborg Industrial Solutions, Trelleborg Offshore & Construction, Trelleborg Sealing Solutions and Trelleborg Wheel Systems. The Trelleborg share has been listed on the Stock Exchange since 1964 and is listed on Nasdaq Stockholm.