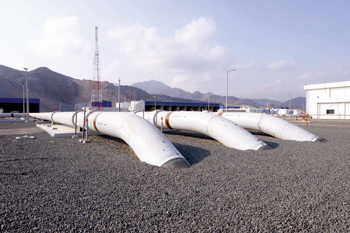 Name of Client : Abu Dhabi National Oil Company (Adnoc)
Estimated Budget : $2,200,000,000
Facility Type : Oil Storage Tanks
Sector : Oil
Status : Construction
Location : Mandous
FEED : Geostock; Abu Dhabi Company for Onshore Oil Operations (ADCO)
Main Contractor : SK Engineering & Construction
Contract Value : $1.2 billion
Background
Adnoc is planning to develop an underground crude oil storage system including three underground mined rock caverns to store three different types of crude (Murban, Das and Upper Zakum) in addition to providing integration with the existing MOT Fujairah Facilities.
Project Status
Dec 2019: Construction activities are well underway. National Emirates is still carrying out drilling works and Pioneers Oil and Gas Services is also working on the shaft excavation for the field.
Project Scope
The project's overall scope of work includes a pipeline network to transport the types of crude; three underground caverns; surface facilities; and relevant civil, mechanical and other engineering and construction.
SK Engineering's scope of work also includes construction of water tunnels (7 m and 5 m) in a D-shape; boreholes and access tunnels; compressor units; access roads; and installation of temperature control machinery and safety systems.
Project Finance
Abu Dhabi National Oil Company (Adnoc) is the project owner.
Project Schedules
Project Announced Q1-2017
EPC ITB Q2-2017
Engineering & Procurement Q4-2017
Construction Q2-2018
Commissioning Q2-2023
Completion Q4-2023