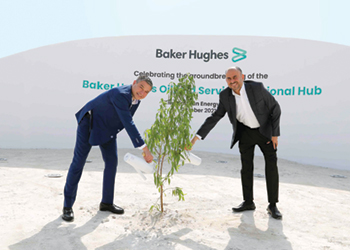 Simonelli and Al Sa'adi (right) plant a tree to mark the occasion
The 300,000-sq-m OFS regional hub will be Baker Hughes' second facility at Spark and will support its operations and customers across the Middle East
Global energy technology company Baker Hughes has broken ground on the construction of its Oilfield Services (OFS) regional hub at King Salman Energy Park (Spark) in Saudi Arabia — its largest assembly, maintenance, and overhaul hub in the Eastern Hemisphere.
The 300,000-sq-m regional hub will support Baker Hughes' OFS operations and customers across the Middle East. It will be home to more than 600 employees, 70 per cent of whom are Saudi nationals. The facility plans to include 120 newly created jobs by the time it opens in late 2022.
The groundbreaking ceremony at the project site was attended by Lorenzo Simonelli, chairman and CEO of Baker Hughes and Ahmad Al Sa'adi, Senior Vice-President, Technical Services of Aramco.
Baker Hughes' investment is a significant milestone for Spark, a 50-sq-km energy city megaproject located at the heart of Saudi Arabia's oil-rich Eastern Province that will position Saudi Arabia as a global energy, industrial and technology hub.
Spark's ecosystem will capture the full economic value from energy-related goods and services in the kingdom and throughout the region, providing investors with an integrated environment that will contribute over $6 billion annually to the Saudi GDP, generate up to 100,000 jobs and stimulate socioeconomic advances across all levels of society.
"Baker Hughes is committed to supporting Saudi Vision 2030 and Aramco's iktva programme. These programmes drive localisation through job creation, supply chain development and export enablement, and further emphasise Saudi Arabia's position as a global energy hub," said Simonelli.
"Today's milestone reflects our continued efforts to transform our core operations to ensure we deliver to Saudi Aramco and regional customers with speed, efficiency and operational excellence."
"We are proud to mark the commencement of construction for Baker Hughes' hub at Spark, where they join a wide range of international companies operating their regional hubs from our strategic location," said Saif Al Qahtani, President and CEO of Spark.
"This significant step is a testament to Spark's unique industrial eco-system, world-class infrastructure, and capabilities. Our collaboration with Baker Hughes supports our vision and commitment to serve as the preeminent global industrial hub for the energy sector."
The OFS regional hub will be Baker Hughes' second facility at Spark after Novel Non-metallic Solutions — a 50/50 joint venture with Aramco — which broke ground in December 2020.
Baker Hughes has a history of more than 80 years of operations in Saudi Arabia, with more than 2,800 employees and more than 10 existing Baker Hughes facilities focused on manufacturing, maintenance, services, training, and research and development.