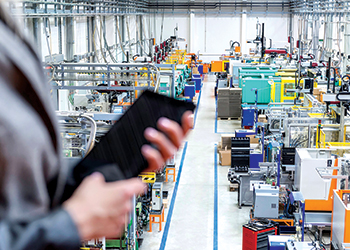 Identifying value of procurement through digital technology
With a changing energy landscape, the industry should capitalise on digitalisation and utilise technology to streamline its procurement operations to deliver increased value, says Hani Mosbeh, Vice-President Sales Middle East & Africa, JAGGAER, tells OGN
The oil and gas industry was already facing a market headwind long before the pandemic started; however, Covid-19 further accelerated the wind speeds and changes that would otherwise have taken years to happen to unfold in a matter of months.
Despite Brent oil prices currently at around $70 per barrel (which is particularly impressive when we consider it averaged $41 per barrel in 2020) and a robust global economic recovery, particularly in the US, Europe and China, the unpredictability of the virus and its re-emergence in certain markets is putting the recovery under pressure.
In the Middle East, the UAE has committed to reducing carbon dioxide emissions by 70 per cent and increasing clean energy by 50 per cent by 2050.
With this changing energy landscape, the oil and gas industry now has the opportunity to capitalise on digitalisation and utilise technology to streamline its procurement operations to deliver increased value.
Procurement tech lowers costs on both sides of supply chain
As a result, the big oil and gas players face a range of vital strategic questions. These relate to the re-pacing of oil and gas investment in the short term, transforming legacy technology estates to support their net-zero ambitions, and identifying when investment in renewable generation will yield tangible cash flow.
The role of exploration in the future and reinvesting surplus cash flow into the business are additional questions currently being considered.
Many in the oil and gas industry have been addressing the role digital technologies play in disrupting their existing business models.
Digital transformation makes it easier than ever before for a procurement function to play a significant role in optimising the business and its supply chain while delivering cost savings.
If we take the challenging trading conditions of 2020 as an example, oil dropped as low as $17 per barrel, and as a result, oil and gas organisations were in a position where they had to achieve more with fewer resources.
Of course, these were unprecedented times; however, one of the ways companies within the industry are achieving this is by capitalising on procurement technology.

WHAT DOES DIGITISATION MEAN FOR O&G?
Digital technologies are helping all industries reshape their business landscape, which is no different for oil and gas companies.
Mosbeh ... focus on digital transformation for procurement
What does digitalisation mean for the oil and gas industry? In short, digital transformation is helping the oil and gas sector tackle the challenges it faces in the long term and create value for all its stakeholders.
A study by the World Economic Forum has revealed that digitalisation can unlock up to $945 billion of value for the oil and gas industry, which would unlock a further $637 billion for the broader society over the next 10 years.

SOURCES OF VALUE FROM DIGITALISATION
First and foremost, digital transformation enhances efficiency, increases customer value, manages risk, and provides direction when generating new revenue opportunities.
Digitalisation also has a fundamental role in controlling and managing the risk of disruption to supply chains and compliance through predictive maintenance and providing increased visibility.
The agility of the business is another hallmark of digital implementation, allowing it to react to change with product pricing or commodity trading strategies.
As we highlighted earlier, the UAE has set out clear and defined targets for the reduction of CO2 emissions and increase clean energy output.
Technology implementation enables organisations to deliver against their net-zero ambitions through nature-based solutions and carbon credit management.
The use of tech also promotes opportunities to integrate within the organisation – developing integrated products across value chains.
It also allows for the development of innovative business models and customer-centric products such as real-time cust omer support.
More concisely, digitalisation eliminates routine and creates greater visibility over spend and risk.

THE TECHNOLOGY – THE SOLUTION
Procurement technology allows companies to effectively identify sources of potential value through advanced analytics, unlock sourcing and negotiation strengths and retain value in the business through effective contract, performance, and risk management.
By utilising procurement technology, it is possible to develop supply management strategies that recognise changing political and economic pressures.
It can assess the risks associated with geopolitical shifts, identify alternative suppliers for renewable energy projects, and take advantage of the competitive technology market.
The technology also allows companies to diversify suppliers and broaden their marketplace. Suppliers are identified, vetted and onboarded faster, achieving indigenisation and similar goals.
There are more opportunities to monitor performance more accurately while increasing competition between suppliers.
In addition, there are opportunities to build, issue and evaluate sourcing events between internal stakeholders and external partners collaboratively.
In an uncertain energy marketplace, it's imperative to move to a more strategic approach that allows you to drive better contract terms, deeper volume discounts and more bargaining power with advanced event hosting.
Procurement technology also provides the opportunity to lower costs on both sides of supply relationships by evaluating the value of bids beyond just price, whether you're collecting simple quotes or running complex events.
It is about impacting the bottom line with more informed decision making and leveraging high-performing suppliers with clear data insights.

CONCLUSION
Ultimately, digital transformation, supported by procurement technology, enables a business to do a lot more with less.
Procurement is responsible for managing the acquisition of assets and managing the supply chain in meeting their mission requirements. With the industry facing strong headwinds, it is no surprise that organisations in the oil and gas sector are looking to unlock value through digital transformation.
The value procurement technology adds will be essential for the continued growth of the oil and gas sector in the Middle East.