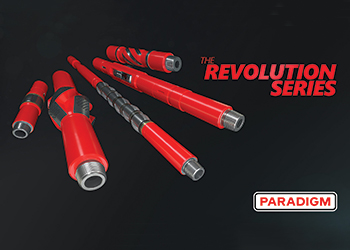 The Revolution series by Paradigm Drilling Services
Paradigm Drilling Services, part of the Dutch Paradigm Group, has announced its strategic alliance with UAE oil service company ProGroup MENA to manage sales and rentals across the Middle East.
The agreement will see ProGroup MENA exclusively managing supply, sales and rental of Paradigm Drilling products and services in the region as business and demand grows.
Commenting on the alliance, Kevin Langan, Managing Director at Paradigm Drilling Services, says: "This strategic relationship strengthens our relations in the Middle East, allowing mutual growth opportunities for both us and ProGroup. Our product line and outlook for growth also compliments our partner, which we are confident adds leverage to our offering."
"Given the challenging times we are still in, we are responding to the need for companies to keep operating costs down and the requirements to reduce carbon contributions where possible."
For example, Paradigm's Rebel tool has been developed to increase cleaning efficiency in drilling operations which results in reduced production time.
We are continuously looking at ways in which we can develop our technologies to pass on these cost savings where possible".
Mohamed Galal, ProGroup Mena's Managing Director, comments, "What attracted us most to partnering with Paradigm Group was the durability and reliability of its downhole tools and overall knowledge and appreciation of the market in this region."
He says Paradigm's solution-based ethos of reducing total operating costs entirely fits within ProGroup's way of business operations.
"We strive to provide our clients with the best value and are always looking to improve our offering".