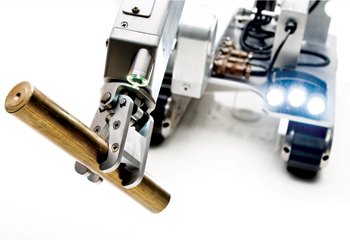 Remote tooling robot
Tethered robots can travel up to 1,000 m from a single access point, which translates to no costly scaffolding or
rope access technicians, promoting increased safety all around, an Eddyfi Technologies spokesman tells OGN

The oil and gas industry continues to benefit from higher productivity afforded with robots for testing, sampling, and data collection activities within the storage tanks that cover the landscape of the energy sector.
The question of 'by hand or unmanned' is being asked more than ever with the prioritisation of worker and environmental safety, and the benefits of mobile inspection robots help make that decision an easy one.
RMS PA phased array corrosion mapping scanner solution
When dealing with work at heights, inside confined spaces, or other potentially treacherous areas encountered across facilities, robots present a safer alternative for routine operations.
Eddyfi Technologies, the reference for advanced non-destructive testing (NDT) technologies, has opened a world of possibilities by combining its NDT modalities and remotely operated robotic crawlers for tank integrity assessments, maintenance, and beyond.
The company has a Center of Excellence for Robotics, the result of the acquisition of Inuktun who earned a reputation as the expert in remote-controlled robotic transport and delivery of visual inspection equipment and instrumentation tooling for over 30 years.
Now, Eddyfi Technologies has a robust lineup of inspection crawlers that can be easily seen at work on tank farms all around the world.
The inherent modular design of the robotic platforms introduces a diverse range of custom robots that have been the answer to remote industrial challenges where no commercially available solution previously existed.
The control software used to operate these remote crawlers is universal across the variety of standard platforms available; from horizontal and vertical pipe crawlers to the magnetic robots more commonly found scaling tank shells and roofs, these robots are all driven with ICON™ software.
Operators will easily use an Xbox game console controller, keyboard and mouse, or touchscreen actions to get their crawler to follow commands to advance, retreat, and closely assess any regions of interest either inside or outside the storage tank or vessel.
The tethered robots can travel long distances, in some cases up to 1,000 m (3,280 ft) from a single access point. This translates to no costly scaffolding or rope access technicians, promoting increased safety all around.
Embedded control software onboard Mantis™ portable phased array tool
Onboard high-definition video cameras report real-time condition and all data is recorded for audit purposes with an available digital twin comparable against any changes over time. This pattern analysis and trending is key for a strong risk management programme.
While Eddyfi Technologies' standard robotic crawlers will address most visual testing requirements for tanks, custom solutions or OnSpec robotics are their answer to unprecedented requests. The first marsupial crawler came from this scenario.
When a solution was sought for inspection inside the double shell waste storage tanks at Hanford Site, a decommissioned nuclear production complex in the US, Eddyfi Technologies provided the answer.
The new robot was needed to grant access to areas of the tank floor that had been previously unattainable.
Given the content of these tanks, they could not be emptied for evaluation nor could inspection tools be deployed internally.
The tanks were supported by a concrete foundation that ultimately offered access through refractory air slots with a miniature remote robotic system.
Using one robot to deliver another, the marsupial crawler sent the small inspection robot through the risers to broadcast live visual and sensor inspection data from within the air slots.
Negotiating bends, debris, and transitions between different slot types, sensor integration, and retrieval of the system presented specific and significant challenges overcome by the custom confined space entry solution.
OnSpec robotics gave engineers the first look at the underside of the tanks since built.
Beyond remote visual inspection, Eddyfi Technologies leverages its synergistic technologies for even more comprehensive data collection.
The RMS PA phased array corrosion mapping solution is an automated scanner specifically designed to inspect large assets like storage tanks for erosion and corrosion.
Marsupial robotic crawler system for inspecting
previously inaccessible tank floor
The RMS PA performs non-intrusive inspection, travelling at unrivalled speeds to gather high-resolution thickness measurement data of the storage tank.
The NDT scanner is operated with Capture™ software found in both the Gekko® or Mantis™ portable phased array instruments.
Capture software has advanced filtering for accurate and efficient inspection of materials for wall thickness deterioration.
With unique ultrasonic processing and post-inspection analysis capabilities, precise corrosion mapping data is delivered with different visual display options for better understanding and decisions.
The controller provides access to a Windows based graphical user interface on the phased array unit which enables remote login for calibration and scanning, proposing a novel way of working with remote services now an alternative to being fully onsite.
Eddyfi Technologies' automated and robotic solutions are not limited to tank inspection. Take sampling, for example. The US Department of Energy's Office of Environmental Management rely on their custom robot to remotely collect nuclear waste samples from tanks.
The unique crawler employs a four-function manipulator arm that grips a purpose-built collection device used to scoop up the sample and deposit it in a retrieval basket that is then lifted from the tank.
An onboard camera helps the operator remotely maneuver inside the tank from a safe distance.
A similar Eddyfi Technologies robot is used to clean any remaining waste inside large underground liquid storage tanks, transferring the contents to other tanks.
It's all about protecting humans (rather than replacing them) and leveraging technology.
Inspection robots can perform programmable, repetitive tasks faster and more efficiently than people can.
Eddyfi Technologies' solutions minimise risk by accessing the confined spaces, heights, and other problematic environments people shouldn't visit.
Beyond worker safety, robotic crawlers allow more frequent in-service tank inspections.
The remotely collected data provides integral information to determine a tank's structural integrity.
Inspectors and asset owners depend on these preventative data results to make decisions that impact human and environmental safety.
Eddyfi Technologies' solutions can be used to find a problem and also fix it; their offering maximises productivity and efficiency as part of a healthy risk management program for storage tank owners and operators.