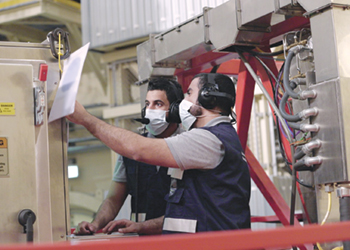 Unit 3 will be ready for start up after the fuel load process
The Barakah nuclear plant has started loading fuel assemblies into the Unit 3 reactor after the operating licence was granted to Nawah Energy by the Federal Authority for Nuclear Regulation (FANR).
Emirates Nuclear Energy Corporation (Enec) said Unit 3 was now approved to operate alongside Units 1 and 2, adding the milestone represented swift progress in developing nuclear energy as a strategically significant, clean and abundant source of electricity for the UAE, while transforming the country's energy landscape and enhancing national energy security.
This is the third unit that will enter the operational phase in the last three years, leveraging the expertise, experience and knowledge gained during the loading of fuel into Unit 1 in February 2020 and Unit 2 in March 2021.
With the completion of the fuel load process, the operations team will proceed with preparations for start-up of the unit later this year, followed by the delivery of the first megawatts of clean and reliable electricity.
Mohamed Ibrahim Al Hammadi, Managing Director and CEO, said: "When it begins to operate at full power within the coming months, the third Unit will add a further 1,400 MW zero-carbon emission electricity to the national grid, similar to each of the other two reactor Units, propelling the country ahead in meeting its goal of achieving Net Zero emissions by 2050.
The Barakah plant, located in the Al Dhafra region of Abu Dhabi, UAE, is one of the largest nuclear energy plants in the world, with four APR-1400 Units.
The last of the four units, Unit 4, is in the final stages of commissioning.
Barakah is the only multi-unit nuclear energy plant operating in the Arab world. It will provide significant environmental benefits for the UAE through rapid decarbonisation of the energy sector.
When fully operational, the plant will prevent 22.4 million tons of carbon emissions every year.