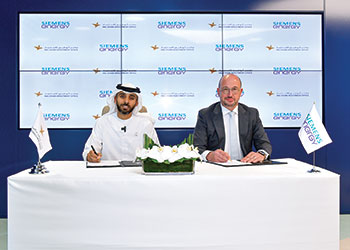 ADIO and Siemens Energy sign the agreement
Siemens Energy has received support from the Abu Dhabi Investment Office (ADIO) to set up its Middle East Innovation Centre in Abu Dhabi, as part of ADIO's Dh2 billion ($545 million) Innovation Programme to accelerate the journey to net-zero and that create growth opportunities for businesses in the emirate.
It follows the 'New Energy Security and Industry Accelerator' agreement, which was signed by both organisations in September to accelerate projects between the UAE and Germany in energy security, decarbonisation and climate action.
The Innovation Centre in Abu Dhabi is one of only four globally that Siemens Energy has created, with the other locations being in Orlando (IS), Shenzhen (China and Berlin (Germany).
It will primarily focus on developing circular carbon economies and technologies incorporating digital decarbonisation solutions, green fuels, fuel cells and electrification of heat and industrial processes.
A host of intellectual property is expected to be developed, along with an aim to facilitate six industry partnerships and four Abu Dhabi university research partnerships by 2025.
The centre will leverage Siemens Energy's expertise in developing sustainable, reliable and affordable clean energy technologies.
It will also act as an incubator for new start-ups and technologies, bringing together customers, industrial partners, academia and research centres to accelerate the commercialisation of innovative solutions driving the energy transition.
Siemens Energy selection of Abu Dhabi for the centre was because of the emirate's efforts to decarbonise the economy, become a global hub for green energy and grow the knowledge ecosystem.
The Innovation Centre will contribute to the UAE's goals of generating 50 GW of renewable energy by 2050 and becoming a global energy centre of excellence.
The Abu Dhabi Innovation Centre will be headed by Siemens Energy Chief Technology Officer, Middle East, Dr-Ing Fahad Alyafei.
According to Eng Abdulla Abdul Aziz AlShamsi, Acting Director General of ADIO: "The partnership between ADIO and Siemens Energy will enrich the energy technology ecosystem with the introduction of new ideas and solutions that open pathways for the global energy transition. ADIO will continue to partner with innovation-driven companies in high-impact sectors to help them reach the next stage of their growth."
Dietmar Siersdorfer, Managing Director UAE and Middle East, Siemens Energy, says: "As one of four globally, this Siemens Energy Innovation Centre in Abu Dhabi, in collaboration with ADIO, will enable us to leverage the rich industrial ecosystem in Abu Dhabi, and work with start-ups, academia as well as public and private companies to develop and commercialise new technologies that will make a meaningful impact on carbon reduction."