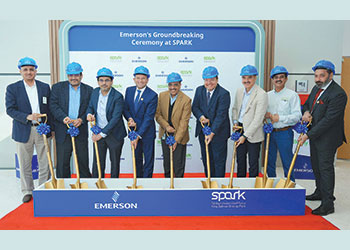 The groundbreaking event
Emerson, a global technology, software and engineering powerhouse, has broken ground to build a state-of-the-art innovation and manufacturing hub at the King Salman Energy Park (Spark) in Saudi Arabia, further expanding its local capabilities.
The facility will be one of the largest investments in the Middle East and Africa region for the company.
The facility, which is slated to open by December 2024, will provide industrial customers in the region with services for control systems engineering, staging and testing, manufacturing of differential pressure (DP) transmitters and control valves, pressure relief valve assembly and solenoid valve assembly. Emerson's construction of an innovation and manufacturing hub at Spark aligns with Saudi Arabia's 'Saudi Vision 2030,' a strategic framework to promote local content and improve localisation.
The groundbreaking ceremony was attended by Lal Karsanbhai, CEO of Emerson; Vidya Ramnath, President of Emerson Middle East and Africa; and Nabil Chaachou, VP Strategy & Business Development of Spark. Other members of the company's leadership team and local VIP customers were also in attendance.
Emerson is pursuing value chain localisation as part of the 'Made in KSA' initiative and has targeted supply chain localisation opportunities across its various products. As a result, the company is set to collaborate with local suppliers through extensive qualification processes, knowledge transfer, prototyping, and testing to ensure sustainability and self-sufficiency of its facilities in Saudi Arabia.
Separately, Emerson has been chosen to provide automation technologies, software and analytics for the $6-billion Ras Laffan Petrochemical Complex in Qatar, the largest ethane cracker in the Middle East and one of the largest in the world.
The company will deliver integrated process control and safety systems that leverage advanced predictive technologies to reduce operational complexity and minimize project risk through its DeltaV™ distributed control system and Rosemount™ gas analyzer solutions.