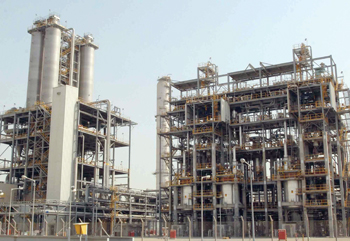 Production at Egypt's refineries will be diversified
EGYPT and Kuwait have signed a memorandum of understanding to invest in projects in the petrochemical and phosphate fertiliser sectors.

The projects include: a complex for polypropylene production and its derivatives; a project for formaldehyde and its derivatives; and a complex for phosphate fertilisers and complex fertilisers. Total investments for the projects come to a total of approximately $6.8 billion, according to Prime Minister Ibrahim Mehleb, who attended the signing of the memorandum.

The cabinet statement announced that the companies that signed the agreement are: Egyptian Petrochemicals Holding Company (Echem) and Egyptian Phosphate Company, from the Egyptian side; and Egyptian-Kuwait Holding, Saudi International Petrochemical Company (Sipchem), Bawabet Al Kuwait Holding Company, and Boubyan Petrochemical Company (BPC) from the Kuwaiti side.

Echem president and chairman Mohamed Safaan says the projects are a partnership with Kuwait in terms of conducting studies and fund. The projects, according to Safaan, are still under study regarding their implementation area, and it is possible that some of them will be built in the Suez Canal axis.

The oil sector is one of the sectors that attract investments from the two sides. These projects are, thus, of great importance even if they will need about five to six years to be completed and start production," Saafan says. We are, however, positive about their outcome and the revenue they would add to investments in such a vital sector."

Kuwait Industries Union chairman Hussein Al Kharafi says: The projects will provide great job opportunities which would amount to 28,000 direct and indirect opportunities. They will also boost Egypt's ability in oil production to meet the needs of the local market and open an export market."

The Kuwaiti side was eager to start these projects after seeing support from both sides and some political stability in Egypt recently. Al Kharafi expects that the work on these projects would take between three to five years, while some of them would be built near the new Suez Canal. Feasibility studies would first be conducted on these economic projects.

The projects will be presented to investors during an Economic Summit, according to the Prime Minister, within the proposed projects in the oil sector. As per a request from the interested Kuwaiti side, they signed a memorandum of understanding to conduct studies for these projects.

The statement adds that the projects include a propylene complex and its derivatives, which will produce the products using the available amounts of propane, with facilitations from Alex Gasco instead of exports.

The complex's production capacity is expected to between 420,000-470,000 tonnes of propylene and its derivatives annually through using roughly 320,000 tonnes of propane. The project will be built in Amreya, Alexandria, with a total investment cost at $2.5 billion, and it is estimated to start operations in 2020.

The partnership also includes building a complex for refinement and petrochemicals with an estimated investment of up to $3 billion. Phase I of the project includes exploiting the production capacities of the refineries in Suez through providing imported crude oil and refining it in the existing refineries in Suez Cement Company and Nasr Petroleum Co.