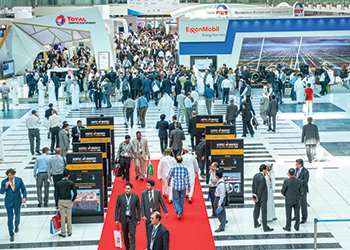 One of the world's top three energy events, Adipec 2015 is expected to surpass the success of last year's record event, which drew more than 76,000 visitors 1and generated $8.5 billion of on-site business, up from $5 billion in 2013
Abu Dhabi International Petroleum Exhibition and Conference (Adipec) 2015, which will be held from November 9 to 12 at the Abu Dhabi National Exhibition Centre (Adnec), is all set out to be the biggest and the most substantial event in its 31-year history, breaking its own previous records, once again, according to the figures available.
The event – in its 18th edition – is expected to host more than 2,000 exhibitors representing over 2,500 companies from 120-plus countries, covering 110,000 gross sq m of floor space. The four-day show will also see more than 85,000 attendees, and 7,000 delegates this year, building on last year's success.
BUILDING ON PAST SUCCESS
Adipec 2015 is expected to surpass the success of last year's record event, which drew more than 76,000 visitors, and generated $8.5 billion of on-site business, up from $5 billion in 2013.
'Last year, Adipec attracted more than 1,800 exhibitors from 112 countries, with record participation from National and International Oil Companies, including firms from major market players Saudi Arabia, China, and Mexico. We are looking to break records once again this year with Adipec 2015,' says Christopher Hudson, vice president, Energy at dmg events.
Since its inception in 1984, Adipec has made remarkable progress in the past thirty years, evolving from a tiny regional event to the third largest gathering in the international oil and gas sector. Adipec today stands as one of the world's top three energy events, and the largest in the Middle East and North Africa (Mena).
'Industry professionals are confident that the energy sector will continue to realise success through the global commitment to innovation and technology, and having an international platform to share this knowledge and expertise is critical,' says Hudson.
'Adipec offers that global platform and serves as a central meeting place for senior executives and decision makers from the industry to learn about government decisions relating to energy policies, and explore the latest technologies that would help them achieve their short and long-term exploration and production (E&P) objectives,' he adds.
Adipec exhibition ... crowd puller
INNOVATION – THE TIMELY THEME
Inspired by the UAE leadership's declaration of 2015 as the 'Year of Innovation', the theme for Adipec this year is 'Innovation and Sustainability in a New Energy World', bringing together the best and brightest minds, including Ministers, senior-level industry executives, world renowned energy experts, and thought-leaders to shed light on the critical topics driving the transformation of the energy sector – from the innovative technologies advancing exploration and production, to the evolving global energy mix and the emerging role of unconventional resources.
Ali Khalifa Al Shamsi, director of strategy and coordination at the Abu Dhabi National Oil Company (Adnoc), and Adipec 2015 chairman, says: 'Adipec provides a significant global platform for oil and gas professionals to exchange ideas and knowledge and share best practice in the industry. Global leaders across the sector recognise the value that Adipec brings and the role it plays in support of industry development and growth. This recognition positively reflects on Adipec and is what has helped the event achieve significant growth over the last three decades of its history.'
Fifteen National Oil Companies (NOCs) and 15 International Oil Companies (IOCs) have already confirmed their participation this year, including regional market players the Kuwait Oil Company, Qatar Petroleum, and Saudi Aramco, as well as global giants BP, ExxonMobil, Shell, and Total.
Saif Ahmed Alghfeli, CEO of Al Hosn Gas, and co-chairman of Adipec 2015, says: 'Innovation and creativity have been hallmarks of the oil and gas industry, and those who have been in the industry long enough have experienced first-hand how it has transformed over the years, thanks to innovation.'
In addition to providing a platform for exchanging industry-setting knowledge and technical expertise, Adipec also offers the ideal meeting place for stakeholders – be it investors, service providers, contractors, or suppliers – to forge new partnerships and seek business opportunities. More than half of oil and gas professionals who attend Adipec have joint or direct purchasing authority, and last year major business deals were signed at the global event.
WORLD'S THOUGHT-LEADERS ASSEMBLE
Billed as the premier speaking platform in the Middle East and North Africa, the Adipec conference programme comes back even bigger and better this year, with more than 600 speakers and 7,000 delegates from both technical and non-technical functions exploring regional and global views on impending industry topics.
The keynote presentation invites the world's leading authority on energy and award-winning author Dr Daniel Yergin to the stage to offer keen insights on the challenges and opportunities to meeting the ever-growing global energy demand, including recent developments in the areas of conventional and unconventional hydrocarbon resources.
Two dedicated ministerial sessions and two CEO plenary sessions will bring together international and regional ministers, industry chiefs, and decision makers to discuss and address the challenges presented by the new energy landscape.
The record-breaking Adipec technical conference, which is organised by the Society of Petroleum Engineers (SPE) and received more than 2,000 abstract submissions this year, is also back with nearly 600 technical presentations in more than eight discipline categories organised across 79 technical sessions throughout the four-day event.
Fareed Abdulla, senior vice president – North East Bab (NEB) Asset at the Abu Dhabi Company for Onshore Oil Operations (Adco), Adipec 2015 technical conference chairman, and SPE regional director, Middle East and North Africa, says: 'It has been amazing to see the growth of Adipec's technical conference over the years. Year on year we have seen the conference programme grow by at least 25 per cent.'
'In the oil and gas industry, the Adipec 2015 Call for Papers has broken the world record for the number of submitted abstracts. This impressive achievement comes at a time when we are in the middle of reduced oil prices. It is an indication that Adipec is now one of the flagship events of the industry where major players among NOCs, IOCs, service companies, SMEs, and professionals aim to participate,' Abdul adds.
The exclusive VIP conference programme, organised for members of the Middle East Petroleum Club (MEPC), the definitive club for senior oil and gas executives, will also welcome big names to the stage, including world renowned adventurist Sir Ranulph Fiennes.
The record-setter, who was also recognised by the Guinness Book of Records as 'The World's Greatest Living Explorer', will highlight the important values of endurance and resilience when facing challenges, drawing analogies between nature and the business world.
The VIP conference programme will also give MEPC members an opportunity to listen to insights from Jon Duschinsky, a thought-leader on social engagement and future business who will draw on the areas of innovation, leadership, and motivation as tools for creating change and fostering engagement within the business environment.
Adnoc ... main sponsor of the event
OFFSHORE, MARINE AND HEAVY EQUIPMENT ZONE
In line with regional and global efforts to continue exploring and developing offshore production, Adipec will be launching a dedicated Offshore, Marine and
Heavy Equipment Zone, making the event the first oil and gas exhibition in the Mena region to dedicate an entire waterfront section to offshore, subsea, and marine products and services.
The exhibition will be complemented with the inaugural Adipec Offshore and Marine Conference, located in a purpose-built dedicated waterside theatre, where more than 40 industry experts will present valuable offshore oil and gas knowledge and information.
'Newfield discoveries indicate the future of oil and gas lies offshore, and this creates the pressing need for a dedicated platform where experts from the sector can meet with the common goal of sustainably advancing offshore exploration and production,' says Jean-Philippe Cossé, Adipec 2015 event director at dmg events.
'Visitors to this year's event will truly witness the growth and scale of Adipec, with a dedicated zone that is easily accessible and within 150 meters of walking distance from the main exhibition floor. Guests will have an opportunity not only to see oil rigs in their natural setting, but also to attend a conference that will address current topics in offshore production.'
RECOGNISING EXCELLENCE
Also returning to the event will be the Adipec Awards, which celebrate innovation, best practice, and excellence in energy for people, companies, projects and initiatives in the oil and gas industry regionally and internationally. The final shortlist for all eight categories has been announced and the final winners will be announce on November 9.
Challenging the perception that the oil and gas industry is a male-dominated environment, the official Adipec Women in Industry series will give attendees the opportunity of meeting with peers and discussing the future role of women in the energy arena, with a full day gathering on November 8.
Young Adipec, the hugely successful programme designed to engage the younger generation in the oil and gas industry, is back for its third year and expanding its reach with the creation of a Young Ambassador for each participating school. The programme will also feature interactive engagement sessions to help students learn more about the energy sector and develop key skills.
Held under the patronage of the President of the UAE, Sheikh Khalifa Bin Zayed Al Nahyan, and organised by the Global Energy division of dmg events, Adipec is the global meeting point for oil and gas professionals.
ABU DHABI UNDER SPOTLIGHT
With nearly 100 billion barrels in reserves, the UAE can be forgiven for not being too alarmed by the current dip in global oil pricing.
And with nearly 92 billion of those barrels in Abu Dhabi alone, much of it in Zakum field – the Middle East region's third largest – one can begin to understand better the patient, long term view which the country's leaders have chosen to adopt.
The UAE currently produces around three million barrels of oil per day (mbpd), and that figure, say industry sources, is not likely to be scaled back any time soon.
Industry experts are confident that Abu Dhabi's energy sector will continue to demonstrate resilience, with investment targets remaining as planned.
Bloomberg, in January 2015, quoted the UAE's Minister of Energy, Suhail Al Mazroui, as saying the UAE will not change its development plans due to crude price fluctuations.
'Most of the projects are committed and under construction, and we don't foresee any delays on the capacity expansion,' he said. 'But building the capacity is something and using it is something else. We will always be wise and considerate of the world supply and demand.'
One such committed project is the 40-year concession granted by Abu Dhabi's Supreme Petroleum Council to French giant, Total, which took effect from January 1 of this year. Under the new arrangement, the company will aim for a 70 per cent recovery rate from the Adco oilfields.
US industry leader, ExxonMobil, is also squarely focused on development in Abu Dhabi, with new agreements in place to further develop Upper Zakum.
Meanwhile, Occidental Petroleum of the US has won a contract from Abu Dhabi National Oil Company (Adnoc) to help evaluate the Hail and Ghasha oilfields.
The UAE hosts the world's biggest energy companies at its Abu Dhabi International Petroleum Exhibition and Conference (Adipec) event each autumn, and every year the event grows in size and stature, creating a global meeting place for those who shape the industry.