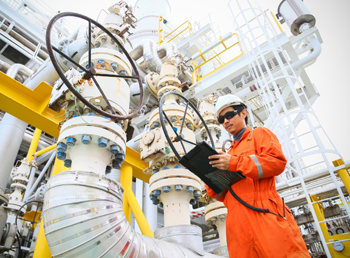 A digital CoW system supports organisations that operate in hazardous environments to keep their personnel safe

In this second instalment of a series looking at the ways in which technology can support safety, training, and competence of personnel working in safety critical industries, RelyOn Nutec discusses control of work (CoW) systems, and specifically the key features and benefits gained by moving away from traditional, inflexible and time-consuming paper-based systems, and replacing them with efficient and fully adaptable digital alternatives.
A CoW system exists to help companies keep their employees safe and aids in managing daily operations in an effective and efficient manner.
A digital CoW system is software that aligns work processes with control measures, ensuring standards are met and all activities are documented. A good CoW system should have functionality to cover the following:
• Planning the work.
• Task risk assessment and hazard identification.
• Permit to work.
• Energy isolation.
For a digital CoW system to be fully effective and to deliver the benefits that it promises in terms of accessibility, flexibility and efficiency, it should have a number of key features, including:
• Fully web-based application.
• Multi-language capability.
• Fully configurable.
• Intuitive, user-friendly interface.
• Integration with existing IT systems.
• Ongoing maintenance and support.
A digital CoW system will undoubtedly deliver additional value compared to traditional paper-based systems. Some of these include:
• Human error and safety.
• Efficiency.
• Overview and clarity.
• Flexibility.
• Transparency.
• Data analytics.
In conclusion, a CoW system is the glue that holds work control procedures together and supports organisations that operate in hazardous environments to keep their personnel safe during operations.
Paper-based systems have served critical industries well for many years now, but as advancements in technology progress and digital CoW systems are introduced to market, it stands to reason that these new options will be more efficient, flexible and transparent, and will save deliver time and cost savings.
RelyOn Nutec's WorkSafe Control of Work solution is a fully integrated, configurable and user-friendly system, which delivers all the features and benefits listed above and can be adapted to suit any industry and/or worksite.