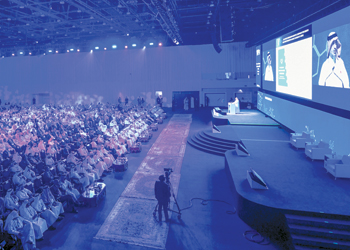 The Annual Gulf Petrochemicals and Chemicals Association (GPCA) Forum will shed light on the growth of the region's chemical and petrochemical industry, and highlight its role in a post-pandemic recovery.
Global and regional industry leaders from over 500 companies in 50 countries will convene on December 7-9 at the Madinat Jumeirah, Dubai, UAE.
This year's forum is themed 'Redefine. Reshape. Reinvent. The Chemical Industry in a Post-Pandemic Reality' to shed light on the lessons learned from Covid-19, the opportunities for investment in the regional chemical sector, and drive multi-stakeholder partnerships.
GPCA forecasts a healthy chemical and petrochemical GCC market outlook, which will spill into 2022. Growth is expected across all key indicators including chemical sales revenue, production output and international trade off the back of an increase in regional economic activity, supported by a rapid vaccination roll-out, and the global economic rebound.
Nevertheless, supply chain delays and disruptions will likely persist, leading to an increase in the cost of commodities, including some of the chemical industry's key inputs. With higher oil prices, feedstock prices are expected to remain elevated, and margins to decrease.
This year's GPCA Forum will combine an insightful conference programme, a must-see speaker line-up and an array of networking opportunities.
Key speakers at this year's edition include Yousef Al-Benyan, Vice Chairman and CEO, SABIC, and Chairman, GPCA; Dr Ilham Kadri, CEO and President of the Executive Committee, Solvay; Thomas Gangl, CEO, Borealis; and Nikhil Meswani, Executive Director and Member of the Board, Reliance Industries.
Dr Abdulwahab Al-Sadoun, Secretary General, GPCA, said: "The Arabian Gulf region is now entering into a gradual recovery which will require it to maintain resilience and keep production output high in order to cater to end-user markets at home, in Asia and the world."