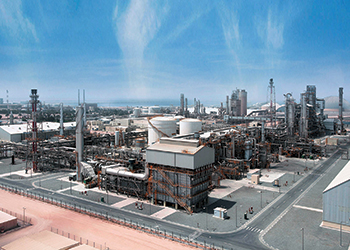 The Ta'ziz Industrial Chemicals Zone is key to Adnoc's ICV programme.jpg
The company is expanding both vertically and horizontally as it meticulously lays out strategies for the upstream, downstream, clean energy, new energy, and even trading, in effect what is a comprehensive roadmap
The Abu Dhabi National Oil Company (Adnoc) is expanding its downstream as it strives to create a larger role for itself on the global energy scene, including clean energy, through diversification.
It's currently underway with several petrochemical, refining and gas projects, and has in the past few months signed deals worth several billions of dollars with local and international investors in line with its 2030 strategy, which is focused on maximising value from its resources.
The flagship of the downstream is the Ta'ziz Industrial Chemicals Zone — a joint venture between Adnoc and ADQ — in Ruwais, a port city key to Adnoc's oil ambitions. The mega project builds on Adnoc's flagship In County-Value (ICV) programme.
The Zone will feature seven projects worth over $6 billion, including a 1 million mt/year blue ammonia facility as part of Adnoc's clean energy project.
Projects at the Zone are currently in the design phase with project startup targeted in 2025.
Ta'ziz, short for Abu Dhabi Chemicals Derivatives Company, has received strong local and international investor interest in its projects.
In December, it signed a JV investment worth over $2 billion with Reliance Industries for a chlor-alkali, ethylene dichloride (EDC) and polyvinyl chloride (PVC) production facility.
That was followed by a pioneering public private partnership (PPP) deal the same month with local investors for 20 per cent stake worth $4 billion in a portfolio of chemicals projects (full report on page 7).
However, to ensure the efficient functioning of these projects in the long-run, an increasing gas supply will be needed to meet demand for power as well as feedstock.
On the national level, the UAE is aiming for gas self-sufficiency and is increasing production as well as processing facilities in the downstream.
Adnoc to proceed with plans to double LNG production capacity
In December, the company announced a significant increase in natural gas reserves by 16 trillion standard cu ft (TSCF). The country now holds 289 TSCF of natural gas and is the seventh largest in the world in gas reserves.
A month prior, two EPC contracts totaling $1.46 billion were awarded for the Dalma Gas Development Project. The Dalma field is part of the Ghasha Concession which is the world's largest offshore sour gas development.
Adnoc has given a go-ahead for plans to double liquefied natural gas (LNG) production capacity from 6 to 12 million tons per annum (MMTPA).
The potential expansion of capacity is underpinned by the growth in its natural gas position, with new developments planned to add 3 billion standard cu ft per day (scfd) and more to come from associated gas as it expands its crude oil production capacity.
With regard to processing, Adnoc is expanding Adnoc Gas Processing, its biggest facility with a capacity of 8 bcfpd.
Two multi-billion dollar projects will further boost capacity through the design of a new gas compressor station and pipelines to ramp up sales gas network connectivity.

FUTURE PLANS
In December 2021, Adnoc's Board of Directors approved a spending of $127 billion in the five-year period of 2022-2026. This will be spent both in the upstream and downstream in addition to clean energy.
The company still has oil production and processing as a major chunk of its activities, something that will remain part of the country's energy mix in the long run.
Sharif Al Olama, Undersecretary for Energy and Petroleum Affairs at the UAE Ministry of Energy and Infrastructure, said hydrocarbons will always be a part of any future energy mix globally, indicating that it will be the case with the UAE as well.
The company is gradually progressing with plans towards achieving its 5 million barrels per day (bpd) production capacity target by 2030.
This goal has contributed substantially to the increase in reserves, and in December the company said national oil reserves had increased by 4 billion stock tank barrels (STB). It now has a hydrocarbon reserves base of 111 billion STB, making it the sixth largest in the world.

LOCALISATION
Ever since Adnoc launched the ICV programme in 2018, it has brought back $28.6 billion into the national economy in addition to creating over 3,000 jobs for UAE Nationals in the private sector, including over 1,000 jobs this year alone.
The goal is to retain $43.6 billion in the country in the five-year period from 2022-2026.
Supporting this objective is Ta'ziz, but there is also the expansion of the Ruwais refinery, which can process up to 837,000 bpd, making it the fourth-largest single-site oil refinery in the world and the biggest in the Middle East.
Work is underway to diversify the range of crude oil being refined in Ruwais. Once complete in 2022, the $3.5-billion Crude Flexibility Project will give Adnoc the ability to process 420,000 bpd of grades such as Upper Zakum – and over 50 others – to increase value.
Another key downstream project that will drive petrochemical production is Borouge. The joint venture with Austria's Borealis that produces polyolefins was scheduled to boost its capacity by 11 per cent to 5 million mt per year by end-2021.
Plans are underway to launch Borouge 4, another mega petrochemical project that will substantially increase value in the downstream.

NET-ZERO GOALS
Last year in October when the UAE became the first country in the Mena region to set a $163-billion net-zero initiative for 2050, it had already set the ball rolling with key partnerships in green energy and decarbonisation.
A few days after the announcement, a clean energy partnership was setup with (Emirates Water and Electricity Company (EWEC) that will see Adnoc's power be driven 100 per cent from EWEC's nuclear and solar clean energy sources.
In December, Adnoc's board of directors headed by its Chairman, Sheikh Mohamed bin Zayed Al Nahyan, Crown Prince of Abu Dhabi and Deputy Supreme Commander of the UAE Armed Forces, approved the New Energies Strategy aimed at further reducing Adnoc's carbon footprint and enabling it to capitalise on opportunities in renewable energy, hydrogen and other lower carbon fuels.
At the Ta'ziz Industrial Chemicals Zone, world is progressing on a world-scale low carbon ammonia facility, which will help Adnoc capitalise on growing global demand.
Sales have already been made to Japan, where it will be used in refining, petrochemicals, fertiliser production and power generation.
In conclusion, Adnoc is going full steam ahead, both vertically and horizontally, as it meticulously lays out strategises for the upstream, downstream, clean energy, new energy, and even trading.
Adnoc has traded over one billion barrels of Abu Dhabi's flagship low-carbon Murban crude on the ICE Futures Abu Dhabi (IFAD) since the exchanged launched in March 2021.
All in all the company has in place a comprehensive strategy that will make it what it aims for — a truly global integrated energy company.

By Abdulaziz Khattak