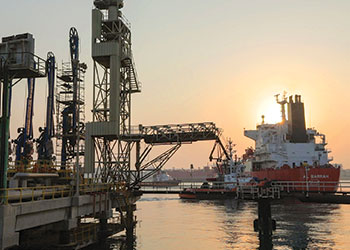 Aramco's locally produced ammonia will be shipped globally
Localising and reinforcing its supply chain, contributing to the Kingdom's economic development, and exploring lower-carbon solutions are vital components of Aramco's sustainability framework. During Q1 2023, Aramco took important steps to advance these objectives.
At the 7th edition of the In-Kingdom Total Value Add (iktva) Forum and Exhibition in January, Aramco signed over 100 agreements and memoranda of understanding (MoU) valued at SR27 billion ($7.2 billion) to help advance a diverse, sustainable, and globally competitive industrial ecosystem.
Through iktva, the company seeks to enhance its supply chain resilience and aims to ensure more of the products and services it relies on can be provided in the Kingdom, the company said in its Q1 2023 interim report.
In March, Aramco signed a framework agreement with the Kingdom's private sector partnership reinforcement programme, known as Shareek. The agreement supports Aramco's efforts to foster new businesses in Kingdom and contribute to its economic development.
The Shareek programme aims to accelerate the growth of business opportunities within Saudi Arabia in alignment with the Kingdom's Vision 2030 objectives.
In May, Aramco, global steel conglomerate Baoshan Iron & Steel, and the Public Investment Fund (PIF) agreed to establish the country's first steel plate manufacturing complex in Ras al-Khair Industrial City.
The integrated facility will enhance the domestic manufacturing sector by localising the production of heavy steel plates, transferring knowledge and creating export opportunities.
The facility is expected to have a steel plate production capacity of up to 1.5 million tonnes per year, and will be equipped with a natural gas-based direct reduced iron (DRI) furnace and an electric arc furnace. This will help reduce CO2 emissions from the steel-making process by up to 60 per cent compared to a traditional blast furnace.
The DRI plant would be compatible with hydrogen without the need for major equipment modifications, potentially reducing CO2 emissions by up to 90 per cent in the future.
The steel production facility is being established under Aramco's industrial investment program, Namaat, and supported by the Shareek initiative.
In Q1 2023, Aramco recorded income before income taxes and zakat for Q1 (ended March 31), was 229,234 ($61,129), compared to $74,084 for the same quarter in 2022. This decrease of was mainly driven by lower crude oil prices compared to the same period in 2022.