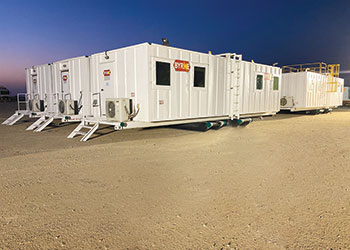 Byrne can set up mini camps in one day
Having a track record of servicing the needs of camp installations for the oil and gas industry across Saudi Arabia, the company provides full turnkey solutions, from a basic modular camp to one that can be ramped up to accommodate any number of people, Zahid Syed from Byrne tells OGN
When it comes to designing, manufacturing, installing and servicing remote accommodations of any size and configuration, Byrne tops the list.
The company claims it can set up temporary buildings to the highest standards. Not only that, its accommodations cater to the overall wellbeing of its occupants and include facilities such as catering, recreation areas, prayer rooms, mini markets, barber shops first aid and much more.
In an interview, Zahid Syed, Assistant General Manager KSA - Eastern and O&G at Byrne Equipment Rental, told Abdulaziz Khattak of OGN energy magazine about the company's various solutions tailored to the demands of the oil and gas industry of the Kingdom of Saudi Arabia.

What are the camp solutions Byrne offers oil and gas companies in KSA?
Byrne has a track record of servicing the needs of camp installations — manufactured as per Aramco guidelines — for the oil and gas industry across the Kingdom of Saudi Arabia. We provide full turnkey solutions, from a basic modular camp to one that can be ramped up to accommodate any number of people.
Syed ... turnkey camp solutions
Our camps support arduous round the clock rig work in the oil and gas extraction industries as well as oil refinery operating companies.
Additionally, our modular buildings are used for remote accommodation during oil and gas exploration, and drilling, completing and equipping wells, pipeline installation and all other activities right up to the point of shipment.

What is the lead time of setting up a remote installation?
Headquartered in Jubail, we are strategically based in the centre of the oil and gas industry in KSA with additional support services in Khobar and Hofuf to reduce our downtime for any remote installation.
The lead time for a camp setup differs depending on the size and requirements. Mini camps can be executed in one day, while larger, complete camps typically take around five to six days.
The lead time is also dependent on external challenges, such as site readiness, accessibility, and time slot availability. However, this is all managed effectively by our experienced team of project managers.

How do you manage camp operations?
Health and safety is a major priority for Byrne
We have an experienced team with a diverse skill set who have a pre-defined daily work schedule for supply, maintenance and stock of basic needs. Using an online application, our team monitors the supply chain process ahead of the delivery schedule to ensure the entire planning process is successfully implemented.
One of the major challenges in camp operations is rig movement, whereby the whole rig including its resources has to move location within a stipulated time. The success for such movements leads from the bottom to the top of the supply chain, wherein each item needs to be packed, loaded, unpacked and re-installed for operations.
Currently, we are managing up to 100 rig movements per month. This is challenging due to the time schedules and compliance on safety processes — our highest priority — but we are managing this successfully, which is testament to our team.

Do you have camp crisis management integrated into the installation plan, and later during the operational period?
Byrne camps are equipped with facilities to cater to the needs
of its occupants
As part of the initial planning stage of a new camp requirement, we carry out a detailed feasibility analysis. The initial assessment stage is a vital component of the entire process as it ensures we can review and plan for all types of mitigation, preparedness, response and recovery.
The project is worked out in full scale from initial upscaling of all resources, delivery, installation and day to day operation.

Do you use any management software to keep track of people and resources in the camps?
We have management software to track all of our equipment resources in the camp. This gives us flexibility for the planning of new camp mobilisation, maintenance of existing camps as well as work on crisis of any major equipment failure and, therefore, have the lowest downtime.

Do you deploy health and safety protocols during and after camp installation?
Health and safety is the first priority for our employees and clients, and we practice environment, health and safety (EHS) on a daily basis.
To optimise this, we have developed a periodical safety induction programme for our team and contractors, covering all aspects of EHS including defence driving training, H2S training, first aid training (from MOH certified trainers) and more.
In addition, we have a hot and cold work permit and basic personal protective equipment (PPE) programme to coach and develop our team to work effectively according to health and safety protocols.
Additionally, we take precautionary measures, which include a limit of maximum daily working hours and mandatory time off to ensure employee welfare.

What is your largest camp to date in KSA?
We have a variation of camps spread out across the Kingdom, and the largest single mobile rig camp accommodates 250 men per day. It comprises a variety of sleeper units, catering facilities, offices, an entertainment zone, health club, indoor game zone and more. There are additional support services being provided such as water chiller for peak summers and sanitation for the facility.

What are the challenges in the remote accommodation sector industry and how do you overcome them?
One of the major concerns in remote areas is mobility and communication. When travelling and transporting equipment, the weather and visibility can be challenging as sometimes there is zero visibility on the desert roads.
We might also face limited mobile connectivity, which is a serious challenge when trying to communicate with the client or the team.
These challenges of mobility and connectivity are a major concern in remote area rig camps. However, we combat these with efficient planning and availability of tools and resources.
Our team is equipped with special SUVs for desert driving and fitted with additional gasoline tanks, satellite phone, fresh food and drinks storage, as well as safety tools and harness to withstand any harsh climatic situation.
Furthermore, our back office carries out monitoring of the rig team during the course of their journey to and from the rig.

What is Byrne's shutdown and turnaround offering for the oil and gas sector?
Shutdown and turnaround is a major maintenance activity in the oil and gas sector wherein manpower teams of varying numbers, depending on the scale of the maintenance, are mobilised inside the refinery/petrochemical plant.
We provide full turnkey solutions for shutdown and turnaround to major clients and many key market players.
These solutions include blast resistant building, shutdown office container, dining facility, sanitation, power, lights, HVAC, chiller, welding machine, instrument air, steam boiler, etc, to support the preplanned maintenance activity.
Our one-stop solutions give additional leverage in logistics, quality, planning and cost control for managing day to day affairs.