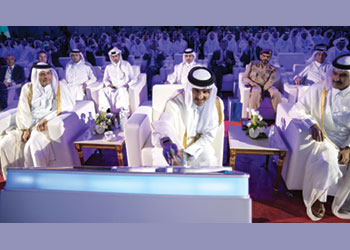 The Amir of Qatar laying the foundation stone of the North Field expansion project
The expansion of the world's single largest non-associated offshore natural gas field will significantly increase Qatar's LNG production capacity from 77 MTPA to 126 MTPA by 2026
With its sights set on becoming a world leader in liquefied natural gas (LNG) production and supply, Qatar has moved on the second phase of its North Field expansion project, the North Field South, which is said to have short- and long-term impacts that will be reflected across all sectors of the Qatari economy and will significantly enhance the country's revenues.
His Highness Sheikh Tamim bin Hamad Al Thani, Amir of the State of Qatar, laid the foundation stone of the North Field expansion project in early October.
The North Field is the world's single largest non-associated offshore natural gas field.
This major expansion comes at a crucial time, as natural gas occupies a pivotal position in the energy mix in a world facing geopolitical turbulences and is in dire need of clean energy sources that are in line with the global environmental goals.
Saad Al-Kaabi, Minister of State for Energy Affairs, and President and CEO of QatarEnergy, said: "There is no doubt that these additional quantities of natural gas are of great importance as they will play a prominent role in enhancing energy security, supporting a practical and realistic energy transition, and ensuring fair and equitable access to cleaner energy for a sustainable growth and a better future for all."
The North Field East (NFE) along with the North Field South (NFS) expansion projects are estimated to cost around $50 billion, with the NFE alone valued up to $29 billion.
State owned QatarEnergy says the NFE and NFS will together significantly increase Qatar's LNG production capacity from the current 77 million tonnes per annum (MTPA) to 126 MTPA by 2026.
In July, Technip Energies, and Consolidated Contractors Company (CCC) were chosen as the project's engineering, procurement, and construction (EPC) contractors, with Technip Energies also serving as the front-end engineering design (FEED) contractor. This contract's value is around $10 billion.
Other partners on the project include TotalEnergies, Shell, ConocoPhillips, ExxonMobil, Eni, Sinopec, and CNPC.
The North Field expansion South project's scope of work includes two mega LNG trains, gas treatment, natural gas liquids recovery, helium extraction, and refining within Ras Laffan Industrial City.
The overall project includes six mega trains, each with a production capacity of 8 MTPA of LNG, four of which are part of the North Field East expansion project, and two are part of the North Field South expansion project, contributing a total of 48 MTPA to the global LNG supplies.
In addition to LNG, the project will produce 6,500 tons per day of ethane gas, which will be used as a feedstock in the local petrochemical industries. The project will also produce about 200,000 barrels per day of liquefied petroleum gas (propane and butane), and about 450,000 barrels per day of condensates, in addition to large quantities of helium and pure sulfur.

OVERALL PROJECT PROGRESS
Announced in Q2 2022, the project, is currently under construction. QatarEnergy laid the foundation stone in October 2023, with commercial production starting in Q4 2027.
In May 2023, QatarEnergy announced that the production of the first LNG train of the North Field South project was expected to start by 2026 and had officially awarded the EPC contract to the Technip Energies and CCC consortium.
In July 2023, Technip Energies and CCC Consortium were awarded the contract to build NFS onshore facilities, including the delivery of two mega trains, each with an 8-MTPA LNG capacity and a 1.5-MTPA CO2 capture and sequestration facility.
Separately, Air Products has been contracted to provide AP-X LNG process equipment, such as main cryogenic heat exchangers (MCHEs), subcooling heat exchangers (SCHEs), rotoflow turbomachinery companders, and nitrogen economiser cold boxes for the NFS project.
Meanwhile, Baker Hughes was contracted by QatarEnergy to supply two main refrigerant compressors (MRCs) for the two LNG trains. Each MRCs will contain three Frame 9E DLN ultra-low NOx gas turbines and six centrifugal compressors.
In October 2022, QatarEnergy selected TotalEnergies as the first partner for the project with 9.375 per cent shares, with latter announcing an investment of $1.5 billion in the project.
Shell was announced as the second strategic partner with 9.375 per cent shares, and ConocoPhillips as the third strategic partner with 6.25 per cent shares.
By ZAINAB AL TAITOON