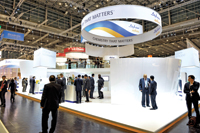 Sabic at the K Show 2013
SAUDI Basic Industries Corporation (Sabic) showcased a broad and relevant portfolio of materials technology applications and solutions at "K Show 2013" that was held in the German capital city of North Rhine-Westphalia.
The participation underscored the company's deep understanding of the latest trends and challenges that customers in its target industries face.
Whether it's lightweight technology that enables efficiency, materials that enable greater safety without sacrificing performance, solutions that are designed with sustainability in mind or material applications that perform reliably over the long-term, Sabic is continually developing solutions from chemistry that enable its customers to achieve their commercial ambitions and stay ahead of the competition.
K2013 attendees visiting the Sabic booth saw the iconic Volkswagen XL1 diesel plug-in hybrid, complete with a two-component injection-molded solution for the stylish side windows. The windows use Sabic's Exatec plasma coating technology on Lexan polycarbonate resin and Cycloloy PC/ABS (acrylonitrile-butadiene-styrene) resin.
Use of these materials lightens the side windows by 33 per cent compared to conventional glass, while delivering a high quality optical appearance and scratch-resistance surface. Sabic provided full application development support to Volkswagen in the design, engineering and production of the side windows.
The booth also featured a molecular sculpture made from a variety of films from Sabic's diverse polymers portfolio. Sabic has a broad selection of PP, HDPE and LL-LDPE resins, for use in BOPP, blown and cast films as well as extrusion coating which offers our customers several benefits including cost efficiency, barrier properties and puncture resistance. These unique technology solutions can provide our customers the safety and performance they require.
A view of Sabic at the show
"We are committed to powering our customers' ambitions by providing them with the right solutions, at the right time and in the right place, helping them solve some of the biggest challenges in their industries through Chemistry that Matters. Globally, our people work closely with our customers to understand the key forces of change and demand they face in their respective industries, in order to provide them with the most relevant material innovations to help them respond to their customers' needs and ultimately enjoy sustained commercial success," says Koos van Haasteren, vice president, Sabic Europe.
Other stand highlights included a display of Sabic Vestolen A Rely and Sabic PP Rely pipes. As urban populations continue to grow, driving a demand for enhanced municipal infrastructure, these pipe applications have been chosen for municipal water and other important projects around the world for their long-term reliability and durability.
"Whether it's designing lightweight solutions, delivering enhanced safety and performance in materials, or enabling design freedom in new applications, Sabic will continue to innovate for, and collaborate with our customers to help them stay ahead of their competition and propel their industries forward," van Haasteren adds.
Modern design is focused on delivering long-lasting materials that are both aesthetically pleasing and sustainable. In the consumer electronics and packaging industries, for example, incorporating sustainability in design has become a priority as these industries strive to develop more sustainable consumer goods.
Sabic recently collaborated with Canon to incorporate more recycled content in its Inkjet Printer, leading to a closed loop recycling program. Sabic's recycling initiative helped convert parts of used copiers into raw material that is then reused in ink-jet printers. The most recent generation, the Noryl GN390 resin, was launched in 2012 to help Canon become registered with Epeat, the Electronic Product Environmental Assessment Tool.
Sabic delivers a wide range of material solutions that give customers the freedom to create exciting new designs which enhance performance without sacrificing sustainability. One example is Sabic's POM highly crystalline copolymer. It is suited ideally to fluid control applications that require dimensional stability and offers very low moisture absorption when in contact with water while easily tolerating a wide range of chemicals.
This advanced material was used to create a model of Sabic's headquarters, which was on display at the show.
For many industries, reducing the weight of their products through efficient design is important. For example, the mass transportation industry is continually seeking ways to reduce weight in order to save fuel and enhance sustainability.
To meet the demand for light and efficient materials, Sabic offers a wide range of solutions, which was on display at K 2013. This includes Grammer Railway Interior GmbH new seat back shells which use Sabic's Lexan FST resin.
This innovative material not only helped Grammer reduce weight by replacing traditional materials like metal, it is helping the company stay ahead of the regulatory curve meeting fire requirements for the highest hazard level (HL3) under EN 45445-2, two years before implementation.
For Sabic's customers, safety and performance are not optional. Sabic engineers material solutions to meet continually evolving requirements without sacrificing performance. For example, Sabic has recently optimised the production of its extrusion coating grade Sabic LDPE nExCoat5, which has resulted in customers benefitting from an improved performance and high quality consistency of this grade.
Customers have the opportunity to reduce inventory costs and to simplify processes, as well as significantly reducing the carbon footprint of their products because nExCoat 5 has a 15-20 per cent lower carbon footprint in comparison to standard market grades.
Along with this innovative solution Sabic also has a range of packaging technologies that are helping food and beverage packagers meet important safety requirements. In Europe for example, the Plastics Regulation (EU) 10/2011 (PIM) has been developed to further increase the safety of packaged foods. Among the requirements, producers of plastics must include more stringent testing on products that are used in food packaging. Sabic is one of the first producers to have all its food contact declarations updated in line with these changes, three years ahead of the required 2016 deadline.
Along with its nExCoat 5 grade, Sabic has also recently launched its new Sabic PP PHC28 copolymer grade. This new technology enables customers to manufacture current models in existing moulds, while significantly reducing energy consumption, CO2 emissions and the overall cost of conversion by 15 percent compared to market standard grades.
This new solution with enhanced performance is tailored for lighter, smarter and stronger designs, important for customers in the home appliances, electronics and durable consumer products segments.
With a growing middle class and more people moving from rural and suburban geographies to urban centers, especially in emerging economies, there is a corresponding increased demand for reliable and long-lasting solutions that can sustain the demands on municipal infrastructure.