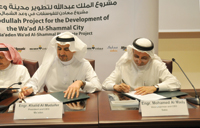 The joint venture agreement being signed
THE Saudi Arabian Mining Company (Ma'aden) has signed a shareholders agreement to jointly develop a fully integrated, world-class phosphate production facility in Saudi Arabia with partners The Mosaic Company and the Saudi Basic Industries Corporation (Sabic). Ma'aden, Mosaic and Sabic will own 60 per cent, 25 per cent and 15 per cent of the project respectively.
The new complex will act as the anchor project at Wa'ad Al Shammal and will deliver significant value to Ma'aden shareholders. As one of the largest and most efficiently integrated phosphate fertilizer facilities in the world, it will double Ma'aden's cost effective phosphate production and improve Ma'aden's access to key global markets.
In addition, the projects will provide development of local communities in the Northern region which is considered as a key benefit, expecting to bring more than 1,500 direct job opportunities.
The estimated cost of the project is approximately SR26 billion ($7 billion), and production at the new facility is expected to commence in late 2016 with a total capacity of approximately 16 million tonnes per year.
The facilities will produce, as finished product, approximately 3 million tonnes of fertiliser products such as DAP/MAP and NP/NPK, as well as approximately 440 thousand tonnes of downstream products including purified phosphoric acid (PPA) used in food industries, sodium tripolyphosphate (STPP) used in detergent manufacturing, and dicalcium phosphate and monocalcium phosphate (DCP/MCP) used in the manufacturing of animal feed. The project is studying plans involving a number of additional factories dedicated for downstream products.
Khalid Al-Mudaifer, Ma'aden president and CEO, says: "The partnership is a crucial step in the execution of King Abdullah Project for the Development of Wa'ad Al Shammal Mineral Industrial City. Ma'aden was entrusted by the Custodian of Two Holy Mosques in 2012 to develop a world-class industrial city in Wa'ad Al Shammal with international standards that will equal the industrial cities of Jubail, Yanbu and Ras Al Khair."
He says "This agreement has already attracted global expertise to the project which will ensure global competitiveness and in just one year we have engaged local and international contractors from the USA, Europe and Asia. We expect to finalize all engineering, procurement and construction contracts before the end of the 2013 and begin construction in 2014. With HSBC appointed as financial advisor, the partners expects project financing to be concluded in Q4 of this year."
Al-Mudaifer says the joint venture will bring a significant amount of the world's best expertise to Wa'ad Al Shammal. Ma'aden brings broad experience in the mining industry while its partnership with Sabic, one of the world's largest diversified petrochemical producer brings broad experience in large megaproject execution and global marketing capability and with Mosaic Company, the world's largest producer of phosphate fertilizers with over century experience in the industry, shall bring extensive technical and operating experience, as well as best-in-class environmental and safety management systems.
Ma'aden's diversified investment portfolio in the kingdom continues to achieve profitable growth, adding value to its shareholders and fostering economic development of the regions and communities where it operates.
Ma'aden has already initiated a coordinated programme of regional development to ensure that this project significantly enhances local opportunities for training and employment and provides a strong catalyst for growth.