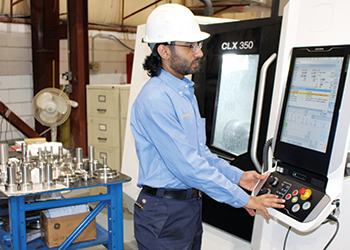 Darvico ... on the expansion path
Dresser Al-Rushaid Valve and Instrument Co Ltd (Darvico) is planning a first-of-its-kind valve testing facility for steam application in the Middle East that will add additional capabilities for testing all types of valves to meet the upcoming turnarounds and plant shutdowns.
Based within its existing Jubail facility, the new expansion covering 20,000 Sq ft will be operational by end of 2020 and will see the installation of a boiler plant for testing valves on steam application.
The development, which will increase Darvico' s capacity, comes in the wake of growth in demand for its products and services, according to Darvico general manager D R Pai.
"Darvico is taking the lead to install, for the first time in the Middle East, a boiler facility for testing valves on steam application. The facility will address all ASME SEC VIII and ASME SEC I Consolidated safety and safety relief valves (SRVs) for steam application to be tested in live steam in Darvico," he says.
The expansion will have a local machining centre for manufacturing trim components to support local customers in addition to enhancing the inventory level of spare parts, which will now be manufactured locally.
"All these initiatives are aligned with Saudi Arabia's Vision 2030 for localization," Pai says, adding, "Darvico' s localization plan will continue and will be executed over more plants in Saudi Arabia."
Darvico is a leading local manufacturer, which has been supplying pressure safety valves, control valves, level transmitters and instruments to oil and gas, petrochemical, power and water companies in Saudi Arabia since 1983.
It was established as a joint venture partnership in 1985 by Al Rushaid group & Dresser International LLC, which today is part of Baker Hughes, to provide highly engineered, Masoneilan Control Valves and Consolidated Safety Relief Valve solutions through localized production within Saudi Arabia.
Pai says the combination of expertise from Masoneilan and Consolidated global valve plants with Darvico' s local presence allows customers the full range of products and services.
"The entire team including the aftermarket is geared to provide 24/7 service to customers at their doorsteps. Darvico has already won appreciation from major petrochemical plants for the outstanding execution and support rendered during the successful turnaround," he Pai.
Meanwhile, Darvico has opened a new facility in the city of Yanbu as well that will serve the entire Western Region of Saudi Arabia.
"To meet customer needs in the Western Region, Darvico has opened a new state-of-the-art facility in Yanbu city," says Darvico executive director Meshary Al Oqaily.
The facility has been built in the Royal Commission Area and developed as a manufacturing and services centre to meet current customers' needs and future demands, he concludes.