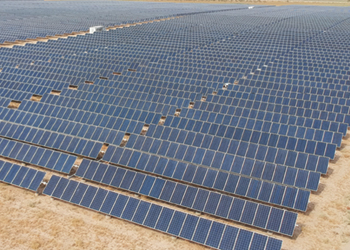 The Saudi British Joint Business Council (SBJBC) will be organising the UK/Saudi Renewable Energy Forum on June 28, 2022, at London's prestigious Mansion House venue.
The Forum will focus on investment and partnership opportunities in renewable energy and cleantech, including hydrogen, and the finance available.
The Forum, sponsored by SABB and London Stock Exchange Group, will take advantage of the City of London and the UK's role as a major hub for green finance and leader in innovative and green technologies.
"The SBJBC represents 150 senior British and Saudi business representatives who are committed to improve business opportunities between UK and Saudi Arabia. The event will build on the success of our Sustainable Investment Forum in July 2021," says Chris Innes -Hopkins, UK Executive Director of SBJBC.
Saudi Arabia aims to maximise the potential of renewable energy and generate 50 per cent of electricity from renewable sources by 2030.
The Saudi Green Initiative aims to reduce carbon emissions through increasing reliance on renewables and investing in clean hydrocarbon technology.
The Kingdom as part of its commitment to climate change issues has pledged to reach net-zero greenhouse gas emissions by 2060.
The Public Investment Fund (PIF) considers renewables to be a strategic sector and is funding 70 per cent of the current 700-MW project pipeline.
The largest green hydrogen plant in the world is being developed at Neom and the Red Sea Development project will be powered entirely from renewable sources.
The renewables share of UK electricity generation averaged more than 40 per cent in 2020 and many wind and solar powered projects are underway.
The UK's 10-point plan for a Green Industrial Revolution has already enticed Saudi companies to invest in UK clean energy projects.
The UK's Energy Security Strategy will accelerate the deployment of wind, new nuclear, solar and hydrogen, with the aim of generating 95 per cent of electricity from low carbon sources by 2030.
The forum will feature key Saudi and UK speakers as well as government representatives.
The interactive panels will focus on Saudi and UK Clean Energy Programmes and Investment Opportunities; Financing the Energy Transition: The Role of Banks and the Public Investment Fund; and How Can Technology Help Through Cleantech Innovation and Energy Efficiency.
"The UK and Saudi Arabia have committed to exchange expertise in carbon capture, utilisation and storage (CCUS), hydrogen and clean fuels. This forum and the programmes underway present clear opportunities for private sector participation and partnerships between the two countries," concludes Innes-Hopkins.
The Saudi Renewable Forum is organised by the SBJBC in partnership with the Department for International Trade, Federation of Saudi Chambers and Lord Mayor and City of London Corporation.
The OGN energy magazine is the Media Partner for the event.