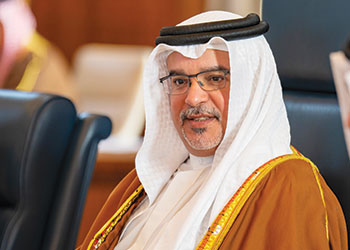 HRH Prince Salman will patronise MEOS GEO 2023
The Middle East Oil, Gas and Geosciences Show (MEOS GEO), one of the largest and most influential conferences the region has ever witnessed, will convene in Bahrain this month with the theme 'Today's Realities, Tomorrow's Energy'.
Attendees will include representatives from the energy industry, international energy experts, media and the public.
The event is expected to be participated by over 15,000 global energy professionals from regional giants, oilfield services companies, technology providers, and global thought leaders, who will be participating in the panel sessions, workshops, and seminars.
The 22nd edition of the biennial show will take place under the patronage of His Royal Highness Prince Salman bin Hamad Al Khalifa, the Crown Prince and Prime Minister of Bahrain, at Exhibition World Bahrain, from February 19 to 21.
SPE, the non-profit society that specialises in sharing insights and knowledge with the global oil and gas industry, will co-organise technical conferences for the event with the American Association of Petroleum Geologists (AAPG). The organiser of the event is Informa Markets.
MEOS has contributed to presenting the best modern technologies in oil and gas exploration in addition to research and technical papers attracting international companies from the globe to exchange knowledge, experiences and investment opportunities in the sector.
The exhibition and conference is hosted by Bahrain's National Oil and Gas Authority (NOGA), chaired by Saudi Aramco and co-chaired by Italian energy major Eni.
This year's selected technical and panel sessions are not only based on topics important to the oil and gas business, but they interlace global matters and the industry. These topics include 4IR, Talent 4.0, Sustainability, Investments, Supply Chain, Geopolitics/Supply Interruptions, Technologies, and Integration.
The MEOS technical conference will focus on innovative 4th Industrial Revolution technology to solve industry challenges and create future-focused opportunities with onsite content streams tackling a wide remit of industry topics.
Faisal Al Nughaimish the MEOS Conference Chairman and Head of Gas Drilling Engineering at Saudi Aramco, said: "MEOS is long established as the must-attend upstream oil and gas event in the region. It attracts the leading global players, it's a gateway for us to find partners and develop lasting business relationships. We enjoy discovering the cutting-edge products and innovative solutions on display from others while showcasing our own projects and accomplishments."
Mark Rubin, CEO and Executive Vice-President of SPE, believes the delivery of critical insight from oil and gas professionals as part of the agreement will be key to sustainable growth for the industry in the region.
"SPE's vision is to advance the oil and gas community's ability to meet the world's energy demands in a safe, environmentally responsible and sustainable manner," said Rubin. "Our strategic alliance with Informa will assist in fulfilling that vision through two key multi-disciplinary events in MEOS and KOGS. We look forward to delivering more to our members and the industry as we advance through these challenging times."
"Informa's continuing strategic alliance with the SPE underpins our commitment to the growth of our oil and gas portfolio in the Middle East," said Michael Champion, Regional EVP – MEA of Informa Markets.
Champion added: "With expertise from the leading society for petroleum engineers, SPE, and the partnerships with Saudi Aramco and NOGA, we are empowered to deliver an unparalleled technical conference at MEOS, where we'll conceive the next generation of transformative ideas. Together, working as one team, we will unlock the full potential of both events and place our clients on a path to success in the rapidly evolving oil and gas industry."
Meanwhile, Saudi Arabian Chevron (SAC), a sponsor and participant at MEOS GEO, said it will use the event to highlight, with its partner Kuwait Gulf Oil Company (KGOC), the resumption of production operations in the Partitioned Zone onshore field on July 1, 2020 after more than five years of shutdown.
The conference is also a good opportunity for SAC to showcase the work that took place during the shutdown period, it said.