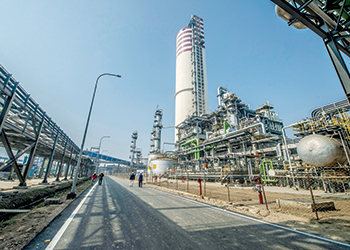 Global demand for ammonia is set to grow
Fertiglobe, the strategic partnership between Adnoc and OCI–the world's largest seaborne exporter of urea and ammonia–is making good headway in the production and exporting of green ammonia to meet the increasing demand for large-scale low-carbon hydrogen and ammonia.
The measures are part of the UAE's strategic plan to reduce the carbon footprint of both its industrial operations and of hard-to-abate sectors in its value chain.
In January, Fertiglobe made progress with the Ta'ziz 1 million tonne low-carbon ammonia project in the UAE.
Being built in partnership with GS Energy Corporation, and Mitsui and Co, it signed the EPC contract with Tecnimont for the project. The project will be financed by a mix of debt and equity.
Additionally, as part of its commercial and sustainability efforts, Fertiglobe has sent trial shipments of diesel exhaust fuel from Egypt to Europe in Q4 2022 and early 2023, demonstrating the company's versatility and capacity to diversify its product offering.
Fertiglobe expects to make more trial shipments over the course of 2023.
"We have continued to deliver on our hydrogen strategy while targeting investments significantly below replacement cost. We started the commissioning of the first phase of Egypt Green Hydrogen in Ain Sokhna, during COP27 in November 2022," says Ahmed El-Hoshy, CEO of Fertiglobe.
Once at full scale, the project will deliver up to 15,000 tonnes of green hydrogen as feedstock for production of up to 90,000 tonnes of green ammonia.
Fertiglobe is currently evaluating the engineering and technology choices for the full-scale 100 MW electrolyser plant, which will leverage its existing ammonia production and global distribution infrastructure.
In February 2023, Fertiglobe reported a 52 per cent increase in revenue in 2021 as compared to 2021 to $5 billion signaling a strong demand for its products. It has a good order book going into Q1 2023.
The company successfully completed several turnarounds across its plants in 2022 in the UAE and Egypt, and said it did not have further turnarounds planned at these facilities in 2023.
While the last few months have seen weaker nitrogen pricing globally, market fundamentals continue to remain healthy in the medium to longer term, underpinned by tight supply, healthy farm economics and decades-low grain stocks globally, with another boost to affordability from the lower nitrogen prices.
This gives strong incentives to apply nitrogen fertilisers. Moreover, there is no new greenfield urea supply starting up in 2023, and after that we see very few new additions until at least 2026.
"We expect demand upside for our industrial business, supportive of ammonia primarily, driven by a recovery in China, lower energy prices supporting global industrial demand, and an improving outlook for global growth," says El-Hoshy.