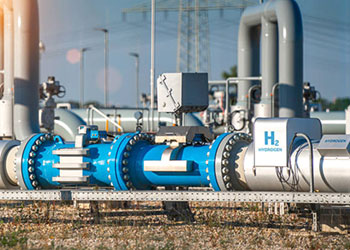 Hydrogen gas for clean electricity
The first long-distance gas pipeline in Germany is being converted for hydrogen use, gas infrastructure company Open Grid Europe (OGE) announced.
Hydrogen is expected to play a key role in the country's energy transition and the government is pushing for the existing gas network to also be used as a means of transport for the synthetic gas that can be produced using renewable power, reported Clean Energy Wire.
Located in northwestern Germany, the 46-kilometre-long pipeline sections extend from the municipality of Emsbüren to Bad Bentheim in Lower Saxony, and from Bad Bentheim to Legden in neighbouring North Rhine-Wesphalia.
Natural gas in the pipeline sections will be pumped into another section over a two-day period. The lines will then be disconnected from the gas grid to undergo retrofitting work. They are expected to be ready for hydrogen transport in 2025.
OGE and gas transport company Nowega are overseeing the project, which is part of Germany's efforts to build a nationwide hydrogen infrastructure in the coming years.
The pipeline overhaul is part of the GET H2 Nukleus project, which is funded by the EU's Important Project of Common European Interest (IPCEI) initiative.
The Emsbüren-Bad Bentheim section is owned by OGE, while the Bad Bentheim-Legden link is equally owned by both OGE and Nowega.
Another Nowega line in Lower Saxony running from Lingen to Bad Bentheim is also set to begin upgrade work in November. Nowega is currently building a new line to close the gap in Lingen.
The upgrade will enable various customers from heavy industry and medium-sized businesses to connect to the hydrogen supply in the future.
The Leipzig-based company Ontras began construction on Germany's first solely hydrogen-dedicated pipeline last December in the eastern state of Saxony – part of a planned 900-kilometre gas grid that will also utilize retrofitted gas infrastructure.
In July 2023, the German government presented an update of its national hydrogen strategy, which aims to further speed up the market ramp-up for a hydrogen economy.
"Green" hydrogen made with renewable electricity is increasingly seen as a silver bullet for sectors with particularly stubborn emissions, such as heavy industry and aviation.
A recent report found that the country faces high costs and significant technical hurdles for ship-based imports of hydrogen-based fuels.