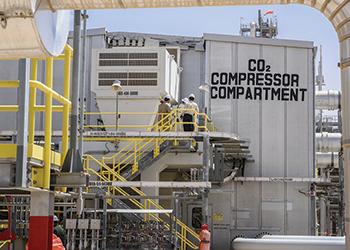 The Hawiyah Gas Plant captures 30 million standard cubic feet of CO2 every day
The world's current oil consumption of 100 million barrels per day is expected to continue at this same level for at least another two decades. This makes the debate on carbon intensity an ongoing one.
As the largest oil producing company, Saudi Aramco has a key role. Strongly committed to low energy consumption as a key part of low carbon intensity, the oil giant has taken rigorous measures on this front. In 2019 alone, Aramco implemented more than 200 energy efficiency initiatives to get the best energy performance from its operating facilities and residential communities.
Aramco realises that carefully managing its fields, minimising flaring and GHG, stopping leaks, and limiting energy use is a win-win for both sustainability and profitability.
In 1975, when Saudi Aramco decided to build the Kingdomís Master Gas System (MGS) to capture gas associated with crude oil production for domestic power generation and other products, the company concurrently commenced its flaring minimisation program.
As a founding member of the Oil & Gas Climate Initiative (OCGI), Aramco partners with many of the worldís leading energy companies to speed the development of carbon capture, utilisation and storage (CCUS) technologies and other greenhouse gas (GHG) emissions reduction solutions. It has also joined forces with public and private institutions around the world to pioneer new ways to recover and use oil and gas, so that we can continue to empower people and economies while emitting significantly less emissions.
In February, Aramco sponsored the first International Carbon Capture, Utilization and Storage Conference (iCCUS) in Riyadh Saudi Aramco President and CEO Amin Nasser emphasised the use of high impact technological solutions, such as CCUS, to address this dual challenge of meeting growing energy demand while reducing greenhouse gas emissions.
According to Ahmad Al-Khowaiter, Chief Technology Officer of Saudi Aramco, CCUS can help achieve deep emissions reductions. These technologies significantly mitigate the impact of emissions by capturing them before they enter the atmosphere, he says.
Aramco is already testing this technology at a large gas plant in the Kingdom. The Hawiyah Gas Plant uses carbon capture technology to capture 30 million standard cubic feet of CO2 every day (800,000 tons per year) by compressing it and transporting it 85 km through pipes to the Uthmaniyah oil field and injecting into the oil reservoir. This helps in maintaining the pressure in the reservoir and enhance oil recovery (EOR).
Since the initial injection of CO2 in 2015, Aramco has doubled oil production rates from four of our wells.
Aramco has also invested in a conversion technology that uses captured CO2 to create useful polymers, such as plastics, with just one-third the carbon footprint of conventional polymers. Additionally, it has developed a technology that uses CO2 instead of air to cure concrete, storing up to 20 per cent carbon dioxide within the most ubiquitous construction material.
Meanwhile, researchers from Aramco and the KAIST Institute in South Korea recently proved that converting CO2 into useful products has great potential. In a recent paper published by Science Magazine, they found that CO2 can be used in the production of chemicals, fuels and other products.
Aramco is also testing mobile CCUS technologies and has recently pioneered a heavy-duty truck that captures 45 per cent of its own carbon dioxide emissions and stores it on board the vehicle.
A 2018 research study found Saudi Arabiaís crude oil to have the lowest carbon intensity of the major oil producers. The report by the King Abdullah Petroleum Studies and Research Center (KAPSARC) expects carbon emissions in Saudi Arabia to fall by 4 per cent in 2020 due to COVID-19 Impact compared with 2019.
But that is just temporary, assuming that the Covid-19 crisis only has a short-term impact.