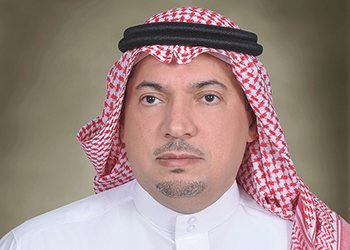 Al-Lohaidan ... leading APC toward progress
Since its establishment, APC has put its mark and imprint in the entire GCC and Mena region, having executed several major projects in the export market
Arabian Pipes Company (APC) aims to become Mena pioneers in providing quality piping solutions to meet the stringent demands of clients in the oil and gas sector.
State-of-the-art manufacturing lines, record supplies and a portfolio of major projects bear testimony to APC's prowess and its position of being one of the top industrial companies in Saudi Arabia.
APC started its journey with a single production facility of 160,000 tonnes capacity of electric resistance welding (ERW) pipes in Riyadh. Over the next 25 years, the company expanded to become one of the region's largest manufacturers and suppliers of ERW and longitudinal submerged arc welded (LSAW) pipes for oil and gas, chemical and petrochemical, structural, agricultural, and high-pressure applications.
APC plans to double its threading ouput
Today APC has two production facilities, in Riyadh and Jubail, and six different production lines for medium range pipes, two threading lines for casing pipes, large diameters pipes, slitting line and coating line. The Riyadh plant produces ERW pipes ranging in diameter from 6 inches up to 20 inches, and the Jubail plant produces LSAW pipes ranging in diameter from 16 inches up to 48 inches.
APC has been true to its commitment of serving the oil and gas sector, a challenging task, considering its stringent specifications and standards and consistency of high quality and supplies.
"This commitment is evident from its supply records, which exceed 2.5 million tonnes of high quality products to critical applications (completed by APC) and support provided to local, regional and international oil and gas companies and contractors," APC CEO Ahmed Ali Al-Lohaidan tells the OGN.
He says: "Companies operating to serve this industry must keep the momentum with continuous technical development to meet the oil and gas dynamics. And APC applies the highest quality standards and strives to localise latest piping solutions technologies through its most valuable asset: human resources."

MAJOR PROJECTS
APC has undertaken several local and international projects, some completed and others ongoing, including Marjan, South Ghawar, and Unayzah Gas Reservoir Storage (HUGRS) for Saudi Aramco. It also has long-term agreements with Saudi Aramco for supplying pipes through its facilities.
APC makes ERW pipes
APC supplied the Haradh-Hawiyah Gas Compression Project in 2019 with more than 60,000 metric tonnes. A year before, in 2018, APC completed the Yanbu-North Jeddah Pipelines Project, which was built to deliver two grades of gasoline (PG91 and PG95), ULSD and Jet A-1 refined products from Yanbu refinery to North Jeddah. APC's supplies to this project exceeded 140,000 metric tonnes. Currently, APC is working on the Marjan Project with quantities exceeding 70,000 metric tonnes.
Commenting on the challenges in these projects and how APC overcame them, Al-Lohaidan says: "APC successfully produced and delivered LSAW pipes with critical thicknesses (6.4 mm and 7.1 mm) for large pipes sizes (30 inches and 36 inches) which was a challenge in the matter of welding and sizing."
He says the diameter to thickness (D/t) ratio is extremely critical for this industry, and most mills cannot supply this ratio.
"Such combination of size and thickness is considered as the first to be produced inside the Kingdom of Saudi Arabia using the LSAW technique because of the unique process of UOE forming type (pressing against dies) available at APC."
Regionally, APC has put its marks and imprints in the entire GCC and Mena region. Since its establishment, APC has executed several projects in the export market.
According to Al-Lohaidan: "We have supplied more than 7,000 km of flow lines to PDO Oman, pipes for Alrayyan – Port Sudan Pipeline in Sudan, and IKEJ Gas Development in Nigeria. APC exports products to more than 19 countries and our aim is to have global presence and we will keep pursuing it."
In addition, APC has awarded projects for export to Oman, Egypt and others, for oil and gas and structural sectors.

FUTURE PLANS
As part of APC's strategy to cover the growing demand of the big oil and gas producers in the Gulf region, APC installed an additional threading line in Riyadh in 2019 that will double its threading outputs. Additionally, to meet the new requirements in terms of outer diameter versus wall thicknesses, the company added a new in-process machine to its LSAW Line in Jubail to ensure full compliance with client requirements.
APC makes LSAW pipes
"We have expansion plans for the medium- and long-term to reach our ultimate goal to be one-stop-shop for oil and gas sector," states Al-Lohaidan.
He further says: "We will keep following our targets, which include supplying fully-integrated products that cover all customer requirements, starting from pipe manufacturing, threading and coupling process, to the external coating process."
Al-Lohaidan adds: "We are working on several developments in our lines to expand their capacity during 2021. In addition, we will continue investing in our human resources to build qualified candidates as part of our plans in alignment with KSA's Vision 2030."
In line with the Vision, APC has successfully won/executed numerous projects for Saudi Aramco and other clients. Both the Vision 2030 and In-Kingdom Total Value Add (IKTVA) programmes are major steps forward for Saudi Arabia and ensure its bright future, says Al-Lohaidan.