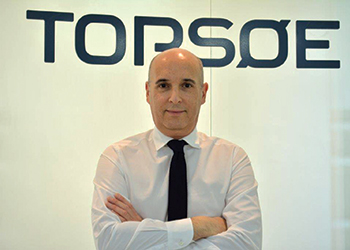 Benyoub ... promoting energy-efficient systems
The company's solutions address pressing global challenges, such as improving energy efficiency, enhancing food production for the world's growing population, and protecting the environment
Haldor Topsoe is a world leader in high-performance catalysts and proprietary technology, process design, engineering and services for the chemical and the refining industries. To understand that in perspective, consider the fact that over half of the world ammonia used to make artificial fertiliser is produced using Topsoe catalysts.
In the chemical and oil and gas industries, Topsoe enables companies to get the most out of their processes and products while consuming the least possible energy and resources. The company is very much at the forefront in the development of sustainable technologies.
Explaining that further, Mohamed Benyoub, Global Key Account Manager, Refinery Catalysts Business Unit, Haldor Topsoe, tells Abdulaziz Khattak of OGN: "Refineries are becoming more complex as they aim to process heavier, sourer crude; they are under a lot of pressure to squeeze the most value out of every barrel while searching for viable alternatives.
"Our solutions are designed to handle all feedstocks and still ensure easy, reliable, stable and profitable hydrocracking and hydrotreating. Superior process designs, performance catalysts and proprietary equipment ensure significantly longer cycle length while increasing yield and plant availability, reducing energy consumption and CO2 emissions."
Topsoe's portfolio also includes a full range of catalysts and solutions for emissions management and the efficient and reliable production of high quality hydrogen, ensuring customers benefit from all potential synergies with minimum environmental impact.
The company's solutions address pressing global challenges, such as improving energy efficiency, enhancing food production for the world's growing population, and protecting the environment. Its emission management solutions remove pollution from factories and power plants so that residents of megacities can breathe clean air.
Topsoe is currently participating in a number of major projects, the foremost being a $5-billion green hydrogen production facility to be built in Neom, Saudi Arabia. Employing Topsoe's proven ammonia technology the planned green ammonia loop will be the world's largest on par with the Gulf Coast Ammonia facility to be built in Texas, US, which incidentally will also use Topsoe ammonia technology.
The conversion of hydrogen into ammonia is an innovative approach to facilitate a safe and reliable transport and storage of the green fuel, using existing, well-proven infrastructure. This green ammonia will also be shipped around the world to be dissociated to produce carbon-free hydrogen for the transportation market.
Benyoub says the Saudi project will use about 4 GW of renewable power from solar, wind, and storage to produce 650 tons per day of carbon-free hydrogen. Using Topsoe's proven technology, the hydrogen will be converted into 3,500 tons per day, or 1.2 million tons per year, of green ammonia. When implemented, the project will eliminate emissions from the equivalent of over 700,000 cars, including over three million tons per year of CO2.
He further says: "As highlighted by our Deputy CEO, Amy Hebert, we are honoured to be part of this innovative world-scale project to reduce carbon emissions. Topsoe is focused on improving energy efficiency in today's technologies while developing the solutions of the future. This is a great step ahead."
Also worth mentioning here is a memorandum of understanding signed in the beginning of 2020 between Saudi Aramco and Topsoe for collaboration on a number of sustainability-related research, development and deployment topics. The agreement, which was signed by the Chief Technology Officers of both companies in the presence of Saudi Aramco President and CEO, Amin Nasser, include collaboration in the areas of low-carbon fuels, electrified-reforming of hydrocarbons, and novel reforming catalyst and process development.
Separately, Haldor Topsoe and Air Products signed a global alliance agreement on May 15, 2020 for collaboration on large-scale ammonia, methanol, and/or dimethyl ether projects around the world.
Commenting on business over the recent months, especially with regards to the global Covid-19 pandemic and falling oil prices, Benyoub says: "Since the turn of the year, the industry at large has been confronted with unprecedented market conditions amid the Covid-19 crisis, which continue to have a devastating effect on economies throughout the world and on energy prices. We have like many within our industry witnessed a market slowdown, but we remain very much optimistic about our ability to continue to deliver during these challenging times."
He says despite these challenges, the team at Topsoe is very confident about the future and is working hard to ensure they continue to offer clients, and especially Saudi Aramco, additional attention to help them cope with the crisis in addition to offering innovative solutions.
"As such, it is of utmost importance to stay connected with clients throughout this pandemic ensure that although face to face meetings are not possible, we remain in close contact and continue to address their needs," he adds.
Topsoe has deployed a number of digital techniques, such as webinars, to keep clients updated about new products and its technologies as well as courses for refinery staff. It is holding video conference calls with clients on a sustained basis and this new way of working has been very productive for everyone. "The goal is, of course, to keep getting closer to our clients and also establish uninterrupted exchanges during this crisis and beyond."
A key aspect to note here is Topsoe's technical assistance to clients through a dedicated unit. Benyoub explains: "Optimal interaction between catalyst and technology is crucial if your refinery units are to perform at their best. Topsoe's General Technical Service employs the full weight of our knowledge and experience to advise, inform and guide clients towards improvement."
He says all general technical service is provided by regional offices and which includes, but is not limited to, optimisation of catalyst and unit performance, assisting clients with daily challenges they are confronted with and offer innovative solutions.
Haldor Topsoe is a global organisation headquartered in Lyngby, Denmark, with plants and sales/engineering offices throughout the world including North and South America, Russia, Malaysia and China. It is constantly expanding its global reach to support clients in the most productive and efficient manner.
• Mohamed Benyoub has over 25 years of experience in oil and gas and related fields in technical and sales/marketing positions. He started his career in the early 1990s with FINA (now Total) in the Belgium. In 1993, he joined what was then Ethyl Corporation (now Albemarle). His motivation to work more closely with clients rapidly took him to occupy positions in sales and marketing, handling clients in the EMEA regions including SABIC and Saudi Aramco.
Benyoub joined Topsoe in early 2020 as Global Key Account Manager with the main focus to drive the company's growth initiative with Saudi Aramco. This includes developing and maintaining excellent relationships throughout the Saudi Aramco organisation worldwide and preparing various vertical market strategies to enhance growth while facilitating and getting involved in various projects to ensure optimal delivery for both domestic and international locations.