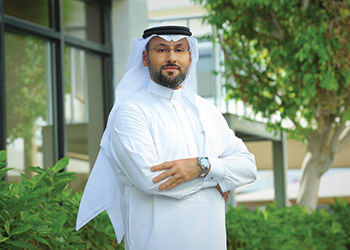 Sulaimani ... the Siemens Energy Managing Director was appointed in June
Continuing with its legacy, Siemens Energy will support the Kingdom as it ventures on a transformational journey to become an industrial hub with a more efficient and sustainable energy sector, says Managing Director Mahmoud Sulaimani
On May 7 2019, Siemens announced a spin-off of its gas and power unit to look after the company's oil and gas, power generation, power transmission businesses and related services. That led to the creation of Siemens Energy, an independent entity, which is planned to undergo stock market listing later this year.
For around a century, Siemens has provided products, solutions and services across significant parts of the energy value chain in the Kingdom of Saudi Arabia. Now Siemens Energy's Managing Director in the country says they plan to continue this legacy and will support the country as it ventures on a transformational journey to become an industrial hub with a more efficient and sustainable energy sector.
A rendition of Siemens Dammam Energy Hub, Phase 2
"The reason behind the split is to provide Siemens Energy with the independence and entrepreneurial freedom to reduce complexities and to enable the company to focus on addressing its customers' unique needs in a faster and more efficient manner," Mahmoud Sulaimani, Managing Director of Siemens Energy in Saudi Arabia, tells Abdulaziz Khattak of OGN.
Sulaimani is Siemens Energy's first Managing Director in Saudi Arabia and was appointed to the position in June 2020. He joined Siemens in 1999 as a Project Engineer and moved on to hold various leadership positions in the country over the years, including Country Head of Projects for Energy Transmission.
In this role, Sulaimani managed a portfolio of electrical high voltage substation turnkey projects as well as the high voltage cable business. He holds a degree in Electrical Engineering from King Fahad University for Petroleum and Minerals.
Sulaimani has given his first-ever interview as Managing Director of Siemens Energy in Saudi Arabia to Abdulaziz Khattak of OGN:

Saudi Arabia is the world's largest oil and gas exporter. With energy prices near historic lows, does Siemens Energy plan to continue to invest in the country?
Our commitment to Saudi Arabia is unwavering. It is a focus country for Siemens Energy and our partnership will continue even beyond oil as Saudi Arabia and the rest of the world embark on an energy transformation to become greener and more sustainable.
The history of Siemens in Saudi Arabia starts almost a century ago. Since then Siemens has partnered with the Kingdom to bring about change and electrify the country. We have invested in local talent and partnered with Saudi Aramco to localise the Siemens value chain.
In this regard the Siemens Dammam Energy Hub (SDEH) is one of our greatest achievements in the country. It is one of the largest facilities of its kind in the region and it is where the first 'Made in KSA' gas turbine was produced in 2016. Since then we have also expanded the SDEH to include locally produced compressor trains and we are planning to expand further in the coming years. This will allow us to increase local content and hire and further develop local talent to support the plant activities.
Another expansion we are working on is our oil and gas solutions facility, which is home to our automations solutions for the oil and gas industry. These solutions help monitor and optimise oil and gas processes in Saudi Arabia.
For many years this facility was based in Dammam but we are in the process of moving it to the Modon second industrial area in the Eastern Province. We expect the move to be completed by Q2 2021. This will allow us to expand our production capacity and to add to our oil and gas solutions portfolio. We are also diversifying our digitalisation solutions and adding electrical solutions to our portfolio.
This expansion will add value to our customers in Saudi Arabia because it will enhance the local manufacturing sector and will create more jobs with a focus on Saudisation. We are focusing on further developing competent Saudi technicians in our factories, and have several programmes in place to make that happen.

A large part of Siemens' partnership with Saudi Arabia involved training Saudi youth and localising the company's value chain. How do you see Siemens Energy continuing this legacy?
SDEH in Modon is undergoing an expansion
We are on track towards achieving our commitments on Saudisation and localisation within the boundaries we agreed with Saudi Aramco, and we are making good progress on the implementation of our In-Kingdom Total Value Add (IKTVA) target for 2024. In fact, we are ahead of schedule in some aspects. Looking at Siemens' overall Saudisation rate, our plan foresees a 37 per cent rate in 2020. We have already exceeded this and are reaching almost 40 per cent as per the recent 2019 IKTVA certificate.
Another significant milestone will be the expansion of our Siemens Dammam Energy Hub (SDEH). Once completed, the SDEH will represent the largest gas turbine and compressor producing facility in the region, including a full-fledged service setup to cover the entire product lifecycle.
We will continue investing in our SDEH facility to serve Saudi Aramco and other stakeholders in the Saudi market and beyond. Part of our ongoing and future investments is to install one-of-a-kind equipment, which will contribute to the local content of jobs related to rotor maintenance inside the Kingdom. This will enable us to complete sophisticated and technical service jobs locally.
Meanwhile the Saudisation programme is an integral part of Siemens' strategic plan enabling the company's future development and sustainability within the Saudi market. And we aim to support the development of sustainable industries through the localisation of technologies, driving the digital industrial transformation in Saudi Arabia in line with Vision 2030.
How about the training of Saudi youth. Are there any programmes that you plan to launch to help train and employ more Saudis?
A Siemens Energy personnel with remote support gear
Siemens has always supported developing young Saudis through different initiatives like the Crown Prince Mohammad Bin Salman's Misk Foundation, Saudi Petroleum Services Polytechnic (SPSP), Saudi Railway Polytechnic institute (SRP) and the National Power Academy where we have trained and employed hundreds of Saudis over the years. Siemens trained more than 400 Saudi talents in 2019. At the same time, we have succession programmes in place to ensure the development and growth in their career.
I, myself, am an example of how successful these programmes can be. I joined Siemens very early in my career and they have invested in my development until I was appointed as the first Managing Director of Siemens Energy in the country. At Siemens Energy, we will continue with such initiatives that help us create a strong pipeline of Saudi talent.
We are also focusing on increasing the proportion of skilled women in our workforce. We are proud to have a Saudi woman heading our Dammam Power Diagnostic Center, which undertakes detailed diagnosis of power plants, thus putting us in a position to formulate recommendations for improvement where necessary. We are always on the lookout for young Saudi talent to join our teams, and we are glad to have a mature market with skilled local talent to tap into.

Saudi Aramco has been increasing its investments in gas and aims to boost its gas production to 23 billion standard cubic feet (scf) a day from around 14 billion scf, as well as focusing more on gas for its electricity generation. How is Siemens Energy supporting Saudi Aramco's plans in increasing its investment in gas?
Siemens Energy is committed to supporting Saudi Aramco's plans of increasing its gas production and facilities. We are in a unique position as a strategic partner of Saudi Aramco to supply gas compression trains for production, storage and reproduction of gas as well as highly efficient gas turbines that are producing power for Saudi Aramco's operations. Both the compression trains and gas turbines are made in KSA at the Siemens factory in Dammam.
Gas turbines today are playing a vital role in making energy greener in the Kingdom. They are considered among the cleanest fossil-fuel-based power generation solutions and are a great intermittent energy solution for Saudi Arabia on its journey towards decarbonising its energy sector. Siemens has delivered gas turbines built in KSA for the Fadhili gas plant and the Integrated Gasification Combined Cycle (IGCC) plant in Jazan.
We are continuing to invest and implement technologies to upgrade the existing turbines in the Kingdom enabling them to use gas and eventually hydrogen instead of crude or fuel oil.
Furthermore, our modern combined-cycle gas turbine power plants can achieve an efficiency of more than 63 per cent, a clear advantage for our customers, who can generate more electricity at a lower cost, and for the environment by lowering greenhouse gas emissions.
In terms of compressor trains, we have become the predominant provider of compressor trains in the country. One example is our recently announced order for 20 compressor trains for Saudi Aramco's strategic Hawiyah Unayzah Gas Reservoir Storage (HUGRS) project. Siemens Energy received the order from Samsung Engineering. The project will enable the operator to manage its surplus gas volumes efficiently to meet seasonal demands

As the global pandemic shut down many industries throughout the globe, how has Siemens Energy been impacted by Covid-19?
Siemens Energy kept its factories open and in operation despite the pandemic. In the period from February 2020 to August 2020, Siemens Energy through more than 450 personnel and 800 subcontractors supported customers in KSA at 75 sites. We also continued our work at our local shops and factories and had 120 personnel working during the pandemic. Despite the travel restrictions, we were able to keep the business of our customers running while using digital technologies to get support from our global experts where needed.
Our valuable teams were working successfully around the clock to ensure that our customers did not face any operational interruptions. Our customers are our primary focus and our team members are our most important asset and their safety is our priority.

The global pandemic has highlighted the importance of digitalisation in efficiency, business continuity and productivity. What solutions are helping you get through the difficulties posed by Covid-19 and how will you learn from that for the future?
The global pandemic has introduced a lot of 'new normal' practices in various industries. One of the ways in which we minimised the impact of the crisis on our business is through digitalisation. Luckily, we have already had the infrastructure in place that allowed us to keep our business going despite the lockdown in the country which grounded many other industries. We witnessed an increase in collaboration between our factory in Dammam and the global manufacturing network as well as within the Kingdom.
For instance, our team disassembled a gas turbine by following instructions from an expert through remote support. Previously, such a task would have required an expert to fly into the location. So the pandemic was actually a catalyst to drive digitalisation in certain areas of our operations. With that in mind it also opened our eyes to other possibilities and opportunities in digitalisation. For example, compressor test runs in our factory in Germany can be witnessed by our customer here through remote participation. Our customers benefit from this by saving on travel time and cost.
To maximise the benefits of digitalisation, utilisation of the latest technology of Internet of Things (IoT) and connectivity is vital and that leads us to cybersecurity. State-of-the-art cybersecurity solutions that use artificial intelligence (AI) to protect assets are essential and we are constantly developing our cybersecurity capabilities and solutions to ensure the safety of our customers and our installed assets.

Saudi Arabia has a goal to decarbonise by 2030. How is Siemens Energy contributing to that goal?
It is not just in Saudi Arabia, energy systems worldwide are undergoing fundamental changes and the balance between fossil and renewable energy sources is shifting. Saudi Arabia has set clear goals for decarbonisation and has already started its journey to lower its CO2 emissions.
At Siemens Energy we take pride in the fact that we are leading the global transition towards the energy systems of the future. We have the technologies that can get us there and we are constantly developing and improving them.
One of our goals is meeting the rising demand for energy in the country in environmentally-safe, sustainable, affordable and reliable ways.
Siemens Energy has already supplied highly efficient gas turbines in Saudi Arabia that reduce liquid burning and thus reduce CO2 emissions. We have ample experience and can support Saudi Arabia in making existing plants and equipment more efficient. We have already rolled out gas turbines that can be operated completely with hydrogen, while the others can be operated partly with hydrogen. Our customers will be able to invest in a technology that is expected to remain competitive in the future and to massively reduce their carbon emissions. We have set ourselves the goal to enable the operation of all our gas turbines on 100 per cent by 2030. So we are in line with Saudi Arabia's decarbonisation goals and I am proud to embark on this journey with the Kingdom.
What potential do you see in Saudi Arabia for renewable energy and how do you see your role in helping Saudi Arabia reach that potential?
Saudi Arabia has great potential for renewables, both solar and wind power. It can benefit from onshore wind opportunities especially with prices having plunged in recent years. We are convinced that we have the technology to help Saudi Arabia reach its wind power potential.
Siemens Energy comprises Siemens' majority stake in the renewable energies company, Siemens Gamesa, which is one of the world's leading providers of wind power solutions. It has installed around 100 gigawatts (GW) of wind power capacity worldwide, enabling our customers to reduce their global CO2 emissions by nearly 260 million metric tons per year. So we can help Saudi Arabia take that step.
In doing so, however, we must consider the intermittent nature of renewable energy and which brings us to the important issue of storage solutions. Finding the right storage solution for renewable energy is necessary as the country considers its push for renewables. One of our innovative solutions for energy storage is the proton-exchange membrane (PEM) electrolysis which enables energy from renewables to be stored long-term and allows it to generate 'green' hydrogen. The hydrogen can then be used as a zero-emissions fuel or combined with other elements as a molecular component in core industrial feedstocks.
With our electrolysis portfolio, for example, we are aiming to shape the emerging hydrogen market from the very beginning in order to play a leading role in the development of tomorrow's energy systems. Our full portfolio of renewable energy offerings includes onshore and offshore wind power as well as geothermal power using CO2, both of which can be very promising for Saudi Arabia. We look forward to great collaboration with the visionary leaders in the country for a carbon-free future.