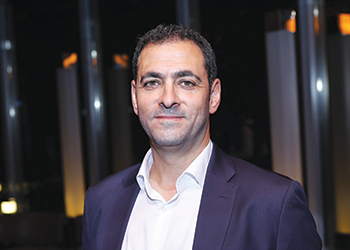 Diab ... promoting innovation
A centre of excellence is not a building or a facility, but an integration of three facets: a collection of minds, capabilities and relationships
Pall Corporation is well on the way to establish its Center of Excellence in the Middle East for the oil and gas and petrochemicals industries. Pall's concept of a centre of excellence revolves around a place where Pall, as a global organisation, can learn and innovate, and its customers can experience exceptional service and solutions to solve their complex problems.
The Middle East was chosen because of the unique integration of the upstream-to-downstream industries through national oil companies like Saudi Aramco, Adnoc, Qatar Petroleum, etc, and the local presence and relationships Pall and its partners have established across the region, Sary Diab, Pall Corporation Managing Director Middle East, tells Abdulaziz Khattak of OGN.
Commenting on the centre's concept, he says: "The biggest lesson is that a centre of excellence is not a building or a facility, but it is more about the integration of three facets: a collection of minds, capabilities and relationships.
"The measure of the success of any centre of excellence is knowledge and innovation that fuels growth for Pall and high returns for our customers."
He goes on to explain the three facets:
  
• Collection of minds: Diab says this refers to the talent and experience of Pall's team in the region. "We have a multi-functional/multi-discipline team that has built solid practical experience by working hands-on to solve unconventional challenges at the customer and has succeeded repeatedly in applying filtration media in different ways to adapt to new application requirements at the customer."
• Local capabilities: This means local presence that allows Pall to fulfill all its customer commitments without interruption and do piloting and testing on conventional and new applications, says Diab. He explains: "Over the past few years, Pall has built a large local team and established local engineering and project management, local sourcing, full service presence with a large fleet of rental skids, local labs, a team of local field scientists and application engineers and a strong network of partners. Our teams are local in most countries in the Middle East. This has allowed us to deliver locally for the past 10 years and to operate without interruptions even during the Covid-19 restricted travel situation."
• Customer, partner and supplier relationships: Diab says Pall's approach is to build lasting long-term relations with its customers, distributors and suppliers. "This allows us to connect with our eco-system and build the right solutions to solve customer relations and grow our business at the same time."
Pall is a world leader in high-technology and high-efficiency filtration and separation media. This media is used in three typical solutions:
  
• Filters: Separates solids from liquids or gases. It leads to lowering the contamination in the system.
• Liquid-gas coalescers: Separate liquids from gases. It leads to higher quality gases with very low un-wanted liquid contamination.
• Liquid-liquid coalescers: Separate unwanted liquids from other liquids to remove impurities and improve quality of the liquids by removing the unwanted liquids that cause contamination.
These three solutions can be applied across hundreds of applications across our industries and when used correctly, the return on investment from using Pall technologies is very high, says Diab. The return on investment is realised from two main areas:
  
• Improve product quality: Less contamination and meeting the specs directly improves revenue at our customers and causes less penalties or reject product.
• Protect critical assets: Separating the contamination leads to less fouling at critical equipment like heat exchangers, catalyst beds, and this leads to reduced maintenance cost, improved reliability and improved availability.
Pall continues to innovate new ways to meet customer requirements. "The first innovation is in the way our solutions are delivered to our customers. We call it 'Solution Flexibility'. This was established as a result of listening closely to our customers and partners who were facing different challenges over the past few years. I am very proud that Pall is leading the way in solution flexibility," Diab says.
Other innovations, he adds, are around developing more efficient media that allows for longer lifetime and higher dirt retention, directly leading to lowering our customers operating costs.

PROJECTS & CUSTOMER SUPPORT
Pall is involved in all major projects in the region utilizing its global network. In the past few years, the company has delivered more than 800 projects in the Middle East with many applications. Pall has spent over $100 million with local suppliers and delivered solutions that are specific to client specifications and requirements.
For Pall, technical assistance and solutions are the heart of its business. The entire sales teams is made up of engineers with extensive training and experience in filtration and separation. Diab says they are responsible for owning the relationship with our customers and ensuring customers always receive the best value from Pall solutions. The sales force is supported by Pall's Scientific Lab Services (SLS) and Applications Engineering (AE) teams who work hand in hand on studying in depth any new customer challenge.
Pall's service teams operate in every country in the Middle East and have rental equipment and pilots that can be deployed to customer sites to do live piloting and testing before offering a solution to the customer.
The company also has labs in key locations to do in-depth contamination studies for customers to quantify the contamination and tailor make the solution. Over the past few years, Pall has conducted over 260 SLS tests, completed 87 pilots and delivered 343 rental filter solutions. Furthermore, Pall's engineering teams do all the designs for the filters in the region. These are specialists in energy and oil and gas applications and have the tools and experience to do full engineering design starting from the concept all the way to the final detailed design.
Diab says about 10 years ago, the Pall team in the Middle East designed custom-made solutions for its customers starting from a unique, never been done before, two-stage black-powder filtration solution, which became the industry standard for gas pipeline filtration and protection.
A few years ago, Pall re-defined the hydrocarbon dewatering application through high-efficiency coalescer media, which offers higher performance at a much lower foot print for dewatering condensate, jet fuel or de-salting crude oil.

PALL AND Covid-19
Like every other company, Pall had to face the Covid-19 pandemic and the challenges that came with it. "For Pall, the first focus was the safety of our team, our customers and our partners, as well as their families. So we spent a good part of March 2020 preparing our team, our sites and our work practices/tools to cater for the Covid-19 work environment. When work from home was mandated in different countries, we were ready and our team transitioned smoothly," says Diab.
To ensure Pall customers saw no disruption of service or supply, it trained its services teams on how to operate with full safety. "This worked very well because we had local presence in every country in the Middle East. The global network of manufacturing allowed us to continue to deliver without interruption to our customers by re-routing the demand to the locations where Covid-19 impact was the lowest. I am very proud that we have succeeded to remain in business throughout Covid-19 to date," remarks Diab.
Pall is keen to contribute to the Kingdom's Vision 2030. In January 2020, it inaugurated Pall Arabia, its local entity in Saudi Arabia, which is in line with the Vision.
"Pall Arabia allows the company to own the relationship with our customers directly, deliver all our solutions to our customers without a proxy, and build the platform for our KSA-based manufacturing plant planned for January 2021. Even within its first year of inception, Pall Arabia is already approved with all major customers, has 50 per cent Saudi talent, and will have a very attractive IKTVA score in line with our local presence and local operations," concludes Diab.