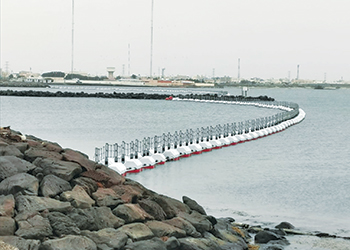 A HALO marine barrier
HALO says its marine barrier systems are ideal for protecting vital oil and gas facilities in the GCC region, and can be equally effective to safeguard other commercial water facilities such as marinas against theft or vandalism
Protecting critical infrastructure is a challenge, especially when it is offshore. You not only have to deter intruders but also combat choppy waters.
Although floating fences that act as barriers are available in the market, these are usually unstable and tend to flip over.
However, US-based HALO Maritime Defense Systems fills that gap. Its sophisticated systems can avert acts of terror against critical infrastructure from the seaside, a front that is either overlooked or not fortified enough.
Speaking to OGN, Brendan Gray, HALO's COO and President and a former US Navy officer, says: "We want to protect critical infrastructure. And that's why we're here, because we feel we can make a difference and help our future partners protect their infrastructure. We wish to be a force multiplier for the various entities, whether they are commercial or navies or government."
HALO has chosen Bahrain as its regional headquarters. It opened an office in the kingdom late last year to be headed by Luke Ritter, HALO Vice-President of Business Development, and a seasoned maritime security professional.
According to Ritter: "The region's oil and gas industry is the most important critical infrastructure it has and, therefore, it's an absolute necessity that all this must be protected."
He says the industry can be a leader in proving the value proposition that's associated with building walls and fences in the water.
Established in 2008, HALO makes barriers designed to work with the water waves and not against them.
The company takes pride in the fact that it's the only barrier company whose systems have been independently tested.
Its systems have been bought by the US Navy and the US Department of Defense after putting them to the test. At the Aberdeen Proving Ground, HALO systems stopped a 3-tonne boat at 43 knots in 3 m, exceeding all expectations.
HALO also tested its systems in 58 m of water for six months off the coast of Maine, northeast of the US in Sea State 6.
With an active R&D division, HALO is always ahead of the game developing products to meet the market's need, he says.
Its products portfolio includes the following systems:

• Guardian: When HALO first started, it made a wall like product. And although everybody wanted the stopping power of a wall, they wanted a gate. So HALO developed the Guardian system. This is a military-grade maritime retractable defensive barrier. The system was subjected to rigorous testing by the US Navy—a 3 tonne boat at 43 knots. It exceeded all requirements.
• Orca I: To serve the low-end market, where clients don't need a high level of protection, HALO developed the versatile Orca 1. This system is highly customisable and allows end users to adapt a line of demarcation solution to their specific needs. It can be integrated with lights, nets, and signage can be added to prevent unauthorised access from the waterside.
• Orca 2/3: This system is designed to stop small craft, jet skis, zodiac boats, etc. This system has been approved by Saudi Aramco and is currently being used by it. HALO systems have a minimum lifecycle of 15 years making it significantly cheaper than other systems in the market.
• Deployer: There was a lot of demand for a portable system that could be moved and prepositioned for visiting ships or just put it where and when you really need it. That led to the development of Deployer. This barrier is transported fully assembled in a standard ISO shipping container, and can be rapidly deployed using a small boat and wrapped around the vessel being protected.
• Triton: HALO is the only barrier company in the world that has developed an offshore barrier system that can go around and protect oil rigs. Triton is a high-visibility, heavy-duty maritime barrier has been designed, tested, and proven to operate in Sea State 7 (up to 11-m waves).
"The Triton system is ideal for the Saudi Arabia oil and gas industry," says Gray.
Amongst HALO's major clients is a power plant in the UAE, and another one in the Mediterranean, where a very strategic port is being protected.
Gray hopes to engage navies in the region who have just recently realised the threat of drone boats.
Although ideal for protecting vital oil and gas facilities in the GCC region, HALO's marine barrier systems can be equally effective to safeguard other commercial water facilities.
"Think about marinas and the threat of theft or vandalism. We can protect these places with smaller systems that can be automatically opened. So a yacht owner can come in and using a key can open the gate, brings in his boat in and close the gate behind," says Gray.
Ritter says HALO systems can be applied to a broad customer base with different requirements and levels of protection.
Some, he says, even have different requirements with regard to how the barrier looks.
"So you may want a very intimidating structure for a military site. But if you're using a barrier like this at a hotel, or to close a waterway like Bahrain Bay, you don't want it to look like a fortress or a military base. For such requirements, we can work with the customers to place facades or change the colors of the plastics."
Besides the Bahrain office, HALO has an office in Abu Dhabi, UAE. It also has plans to open an office in Dammam, Saudi Arabia, in the next few months.
The company currently has a manufacturing facility in the UAE, where it fabricates the Orca systems. Its business model is to fabricate in the host nation provided there is enough material.
Gray says: "We would prefer to manufacture in the GCC, for orders with the GCC customers, and are looking for the right place to manufacture different components."
HALO was at Bahrain's premier international defence show, BIDEC, last year where it showcased its product portfolio.
Ritter says Bahrain offered numerous opportunities through its business-friendly environment, close proximity to neighbouring states and notably for being home to the US Naval Forces Central Command (Centcom) and its 5th Fleet.
"Bahrain is an island nation, so there is lot of water-based critical infrastructure to protect and entities like BAPCO. An example also is the Diyaar Al Muharraq development, which is surrounded on all sides by water. We absolutely want to focus on those while we have a regional focus."
Ritter says HALO has had extensive interaction and discussions with the Bahrain Defence Forces, the Ministry of Interior (MOI) and other commercial interests.